Why 'Outlander' Changed That Controversial Rape Scene and Made It a Defining Moment of Consent
This is a game-changer.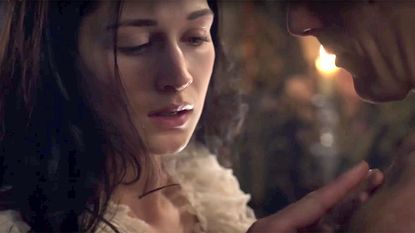 (Image credit: Starz)
Last night, Outlander tackled one of the most controversial moments from the books on which it's based: Jamie's sex scene with Geneva. In Diana Gabaldon's novels, consent during this scene is murky at best and rape at worst. For one thing, Geneva manipulates Jamie into taking her virginity by threatening his family. But more to the point, she yells out "stop it" and "take it out" during the sex scene itself.
The Outlander book series was written in the '90s, and it's impossible to expect contemporary audiences to see on-screen Jamie committing this act and still regard him as a hero. So, how did Outlander navigate the controversial scene? By turning it on its head, and giving Geneva full agency. In other words, they did the right thing. Yes, Geneva manipulates Jamie into having sex with her—but the sex scene itself involves mutual asking of permission ("May I touch you?"), and Geneva taking control of her own body ("I'm doing this for myself"). She isn't a victim and Jamie isn't taking advantage of her—instead, they're a couple having consenting sex. More importantly, Geneva is a woman enjoying her first sexual experience.
"I really appreciate that they changed it for TV," actress Hanna James—who plays Geneva— tells MarieClaire.com. "They do follow the books very closely on the TV show, but you have to look at them as two different entities. Toni Graphia, who wrote our episode, handled it beautifully—she had to walk that road very carefully. I knew this would be a thing that came up, and Sam [Heughan] and I had texted back and forth about it a few times."

To be clear, Outlander author Diana Gabaldon doesn't consider Jamie's actions in the book to be rape, and explained her reasoning in a very lengthy Facebook post back in December 2016.
"[Geneva] didn't merely 'ask for it,' she demanded it, bluntly and with threats. So…[Jamie] does what's necessary to accomplish this. Momentarily panicked by the initial hint of pain—though she'd told him she knew it would hurt and didn't mind—she cries out, 'Stop! It's too big! Take it out!' Now, she is panicked. Jamie can tell that, and so can the reader (because I told them so). He realizes—on the basis of her contrary behavior through the entirety of their acquaintance, and his knowledge of women in general—that if he backs off, she's just going to spend the rest of the night jacking him around before she finally lets him finish this bloody bargain and go. He doesn't stop [...] They're in Geneva's bedroom; there are servants and family well within hearing. If she wanted to, one piercing scream would bring help and very likely get Jamie beaten to death on the spot. Does she do that? Why, no…Afterward, she cuddles with Jamie, attempts to call him by his real name (which he refuses to let her do), and tells him that she loves him (an endearment that he also refuses, though gently, telling her that love is not this). She then asks him to do it again. Quite obviously, Geneva doesn't think she was raped."
Gabaldon's opinion is obviously important—these are her characters, and this is her story. But no means no, and television's Jamie is a man who gets that—which is why it's so important that the onscreen version of events differ from the book.
"I think they approached it from the way of, 'this is a young woman who has decided she's going to take the decision into her own hands about who's going to be her first," Caitriona Balfe—who plays Jamie's love interest Claire—tells MarieClaire.com. "I liked it that way because it gives all the power to her. I think that's possibly the only way that scene could have been written and worked out."
This is Outlander to a T. It's always had a strong undercurrent of feminism running through it, and this isn't the first time the show has used a sex scene to give agency to women. Remember when Jamie tried to physically punish Claire for disobeying him, and she ended up putting a knife to his chest during sex?
Re-writing the Geneva and Jamie sex scene isn't just the right call in 2017—it's the one that makes the most sense for a show that's always prioritized its female characters, and used sex as a way for women to exert control over their own lives. As Hanna James herself says, "Geneva is a young girl grappling with the fact that she's being married off to an old man she has no feelings toward, in a time period where women were seen but not heard. It was her way of trying to have control over life in any way, shape, or form."
Outlander airs Sunday nights at 8 p.m. ET on Starz.
RELATED STORY
Celebrity news, beauty, fashion advice, and fascinating features, delivered straight to your inbox!
Mehera Bonner is a news writer who focuses on celebrities and royals.