23 Times Male Actors Did Full-Frontal Nude Scenes on Screen
¯\_(ツ)_/¯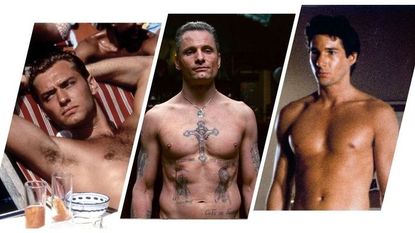 (Image credit: Fox Searchlight +Focus Features + Paramount Pictures)
As anyone with eyeballs and even a middling interest in pop culture knows, women are naked on-screen *way* more than men. And that's fine—the female body is beautiful and nothing to be ashamed of. But female nude scenes are often written and directed by men, and created with a distinctly male gaze. Meanwhile, it's still a pretty rare occurrence to see a man's genitalia in films. So, in the interest of leveling the playing field and embracing the female gaze, here are 23 times male celebrities got naked on camera.
Harvey Keitel: Bad Lieutenant
Harvey Keitel's full-frontal nudity in the 1992 neo-noir crime drama Bad Lieutenant is so iconic, it's the movie's poster.
In a 2005 interview with Premiere magazine, Keitel addressed his history of onscreen nudity.
"An actor doesn't do nude scenes. An actor plays an event and tells a story," he said (opens in new tab). "It's not about nudity, it's about revelations. So if anyone wants to discuss nudity with me they can forget about it because it's not relevant. Any of my colleagues that I know would go all the way, just the way I did. I'm no exception. I just happened to have that part at the time."
Mark Rylance: Intimacy
In 2001, before he became one of Steven Spielberg's muses, Mark Rylance went full-front in Intimacy, opposite Kerry Fox. In one of the film's most memorable—and controversial—scenes, Fox performs unsimulated oral sex on Rylance. For art.
Years later, Rylance admitted that the controversy and criticism surrounding Intimacy was hard to handle—so much so that he regrets making the film at all.
"Intimacy was the most difficult job I've ever had. I was convinced it was a vital story about the difficulties people face finding intimacy in a big city like London," he told The Guardian (opens in new tab). "Hanif Kureishi's writing couldn't have been more intimate and revealing, but I found the making of the film and the subsequent publicity and personal attacks very, very painful. I wish I hadn't made it."
Gael Garcia Bernal and Diego Luna: Y Tu Mama Tambien
Y Tu Mama Tambien is widely regarded as one of the sexiest movies in all of mainstream movie history, so it's not really such a surprise that two of the film's male stars, Gael Garcia Bernal and Diego Luna, took the full frontal plunge in the movie. The movie follows their characters, two teenage boys, on a very erotic road trip with an older woman.
Vincent Gallo: The Brown Bunny
The 2003 experimental road film The Brown Bunny is best known for a controversial (and unsimulated) oral sex scene between writer, director, and star Vincent Gallo and actress Chloë Sevigny. Most of the controversy, however, surrounded Sevigny's decision to perform the unsimulated scene, not Gallo's decision to bare all on the receiving end.
At the time of release, Sevigny defended the controversial sex scene saying (opens in new tab), "It's a shame people write so many things when they haven't seen it. When you see the film, it makes more sense. It's an art film. It should be playing in museums. It's like an Andy Warhol movie."
Oliver Reed and Alan Bates: Women in Love
This 1969 Oscar-winning adaptation of D.H. Lawrence's classic novel featured a scene of nude male wrestling between stars Olive Reed and Alan Bates. Never has the phrase "nude male wrestling" been so, well, high-brow.
Cillian Murphy: 28 Days Later
The 2002 zombie flick was an instant classic in the horror genre, but there was at least one moment that audiences definitely did not want to shield their eyes from: Cillian Murphy's introduction, which involved his character waking up, stark naked, in a hospital bed in the midst of the zombie apocalypse. While we didn't find anything Cillian had to say about his 28 Days Later nude scene, he made it clear years later after doing nudity again in Peaky Blinders that he is NOT here for your questions (opens in new tab) about it, tyvm.
Peter Sarsgaard: Kinsey
Sarsgaard bared all in the 2004 biopic about sexologist Alfred Kinsey—and he didn't think it was a big deal.
"It didn't feel like anything," he told TV Guide (opens in new tab) of the scene. "I mean, if I always thought about the people on the other end of the camera — as if it were like a tube going to audiences all over the world — then I wouldn't be able to act anyway. This was just a room filled with four people and it seemed appropriate for the scene. The reason I'm nude is to test the waters before I [kiss Dr. Kinsey, played by Liam Neeson] later in the scene. It had a purpose. It's not nudity for you guys, it's nudity for him."
The 56 Most Popular Vibrators, Reviewed by Experts