6 Story Lines We Could Definitely See Happening on 'American Horror Story: Hotel'
Hotel, really? All right, here goes...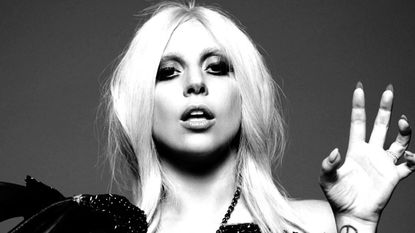 (Image credit: Lady Gaga/Facebook)
Marie Claire Newsletter
Celebrity news, beauty, fashion advice, and fascinating features, delivered straight to your inbox!
Thank you for signing up to Marie Claire. You will receive a verification email shortly.
There was a problem. Please refresh the page and try again.
Who didn't lose their mind when Lady Gaga tweeted that she'll be on season 5 of American Horror Story: Hotel? Obviously someone big had to fill the massive hole left by Jessica Lange, who will no longer play the nosy neighbor/looney nun/supreme witch/freakshow ringleader. And who better to fill those shoes than the mother of little monsters?
But other than this *awesome* piece of news, we still have no idea what season 5 will be about. We mean, freakshows...witches...hotels? That being said, here are a few ideas (conspiracies?) we think the show could plagiarize be based off of:
1. Psycho
Kathy Bates—former bearded lady, former racist murderer from Louisiana—would obviously be the hotel manager (Bates Motel, Bates Hotel). And, duh, Evan Peters would have to play the knife-wielding killer with a mommy complex. Nothing else would make sense. NOTHING.
2. A sick twist on 30 Rock/Parks and Recreation/Workaholics
We can see it now: Everyone works in the same hotel—Peters as the bell hop, Emma Roberts as the in-house hostess, Bates as the hotel maid, Zachary Quinto as the doorman, and Lady Gaga as the obnoxious celebrity guest who trashes her room and makes the staff's lives a nightmare. (See what we did there?)
3. Vacancy
Can Connie Britton and Dylan McDermott make a comeback from AHS season 1 and play the couple with car trouble who just happens to stumble upon an empty motel? Cliché, classic, and terrifying.
4. The Shining
A TV show remake of one of Jack Nicholson's most iconic roles that still haunts us today? Sure, why not. Sarah Paulson can reprise her role as twins (only separated) and...Ma Petite as Danny (spelled "Dani").
5. The Tower of Terror
Hey, Ryan Murphy! It'd be creepy-cute if you took a Disney original film and morphed it into one of your weekly thrillers. We'd like to nominate Roberts as the jealous sister who casts a spell on everyone. She already played an I-do-whatever-the-hell-I-want witch in season 3.
6. A vacation gone wrong
Bedbugs, luke-warm eggs benedict, limited brunch cocktails—the horror!
You should also check out:
Lady Gaga Has Been Cast in 'American Horror Story'
Lady Gaga Knocks Her 'Sound of Music' Tribute Out of the PARK, Blows Everyone Away
Celebrity news, beauty, fashion advice, and fascinating features, delivered straight to your inbox!
When I'm not stalking future-but-never-going-to-happen husbands on Facebook, you can catch me eating at one of NYC's B-rated or below dining establishments—A-rated restaurants are for basics. Fun fact: Bloody Marys got me into eating celery on the regular. And for your safety, please do not disturb before 10 a.m. or coffee, whichever comes first.