17 of the Best Movies of 2018, According to Our Editors
We needed the movies this year more than ever.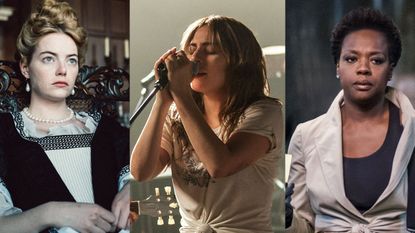 (Image credit: Fox Searchlight, Warner Bros., 20th Century Fox)
Marie Claire Newsletter
Celebrity news, beauty, fashion advice, and fascinating features, delivered straight to your inbox!
Thank you for signing up to Marie Claire. You will receive a verification email shortly.
There was a problem. Please refresh the page and try again.
Eighth GradeCan You Ever Forgive Me?First ReformedAnnihilationThe FavouriteHereditaryBlack PantherBeautiful BoyIsle of DogsA Quiet PlaceSorry to Bother YouMamma Mia! Here We Go AgainBlacKkKlansmenCrazy Rich AsiansThe Night Is Short, Walk on GirlA Star Is BornWidows

The best movies of 2018 couldn't possibly be placed under an umbrella, but they did have one thing in common: We really needed them. Whether it be a muted drama, a surreal comedy, or a creepy horror flick, this was the year we needed somewhere to escape our own world for a few hours. And, boy, did we: Theater attendance reached record highs this year, and though the brief-but-glorious existence of MoviePass may have helped get butts in seats, the uptick seems more likely the result of a need for escape, for empathy, and for hope. And these movies delivered.
Below, in no particular order, is Marie Claire's list of the best movies of 2018, a selection of the films that really stood out to our editors this year:
Eighth Grade
Starring: Elsie Fisher, Josh Hamilton, Jake Ryan
Why It Made the Cut: A beautiful, heartbreakingly familiar-looking gaze at early adulthood and all of its painful awkwardness. Kayla is all of us, even though she feels like she's none of us (relatable!). Alhough it will make you cringe, it will also make you realize that, hey, maybe some things have gotten better.
Can You Ever Forgive Me?
Starring: Melissa McCarthy, Richard E. Grant
Why It Made the Cut: It's a funny but also surprisingly sad true story about author Lee Israel, who was caught forging letters by notable celebrities in order to make rent. That's a great plot! But it goes a step further by also being a meditation on accidental isolation and the difficulty of breaking out of a loneliness spiral. Oh, and it's the best thing Melissa McCarthy has ever done. Who knew?
First Reformed
Starring: Ethan Hawke, Amanda Seyfried, Philip Ettinger, Cedric the Entertainer
Why It Made the Cut: A film about a preacher who suddenly realizes that climate change is a religious issue, too. With the stark climate reports that came out this year, watching Hawke's tortured holyman work through what the end of the world might look like cut a little close to home. A brilliant sleeper film that you should see right now.
Annihilation
Starring: Natalie Portman, Jennifer Jason Leigh, Gina Rodriguez, Tessa Thompson, Tuva Novotny, Oscar Isaac, David Gyasi, Sonoya Mizuno, and Benedict Wong
Why It Made the Cut: This deeply unsettling, female-fronted horror-thriller has some big ideas at its center, and it takes a great movie to articulate them without shoving them down your throat. The beauty and creeping horror of this movie will stick with you, even once you figure out the twist.
The Favourite
Starring: Rachel Weisz, Olivia Colman, Emma Stone
Why It Made the Cut: From Yornos Lanthimos, the visionary director of 2016's surreal masterpiece The Lobster, comes this considerably more real-world but no less bizarre comedy about Queen Anne and the women who jockey for position in her court. Conniving and caustic, funny and lavishly shot—plus more than a little homoerotic! Emma Stone has never been better.
Hereditary
Starring: Toni Collette, Gabriel Byrne, Milly Shapiro, Alex Wolff
Why It Made the Cut: Lauded as one of the most terrifying movies in recent memories, the jump-scares and gross-outs are truly unpredictable in this horror masterpiece. It made a huge mark when it came out for elevating the level of horror to which a popular movie can aspire.
Black Panther
Starring: Chadwick Boseman, Michael B. Jordan, Lupita Nyong'o, Letitia Wright, Angela Bassett, Danai Gurira, Martin Freeman, Daniel Kaluuya, Winston Duke, Forest Whitaker, and Andy Serkis
Why It Made the Cut: Not only is this the Marvel entry that you can enjoy without watching any other Marvel movies—a massive feat—but everything about Black Panther went above and beyond the confines of the much-maligned superhero flick. It gave us the beautiful world of Wakanda and strong women ruled. The politics it plays with aren't subtle, but they're handled expertly: Even the Killmonger, though clearly evil, was sympathetic in his ideology. It broke the mold for these kinds of movies—here's hoping it stays broken.
Beautiful Boy
Starring: Timothée Chalamet, Steve Carell
Why It Made the Cut: Everything our boy Timothée Chalamet touches turns to Oscar gold, and this meditation on what addiction does to a family—and just how deeply it affects everyone in its orbit—has already gotten nominations (Golden Globe and SAG) for both Chalamet's and Carell's striking, heartbreaking performances. It's timely in that it shows just how easy it is for normal, well-brought-up people to fall into opioid addiction, pulling off the mask of what an addict looks like and reminding us why casting them aside ultimately helps no one.
Isle of Dogs
Starring: Bryan Cranston, Edward Norton, Bill Murray, Jeff Goldblum, Bob Balaban, Liev Schreiber, Greta Gerwig, Frances McDormand, Courtney B. Vance, Harvey Keitel, Scarlett Johansson, Tilda Swinton, Ken Watanabe, Yojiro Noda, and Yoko Ono
Why It Made the Cut: Lightning-quick, beautiful-looking, and full of heart. And who doesn't love claymation dogs and Wes Anderson? In a weak animation year, Isle of Dogs was above the pack.
A Quiet Place
Starring: John Krasinski, Emily Blunt
Why It Made the Cut: Krasinski's directorial debut, in which he also stars opposite his real-life wife, set up the stakes immediately: Don't make a sound, or an unseen evil will get you. The world inside A Quiet Place is clear, even if the foe is not. Plus, who knew that a silent movie could be so damn scary?
Sorry to Bother You
Starring: Lakeith Stanfield, Tessa Thompson, Armie Hammer, Danny Glover
Why It Made the Cut: This darkly funny, surrealist romp through a corporate wasteland has at its center commentaries on race, capitalism, and complacency versus fighting for what's right—that is, it does if you can tear yourself away from its wild visuals, strange horse-headed people, and bizarro characters long enough to notice.
Mamma Mia! Here We Go Again
Starring: Cher, Meryl Streep, Lily James, Amanda Seyfried, Pierce Brosnan, Jeremy Irvine, Colin Firth, Julie Walters, Christine Baranski, Stellan Skarsgård, and Dominic Cooper
Why It Made the Cut: Because the news was bad, and we needed something nice to distract us for a couple hours. This schmaltzy, campy, Cher-filled island love fest provided the medicine we needed to make it through 2018.
BlacKkKlansmen
Starring: John David Washington, Adam Driver, Laura Harrier, Topher Grace
Why It Made the Cut: It's Spike Lee's best movie since Do The Right Thing, and is as funny as it is timely.
Crazy Rich Asians
Starring: Constance Wu, Henry Golding, Gemma Chan, Lisa Lu, Awkwafina, Ken Jeong, Ronny Chieng, and Michelle Yeoh
Why It Made the Cut: Starring the first all-Asian cast in a non-period film since Joy Luck Club more than 20 years ago, this adaptation launched a thousand stories on why the rom-com is making a comeback. It was one of the biggest films of the year for very good reason.
The Night Is Short, Walk on Girl
Starring: Kana Hanazawa, Gen Hoshino, Hiroshi Kamina
Why It Made the Cut:: An inventive, funny, and soulful film from Japanese animation genius Masaaki Yuasa follows a young woman on the verge of adulthood who wants to experience everything Kyoto has to offer. It's laugh-out-loud funny and offers a sweet message: We're all connected in a million ways, if you take the time to notice.
A Star Is Born
Starring: Bradley Cooper, Lady Gaga
Why It Made the Cut: At once a coming out party for Gaga's acting chops and a way for Bradley Cooper to show he Should Be Taken Seriously, this remake of a remake of a remake had no business being as good as it was. Gaga's performance is genuinely thrilling to watch, and who knew Cooper could sing? If the movie wasn't top of mind for most of the year for you, the soundtrack almost certainly was.
Widows
Starring: Viola Davis, Elizabeth Debicki, Michelle Rodriguez, Cynthia Erivo, Colin Farrell, André Holland, Daniel Kaluuya, Liam Neeson, Robert Duvall, Carrie Coon, Garret Dillahunt, Manuel Garcia-Rulfo, Jacki Weaver, Brian Tyree Henry, Lukas Haas, Michael Harney, and Jon Bernthal
Why It Made the Cut: The heist movie was the last bastion of cinematic masculinity, so it's refreshing to watch four women absolutely slay the form. This is one of those late-in-the-year action entries that was surprisingly better than we expected.
For more celebrity news, beauty and fashion advice, savvy political commentary, and fascinating features, sign up for the Marie Claire newsletter.
RELATED STORY
Celebrity news, beauty, fashion advice, and fascinating features, delivered straight to your inbox!