Stephanie Danler and Ella Purnell Talk 'Sweetbitter' and Strange Female Friendships
The creator of the show sits down with its star as they look back on its first season.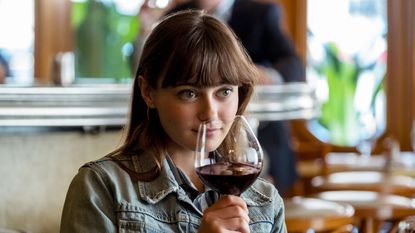 (Image credit: Starz)
Marie Claire Newsletter
Celebrity news, beauty, fashion advice, and fascinating features, delivered straight to your inbox!
Thank you for signing up to Marie Claire. You will receive a verification email shortly.
There was a problem. Please refresh the page and try again.
Sweetbitter, the Starz drama based on Stephanie Danler's 2016 novel of the same name, is a tricky show to describe. Though the novel was partially autobiographical for Danler (who worked at the famed Union Square Cafe), the series plays like a workplace drama, set in the high-stakes world of the NYC restaurant industry circa 2006, with all the trappings of that genre—from the rapid-fire restaurant jargon to the mixed bag of characters.
But it's also a coming-of-age story, following scrappy 22 year-old Tess, played by British actress Ella Purnell, as she moves from her small Midwestern hometown to try to make it in the big city. And while there's plenty of the requisite drugs, drinking, and sex that were hallmarks of the restaurant industry at the time, the most complex and captivating aspect of the show is the relationship between Tess and Simone, a beautiful and worldly fellow waitress whom Tess (at varying times) both idolizes and fears.
With the season finale of the show airing today, MarieClaire.com synced up with Danler (who also created and executive produced the show) and Purnell to discuss the first season. I had been especially curious about whether Purnell found it strange to play a character based partially on Danler while Danler was in the room. And I pretty much get my answer as soon as the three of us are together on the phone. "Hi, I miss you!" Danler says to Purnell.
"I miss you too! It's been a long time since we've seen each other," says Purnell. I ask how long it's been. "Maybe two weeks?"
Here's what the women have to say about the last episode, working on a show that's based on someone's real-world experience, and whether everyone has a Simone in their lives.
On getting the restaurant lingo right:
Throughout the series' six episodes, Tess learns the ropes of a kitchen and the rules of being on a high-end waitstaff. Viewers learn alongside her: At first, the jargon her coworkers use sounds like a foreign language. But by the final episode, she's speaking fluently, and we are too. And that was intentional on Danler's part.
"Restaurant authenticity was something that I was constantly policing," she says. "We ended up hiring two consultants—one back of house and one front of house—that I worked with at Union Square Café to be on set when I wasn't there. Even if you want to film in a certain direction, or even if it would save a lot of time, if the show wasn't totally, 100 percent accurate of what restaurants felt like, I would have felt like the project failed."
It was also a learning experience for Purnell, who had worked in a bar before but never a restaurant. "I thought it would be really easy-peasy," she says. "And then I got in there and I was like, 'Damn it's hard.' I learnt so much."
On writing a show versus writing a book:
Though she'd written a bestselling novel, Danler had never written a show before tackling the script for Starz. She found the experience was actually less like novel-writing and more like another industry with which she's familiar. "What I didn't know about creating a show was how similar it would be to restaurant work," says Danler. "It's deeply collaborative and really about the people you're working with to bring this vision to life."
"It's in a lot of ways the opposite of writing a novel, where you're alone in a room playing God. It's really about letting go of the ideas in your head and trusting these people all around you—from the art department and the set designers to the cinematographer to the actors—to make it better. I don't think that that's difficult, but it was unexpected for me. But it was really liberating in the end and very exciting."
On Tess's fraught relationship with Simone:
Tess's slight obsession with Simone, played by Caitlin Fitzgerald, is understandable: She's worldly, great at her job, elegant, and deeply mysterious—basically everything Tess wants but continually fails to be. "Simone is based on many women," says Danler. "I find that I fall hard for women, and it's not always purely platonic. Those relationships are just as confusing as out-rightly sexual ones. They have an element of fantasy, that I can become this person, and I do feel that that's how I grew up—looking at women and saying, Maybe I can be this kind of woman. I still do that."
"You can take elements of Tess and Simon's relationship and apply it to every friendship you have," says Purnell. "It's incredibly complex."
On playing a character based on someone you know (and watching someone play a character based on you):
"When Stephanie and I sat down for this introductory coffee when I first got to New York, I felt so much pressure," Purnell recalls of the time before filming but after getting the part. "I thought Stephanie was badass, and I thought the script was and the book was, and I was freaking out about why they entrusted me with this really special thing."
I asked Danler if it was strange to watch someone play a version of yourself on TV. "It's so clear to me how different Tess is from myself and from my story when I was 22," she says. "The book and the experiences are true, meaning they happened in life, but that story is not mine. She's a lot braver than I was and a lot more reckless than I necessarily was that particular year. People assume that I'm Tess all the time, but I'm always like, 'Well, now I can finally say that it's Ella. Ella is Tess, guys!'"
The season finale of Sweetbitter airs Sunday night at 8 p.m. on Starz.
Celebrity news, beauty, fashion advice, and fascinating features, delivered straight to your inbox!
Cady Drell is a writer, editor, researcher and pet enthusiast from Brooklyn.