Why You Need to Watch This Domestic Violence Survivor's Heartbreaking Plea
Her courageous message is an inspiration to women everywhere.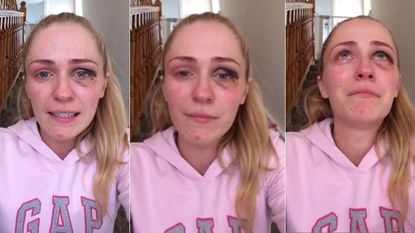 (Image credit: YouTube)
An extremely emotional video posted on Facebook by 26-year-old fitness blogger Emma Murphy from Ireland is going viral on social media. In the video, Murphy explains that she debated for a long time about whether or not to publicize her story, but ultimately decided she had to for the sake of her two young children and to raise awareness "for all the women out there."
Murphy had been in a relationship for 3.5 years with a man she describes as the love of her life. Last year, Murphy found out he cheated on her with one of his clients after the woman contacted Murphy to tell her she was pregnant. As a result of the stress of this terrible discovery, Murphy, who was herself pregnant, went into labor early, her world "turned upside down."
She decided to give him another chance, but last Friday found out he had cheated on her again. When she confronted him about it, he punched her in the face. It was one of the many times he had hit her in the past year and a half, having previously split her head open, and told her it was her own insecurities and paranoia that were to blame for his abuse.
She left him and went to her mother's house, where she found the strength to share her story and remind domestic violence victims everywhere that it's never their fault and that there is a way out.
"No man has any right to put his hand on a woman," she says. "Even once is unacceptable. But to be made to feel that it is acceptable is even worse. To be mentally tortured and told you're paranoid or insecure .... no man should do that to any woman."
According to the National Coalition Against Domestic Violence (opens in new tab), 1 in 3 women have been victims of physical abuse by an intimate partner within their lifetime. If you or someone you know needs help, call The National Domestic Violence (opens in new tab) hotline at 1 (800) 799-7233.
My writing has regularly appeared in The New York Times, The Paris Review, Salon, VICE, Guernica, The New York Observer, BuzzFeed, Cosmopolitan, Seventeen, Esquire, Elle, Harper's Bazaar, and many more publications.

I was previously the Senior News Editor at Best Life Online and the Viral Content Editor in the Newsroom of Hearst Digital Media. My portfolio consists of a vast and diverse body of work that includes personal essays, lifestyle articles, breaking news posts, and viral content. My areas of expertise, however, are Russia, sex and relationships, and mental wellness.