"I'm at the Beginning of a Movement": These Sexual Assault Survivors Are Coming Forward So Other Women Can Find a Voice
No more systemic silencing.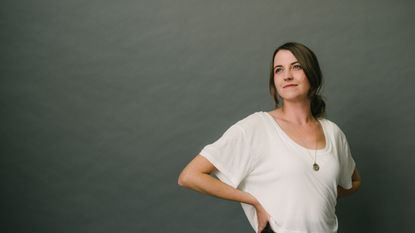 (Image credit: Courtesy of Jessica Ladd)
Marie Claire newsletter
Celebrity news, beauty, fashion advice, and fascinating features, delivered straight to your inbox!
Thank you for signing up to . You will receive a verification email shortly.
There was a problem. Please refresh the page and try again.
There used to be a time when rape and sexual assault survivors were more inclined to hide than to stand up and speak out, and for good reason. But our culture has come a long way—in hearing them, in acknowledging them, and in supporting them.
We're starting—finally—to see a shift. There's now a network of women finding bold new ways (opens in new tab) to address the sexual-assault crisis (opens in new tab) across America's campuses and beyond. And survivors are becoming advocates and activists themselves—and in turn, giving a voice to survivors everywhere.
Among these survivors-turned-activists are Jess Ladd, Antonia Lassar, Kat Alexander, and Aspen Matis, who have all found powerful ways to go public with their stories by building apps, writing books, and shouting across social media and stages to raise awareness and share resources. Their hope? To help survivors heal and get everyone to listen.
Here, meet your new heroes.
After being sexually assaulted as an undergraduate at Pomona College, social entrepreneur and public health activist Jess Ladd wondered what the official steps were to deal with the crime.
She didn't understand why there wasn't a centralized place for survivors to find reliable information around STD testing, counseling, and reporting. She wasn't sure what exactly constituted rape, or what her specific on-campus and legal processes were.
Ladd felt particularly disturbed by the lack of clarity around her options–she'd volunteered as a sex-ed teacher when she was a teenager, and conducted research on sexual health at Pomona, so if she couldn't figure it out she knew there must be others like her. In 2011, she founded Sexual Health Innovations (opens in new tab), a nonprofit focused on creating the sort of sexual-assault-related technology she wished she'd had access to.
"There are a lot of reasons that college survivors take an average of 11 months to file a report," says Ladd. She herself ultimately took more than a year to report her own assault. "By providing a safe place to get reinforcement and resources, we aim to reduce the barriers."
[pullquote align='C']"There are a lot of reasons that college survivors take an average of 11 months to file a report."[/pullquote]
Sexual Health Innovations launched Callisto (opens in new tab) this fall, a digital sexual assault reporting system. Upon logging into the system, users can document the details of their attack, learn about reporting incidents to university and law enforcement officials, and search for resources and support. Those people who want to officially report an incident can also use the portal to electronically send their report directly to authorities. If a user drafts a report but isn't ready to formally file it, he or she can archive it for later.
"Survivors need to feel comfortable with the reporting process–like they have a safe place to get the reinforcement and tools they need," Ladd says, noting that 90 percent of campus assault assailants are repeat offenders. "Creating a culture that promotes reporting also creates an action. It indicates to assailants that there are consequences to their behaviors. And that they should change them."
For Antonia Lassar, "coming out" as a survivor of sexual assault proved nearly as traumatizing as her actual assault.
"I just could not fit the identity people wanted me to," she says. "I couldn't find anybody to laugh with. As a comedian and actor, I was really desperate for that."
So in 2014, she announced on Facebook that she was developing a show about sexual-assault culture on college campuses, along with her own survivor experience. The result, Post Traumatic Super Delightful (opens in new tab), premiered last winter at the FRIGID Festival in New York City. To date, she has performed P-T-S-D at schools, theaters, and crisis centers across five states and Canada, with recent appearances at the Minnesota (opens in new tab) and Edmonton Fringe Festivals.
[pullquote align='C']For Antonia Lassar, "coming out" as a survivor of sexual assault proved nearly as traumatizing as her actual assault.[/pullquote]
Lassar describes the performance as a half-clown/half-monologue one-woman show about a community trying to heal after sexual assault. Through the clown character, she calls out many of the stereotypical expectations society has for survivors.
"I wanted to critique how quickly we expect survivors to get over assault, along with this idea that survivors have to be white college-educated women," she says. "The recognition of those expectations is really where the laughter comes in."
Genre aside, is kicking off a college orientation with a mandatory screening of a performance about rape culture a downer? No, says Lassar. She sees the show as an opportunity for communities to come together to laugh, question, and learn.
"So much sexual violence comes from people who don't think they are rapists," she says. "Too many people are growing up in a toxic environment that doesn't always identify sexual assault appropriately, and that's where conversation and comedy come in."
The last time Kat Alexander saw her older brother, who molested her for years, he was being escorted out of a courtroom in an orange jumpsuit and handcuffs. A year earlier, as a 29-year-old in the first year of a PhD program in public health, she experienced debilitating PTSD from the abuse. Searching for comfort, community, and answers, she wanted desperately to hear other survivors' stories.
"I'd wake up at 3 a.m. and look through online forums to find out what other people had gone through. All I wanted to do was read other survivors' writing about their journeys and healing," she says. She left her PhD program and began an intensive journey of healing, which involved therapy, journaling, and talking with close friends. Then, in 2014, she launched Report It, Girl (opens in new tab). It's a website for and by survivors that aims to foster healing, awareness, and community through storytelling.
"One particular piece of data stuck out to me, which is that most people never tell," says Alexander. "Yet research does show that putting language to experience–expressive writing about trauma–actually does lead to healing. And seeing other people put words to their experiences gave me the tools to start my own writing and healing."
[pullquote align='C']"One particular piece of data stuck out to me, which is that most people never tell."[/pullquote]
Report It, Girl now features a range of survivor stories, from other child assaults to military rape. Along with her colleagues Zoe Middleton and Dr. Alissa Ackerman, Alexander reviews all submissions and vets every comment.
"We are creating this wall for women to write the stories they have historically been advised not to tell," she says. "We're stepping out of silence and shame and moving towards healing."
The synopsis on the cover of Aspen Matis's newly published memoir (opens in new tab), Girl in the Woods, reads: "On my second night of college, I was raped. Shattered and alone, I fled to the Mexican border and headed through through 2,650 miles of desert and mountains to Canada. This is the story of how my recklessness became my salvation."
Matis first shared her story as a Modern Love essay (opens in new tab) in the New York Times, but admits she feared judgement and criticism upon publishing the piece.
[pullquote align='C']"It's not extraordinary that all these stories are becoming national news. It's extraordinary that they weren't before."[/pullquote]
And judged she was, but in an unexpected way. Within hours, Matis found her inbox flooded with agents wanting to talk about book deals.
"As writers, we have tremendous power," says Matis. "If something happens to us, we have the power to not only learn from it but to take something bad and transform it into one of the most beautiful things that never could have happened–that I never could have write if these bad things hadn't happened."
Three years after first sharing her essay, notables like Lena Dunham and Times columnist Nick Kristof have praised Matis' writing. A production company just purchased the memoir, with plans to make a scripted TV series. In the meantime, you can read an exclusive excerpt here (opens in new tab).
"It's not extraordinary that all these stories are becoming national news. It's extraordinary that they weren't before," says Matis. "There has been a systemic silencing, but I feel like I'm at the beginning of a mountain wave of a movement."