Watch An Exclusive Clip From the Upcoming 'Sweetbitter' Episode
Things are heating up for Tess.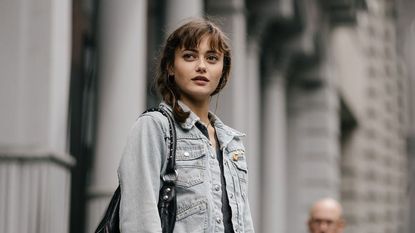 (Image credit: Starz)
It's all coming together for Tess! Well, maybe. Starz hit drama Sweetbitter, based on the novel by Stephanie Danler, follows Tess as she moves to New York City in search of a new life.
If you haven't been keeping up, (you seriously should be though) here's what's been going on: Tess leaves home to pursue something, you literally don't know any details besides that Tess had to get TF out of her house leaving a sister and father behind. She ends up in New York looking for a job and starts applying everywhere because a girl's gotta eat. Tess ends up at a fancy Manhattan restaurant as a backwaitress and meets an incredibly diverse waitstaff with a colorful list of characters that like to party late and haze the newbies. They take her under their wing as she trains to become an actual waitress (to make that $$$) and does what any 22-year-old would do in NYC, fall in love with the city. There are of course a few hookups, a punch in the face, and some major drama. Really, go watch it now.
All caught up? Good. Obsessed? Me too.
MarieClaire.com got an exclusive clip of this week's episode. Tess's world gets rocked as she learns she won't be able to train before her final trail. Will, one of the guy's Tess hooked up with, delivers the bad news leaving her wondering what this means for her moving forward. Can she be ready in time or will she be a dishwasher forever?
Watch the penultimate episode of Sweetbitter this Sunday at 9PM EST on Starz.
Celebrity news, beauty, fashion advice, and fascinating features, delivered straight to your inbox!
Krystyna was the former Social Media Editor of Marie Claire where she oversaw all things social media and connected with MarieClaire.com readers. She came to Marie Claire from Racked.com, where she was the Community Manager. Before that, Krystyna was at Latina Mag and Cosmo for Latinas. She graduated with a Marketing major from Fordham University.