The 5 Most Important Contributions 'The Hills' Made to Culture
With a rumored reboot on the way, let's look back on the MTV show's legacy.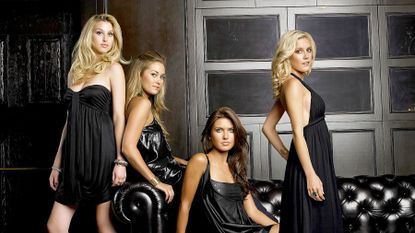 (Image credit: MTV)
The Hills rumor mill is a-churnin' in the new issue of Us Weekly, which quotes anonymous sources to report that the iconic MTV show might be returning, eight years after it went off-air and two years after its deliciously batshit reunion special.
The move would piggyback off the major success of this year's Jersey Shore reboot, which all but ensures that The Hills would have eyes—but there's one slight bummer: According to Us Weekly's sources, Lauren Conrad is out.
Quoth the tabloid: "The rest of the crew is all still friends besides her. Everyone else is down to do it."
That sucks, but fortunately a stan can live off Speidi alone.
In celebration of this joyous rumor, here are 5 of The Hills most historically important cultural contributions.
This is the show that unleashed Speidi on the world.
If someone had told me ten years ago that the only enduring couple from The Hills would be Spencer Pratt and Heidi Montag, it would have been hilarious. When they started dating, Heidi made an abrupt heel-turn from being Lauren's best friend to being a slandering (sex tape rumor!), plastic surgery-obsessed, fame-chaser. It was the stuff of reality show gold, the best part of the series—and they're still together.
Perhaps their love was pure the whole time! That's beautiful! Long live Speidi!
"You'll always be known as the girl who didn't go to Paris."
Remember when Lauren Conrad chose hanging out in Malibu with her then-boyfriend Jason instead of going to Paris for the summer with her internship at Teen Vogue? LOL, that was a bad idea—he broke up with her that very summer, and Whitney Port got to go abroad in her stead. But what a quote!
Spencer Pratt was an early adopter of crystals.
Spencer leaned into his role as the villain of the show's later seasons, and at some point got into rocks and feathers. Not in a geological way. Like, in a spiritual way. He claimed, "Crystals have really calmed me down a lot" and even gifts Kristin a big crystal to help her get through a hard time—all of which was supposed to signal to viewers that he was kind of losing it. But in 2018, nothing is weird and everyone at SoulCycle has a shiny rock or six in their tote to help them staying centered or to use for bartering should the apocalypse come or whatever, and who's losing it now. (We all are.)
Sorry we laughed, Spencer. Please accept this rose quartz as a symbol of our affection.
In a way, we have The Hills to thank for Glossier.
One of Whitney and LC's fellow interns at Teen Vogue was none other than Emily Weiss, getting her first big break in the world of reality TV. She would later go on to found beauty blog Into the Gloss, and then behemoth beauty brand Glossier. Way to parlay, Emily!
Reflection wasn't really a strong suit of The Hills throughout its six seasons—which made that meta series finale all the more shocking. For a show that purported to document the lives of real (rich, white, conventionally attractive) people, the show's final episode suggested revealed that maybe the cast was in on the un-reality of their situation the entire time. We see Brody Jenner watching Kristin Cavallari drive away, the final note of their "will they or won't they?" romance, when all of a sudden her car stops. We watch as the street turns into a manufactured TV set, Kristin gets out of the car and the crew starts popping out around her. The message was a little unclear: Was it suggesting that rather than showing the lives of real people who got good at ignoring camera, the cast-members were actually just shitty actors the whole time?
Doesn't matter: It was shocking, and now seems like the only way the show could have ended.
Marie Claire email subscribers get intel on fashion and beauty trends, hot-off-the-press celebrity news, and more. Sign up here.
Cady Drell is a writer, editor, researcher and pet enthusiast from Brooklyn.