Why "Provocative" Meghan Markle Photos Are Being Used To Hurt Kate Middleton
It's part of a lawsuit over topless photos of Kate.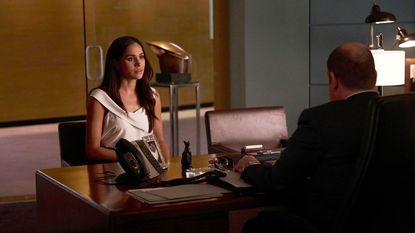 (Image credit: Getty Images)
Correction, 6/21: Closer magazine, which published the news story picked up on other outlets, has retracted its story about "provocative photos" of Meghan Markle and apologized.
In today's edition of women being pitted against one another: A team of French lawyers is arguing that because Meghan Markle once posed for "provocative" photos, it's a-okay for paparazzi to secretly photograph Kate Middleton sunbathing topless, The Telegraph reports.
Some background: Back in 2013, Meghan Markle posed for a consensual shoot with Men's Health—the key word here is "consensual"—and, in a video called "Grilling Never Looked So Hot," the then-actress took off some items of clothing. (Note: Men's Health is owned by Hearst, Marie Claire US' parent company.) What does this have to do with the crass invasion of privacy that was Kate Middleton being photographed topless, without her consent, on a private estate? Well, according to The Telegraph, lawyers for the French magazine who were sued for publishing topless photos of Kate will argue that, actually, there's precedent for members of the royal family posing for "revealing" shoots.
Here's the Men's Health video in question.
I shouldn't have to point out that there's a critical and obvious distinction between an actress taking part in a sultry shoot and a public figure being secretly filmed, half-naked, in a private location. The 2012 photographs were a painful invasion of Kate's privacy, and led to the Palace releasing its most angry statement in recent history.
Their Royal Highnesses have been hugely saddened to learn that a French publication and a photographer have invaded their privacy in such a grotesque and totally unjustifiable manner. The incident is reminiscent of the worst excesses of the press and paparazzi during the life of Diana, Princess of Wales, and all the more upsetting to The Duke and Duchess for being so. Their Royal Highnesses had every expectation of privacy in the remote house. It is unthinkable that anyone should take such photographs, let alone publish them.
The mention of Diana here is significant. Diana, of course, died in a car accident during a frenzied chase by the paparazzi (also in France). By linking her death to the publication of the Kate photos, the Palace was clearly saying: The no-holds-bared approach taken by some members of the European press has already done irreparable damage to our family—and now, this?
Thus far, the courts have agreed with the royal family and the French magazine that published the photos has been ordered to pay £92,000 of damages to Kate Middleton. This effort to pit Kate against Meghan is part of a legal appeal against the figure, with the magazine arguing that its punishment is "hypocritical." Because, you know, an actress who fell in love with Prince Harry many years later once appeared in a slightly suggestive shoot. Right.
Director of Content Strategy
Jenny is the Director of Content Strategy at Marie Claire. Originally from London, she moved to New York in 2012 to attend the Columbia Graduate School of Journalism and never left. Prior to Marie Claire, she spent five years at Bustle building out its news and politics coverage. She loves, in order: her dog, goldfish crackers, and arguing about why umbrellas are fundamentally useless. Her first novel, EVERYONE WHO CAN FORGIVE ME IS DEAD, will be published by Minotaur Books in 2024.