5 Biggest Takeaways From 'Outlander' Season 4 Episode 3
This week's episode toggled back and forth from 1768 to 1970, contrasting Jamie and Claire and Roger and Brianna's relationships.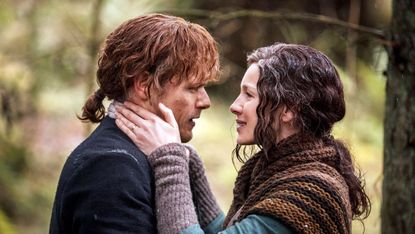 (Image credit: Mark Mainz)
Marie Claire Newsletter
Celebrity news, beauty, fashion advice, and fascinating features, delivered straight to your inbox!
Thank you for signing up to Marie Claire. You will receive a verification email shortly.
There was a problem. Please refresh the page and try again.
After enduring many months of Droughtlander, Outlander, and everyone's favorite century-defying couple, is back. A lot has happened in the show's previous three seasons, and this new chapter is no different. So Marie Claire recruited a diehard Outlander fan to keep up with all the Fraser drama this season. Buckle up, Sassenach.
This week's episode toggled back and forth from 1768 to 1970, contrasting Jamie and Claire Fraser's search for a place of their own in America with the story of their daughter Brianna, back in the future, trying to figure out who she is.
Sam Heughan gives a subtle, nuanced performance as Jamie, a man who is trying to find a role for himself in this new country while blessed (or saddled) with a wife who knows what the future holds. Jamie knows they cannot stay at opulent River Run, his feisty Aunt Jocasta's plantation in North Carolina. He could return to being a printer which he was in Edinburgh. It's safe. He was good at it. But he yearns for more–to be a landowner–the Laird he was destined to be before the English vanquished the Scots at the Battle of Culloden. As a parting gift, Jocasta gives him silver candlesticks which had belonged to his mother – a link to that distant past. They are both emotional as they part: "what I wouldn't give to look on your face, just once" Jocasta, who's blind, says to Jamie.
CLAIRE
Caitriona Balfe as Claire seems to be suffering from PTSD as she struggles to figure out her place in America. She's had her most precious possession, her wedding ring from Jamie, stolen by brutal pirates. She was forced to poison a slave whose life she had just saved to spare him the torture of lynching. She misses her daughter, left behind in the 20th century. She is pulled from her numbness by Jocasta, who may be sweet to Jamie but is pretty brutal to his wife. "You are doing him a great disservice" Jocasta tells her by encouraging him to be a printer. "If you loved him, you would want him to be what he was born to." Claire yearns for the safety of town life but she realizes, as they make their way through the mountain forest, that Jamie needs more.
BRIANNA AND ROGER
It was fun to see 1970 America–which is actually ancient history by now too – brought to life with Brianna's Mustang, the tacky pastel kilts of the Scottish festival dancers and most unbelievable of all–the fact that you could walk down an airport concourse to meet passengers arriving from overseas. In a nice visual twist, their road trip to North Carolina takes them down the same road her parents took as they headed into the mountains. But the romance is star-crossed. Brianna (Sophie Skelton) is trying to be a liberated woman of the time, while Roger Mackenzie (Rik Rankin) seems stuck in the 1950s. Before he'll have sex with her, he proposes, saying he loves her and wants "four or five wee Mackenzies." It's too much for her–she's still processing that her mother disappeared through the stones to return to the love her life–who is not the man who raised Brianna. Brianna and Roger are young and good looking but they lack the passion and fire that made Jamie and Claire's love so exciting.
INDIAN GHOST
When Claire dashes off with her usual impetuousness chasing their mule, she gets separated from Jamie and lost during a violent thunder storm. She takes shelter under a tree and discovers the skull of a man who was killed by a vicious blow to the head. Oh, and a huge opal. Suddenly a torch appears, carried by an Indian who is wearing that same opal. When he turns to go, we can see the huge wound in his head left by an ax or tomahawk. In the morning, Claire's shoes are missing and she follows mysterious footprints to the very spot where Jamie is waiting for her. He's there because when he was searching for her, he found her shoes. Dun dun dun. Turns out the skull–which Claire brought along with her–has silver fillings. He's another time traveler. I don't think we've heard the last of this Native American mystery man.
STRAWBERRY FIELDS FOREVER
Claire finds a field of wild strawberries. It turns out strawberries are the emblem of the Fraser clan. An omen. Jamie says they've found "the most beautiful land I've ever seen." Claire knows what's coming. "I've seen that look on your face before, Jamie Fraser. You're in love." They could take up Governor Tryon's offer of a land grant–with all its political risks and unknown dangers. "Do you trust me Claire?" "With my life" she answers. "And with your heart?" "Always." It is one of the few moments of real tenderness between the two and the absence of it before this makes the episode a little bland. The two main characters that inspire so much devotion seem wrapped up in their own worlds. Anyway, they called the place Fraser's Ridge. Maybe here they can reconnect emotionally.
RELATED STORIES
Celebrity news, beauty, fashion advice, and fascinating features, delivered straight to your inbox!