5 Biggest Takeaways From 'Outlander' Season 4 Episode 5
Jamie and Claire fall into full married couple mode, Roger goes after Brianna, Muller takes drastic measures of revenge, and Murtagh returns!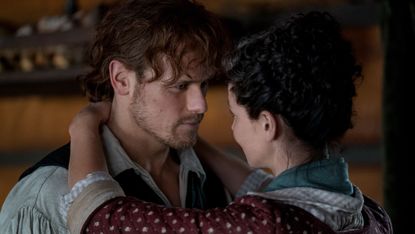 (Image credit: Aimee Spinks)

After enduring many months of Droughtlander, Outlander, and everyone's favorite century-defying couple, is back. A lot has happened in the show's previous three seasons, and this new chapter is no different. So Marie Claire recruited a diehard Outlander fan to keep up with all the Fraser drama this season. Buckle up, Sassenach.
This week's episode was just…great. Wonderful acting from Sam Heughan and Caitriona Balfe. Heughan is so nuanced and tender. He's also cynical, strong and human. Balfe runs the gamut from caring to angry, frightened, tough, needy and joyful. A peacemaker who knows how to load and shoot a rifle. The shot of Balfe chewing beef jerky while holding a loaded rifle across her lap is everything. And…Murtagh's back! Here, the most important takeaways from episode 5:
THEY'RE REALLY TOGETHER
The episode begins with Jamie and Claire packing to go in different directions–he to a nearby town to recruit settlers for his land and she to help deliver a baby. They are so married–he asks her where his hat is and she is like: Where'd you last see it? (Turns out the pig–the notorious white sow–is chomping on it.) But their whirlwind stops for a moment when he asks her if their daughter Brianna (who's living in the future) has a birthmark on her neck. She does. It turns out Jamie's had a dream about Brianna. They stop and hold each other, longing for their daughter, but so connected to each other they don't need words. It's a lovely, tender duet between two people very much in love.
MAYBE DREAMS DO COME TRUE
Meanwhile, where's Brianna (Sophie Skelton)? Roger Wakefield (Richard Rankin) is on her trail after hearing from her roommate that "she's gone to visit her mother." He knows what that means. He discovers she's taken a taxi to the Standing Stones and left a letter for him that says don't follow me. Of course we know he will (they both apparently inherited the time traveling gene) and we can't wait for Brianna to meet Jamie. I'm a little concerned she'll get in trouble because of her 1970s version of colonial American dress which looks more like something you'd wear to the Grand Ole Opry, but she'll figure that out when she gets there.
SAVAGES
The title of the episode raises the question of who is the savage here? The Native Americans who resent the European settlers for claiming land and resources that they believe belong to everyone? Or the Europeans, personified by the German settler Herr Muller who is afraid of the Indians? Claire has gone to deliver Muller's grandchild and the family is so grateful they name the baby after her. While she's there, she intervenes to stop a confrontation between Muller and the Indians who have stopped to water their horses at his creek. But it's not enough. Muller believes an Indian curse has caused his family to contract measles. When his children and grandchild die, he goes berserk. He comes to Fraser's Ridge to warn Claire and brings a gift. She is horrified when she unwraps it to find scalps inside–including that of the Indian healer who she befriended. The Native Americans then take their revenge, killing Muller and his wife and burning their homestead. When Jamie returns, he finds Claire still shocked and terrified. She clings to him as her safe haven after the storm she's been through.
SEEDS OF THE REVOLUTION
Jamie is stunned to discover, as he recruits settlers, that no one wants to take him up on his offer of 100 acres of free land. Many of the colonists have already given up their land after being cheated and robbed by tax collectors for Governor Tryon, the man who granted Jamie his 10,000 acres. But it came with the proviso that Jamie would put down any rebellion by men who call themselves Regulators. It is a chapter in history that few Americans know about, and seeing the frustration and anger of the colonists, the only surprise is that the American Revolution actually started in Massachusetts, not North Carolina. And it turns out the leader of the Regulators is well known to Jamie Fraser.
IT'S MURTAGH!
He's back! The wonderful Duncan Lacroix plays Murtagh, now a crusty old blacksmith who cheats Jamie's nephew Ian of all their money. Jamie is so incensed he goes to demand the money back. The reveal when Murtagh hears Jamie's voice, when Jamie realizes he's found his godfather, is moving and emotional. And when Ian says that Jamie wants a surprise made for his wife, Murtagh is taken aback. If anyone knew how much Jamie loved Claire, it was Murtagh. "You married again?" Jamie tells him that Claire has come back to him (sidestepping the little fact that he had indeed married someone else in the meantime) and Murtagh is thrilled. Jamie invites Murtagh to come back with him to settle in Fraser's Ridge, but Murtagh refuses. He has his business and he has his cause, the Regulators. So we, along with Claire, are surprised when he walks through the woods at Fraser's Ridge, where Claire is gathering firewood. He's whistling "Boogie Woogie Bugle Boy of Company B" the song Claire sang while they were searching for Jamie together. Their joy when they see each other again and hug is so…okay I cried. I admit it. It was lovely.
RELATED STORIES
Celebrity news, beauty, fashion advice, and fascinating features, delivered straight to your inbox!