9 Dramatic 'Vanderpump Rules' Moments Nobody Can Ever Forget
As the show returns for its seventh season, consider this your drama cheat sheet.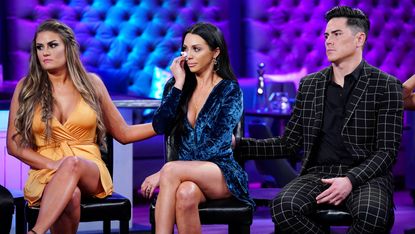 (Image credit: Bravo)
I don't want to sound dramatic, but Vanderpump Rules is the reason I get up in the morning. Since its premiere as a spin-off to the Real Housewives of Beverly Hills back in 2013, the show has given us endless quotes, gifs, and situations that will live in infamy.
What makes Pump Rules so enticing is that while it's kind of nuts, it's also extremely relatable in the grand scheme of reality TV. Unlike other shows on its home network, the subjects here aren't millionaires in gorgeous homes—they're waiters and bartenders in rent-controlled apartments where the lights shut off when you microwave a meal. And yet, they go there in ways I haven't seen on TV since Degrassi. This is high-level drama.
I decided to take a look back at some of the most insanely iconic moments ever on Vanderpump Rules, in order to catch you up for the season seven premiere Monday night—and I even enlisted some noted Pump enthusiasts to help me break it all down.
Picking a favorite Vanderpump fight is like picking a favorite child—you love them each equally for different reasons. But some stand out even years later, and one of the most iconic comes from the very beginning of the first season, when Jax breaks up with Laura-Leigh...while she's at an AA meeting.
Ben Mandelker, Pump Scholar and host of the hilarious Bravo-themed podcast Watch What Crappens, agrees. "I love the unrelenting anger of Laura-Leigh as she accuses Jax of both engaging in unprotected sex and defriending her on Facebook," he tells me. "And I live for Stassi gliding into the fight with a victorious smile. And I still cringe thinking about those two bar patrons stuck in the middle of it all, patiently waiting for their Pumptini."

Ben isn't the only Bravo expert still thinking about this moment. Patrick Varone, who hosts the web show Shot Topics, considers this fight the moment Pump went from just another reality show to Bravo's nutcase juggernaut. "Laura-Leigh had the last laugh, because after she told anyone who would listen at the bar that she and Jax had unprotected sex multiple times—I believe she said something along the lines of, "You were inside of me without protection"—she promised to ruin his life," he says. "But in the end, she ruined ours because she quit SUR after she booked a role alongside Jennifer Aniston in We're the Millers."
Just when you think, Hmm this show has been on for a little long, I wonder if the storylines will get stale, you find out that someone cheated on their girlfriend with someone ten minutes into the premiere. And not just anyone—Jax (the notorious Cheater of WeHo) stepped out on Brittany, a literal angel. What makes it even more insane? He cheated on her with an otherwise unknown SUR employee while she was caretaking for an elderly woman. All of this (and more!) was documented on a voice memo from, I'm assuming, a cracked iPhone 5.

Of course, the rest of the season was an equally intense roller coaster that started with this incident. But it's also the reason everyone who watched the show shrieked, "BRITTANY, NO!" when Brittany and Jax's recent engagement was announced (it'll feature front-and-center in the seventh season, you can be sure).
Few quotes transcend from reality TV into actual news and conversation quite like this one did. Even now, I feel like you could go up to anyone on the street and shout "IT'S NOT ABOUT THE PASTA" and they'd immediately start clapping back to you.
Danny Pellegrino, host of the pop culture podcast Everything Iconic, holds this scene close to his heart, since he's the person who maybe, kind of came up with the idea that "pasta" might be code for something else in West Hollywood. "Vanderpump Rules-watching is a sport for Bravo-lovers, and the pasta fight made us all feel like we were playing the game with them. This scene is so incredibly layered," he tells me. "Here you have two friends, James and Lala, who have a rich history among them. James, at the time, was in a new relationship with Raquel (who I predict will have a breakout season), which caused a rift in his relationship with Lala."
Reality TV mogul Bethenny Frankel—for whom I ask "WWBFD?" in most situations and then do the opposite—has talked about fights like this in the past. Mainly, that when people on reality TV are fighting, "it's not about what it's about." That means that Lala doesn't give a crap about her carbonara, but is instead hurt over how James is treating her.
And people say reality TV has no layers!
The on-again, off-off-off-off-again friendship between Stassi and Scheana is one for the books. From supporting each other at song release parties, to throwing jabs at each other over beauty articles ("I'm so tired of you calling it a blog!"), they've had their ups and very steep downs. But this scene—mainly, this line—goes down in history as one of the best quotes in the American canon. It's the return of Stassi, and a shift in the world order at SUR. Waiting on both her and Matriarch Lisa Vanderpump, Scheana refuses to take Stassi's drink order. In return, Stassi utters the most iconic quote of all time (one that I'm debating getting a tramp stamp of): "I don't know what I did to you, but I'll take a Pinot Grigio."
Mark Twain is shaking, but would also like a glass of Chardonnay when you get a chance. Seems that unlike Scheana Shay's single, they're not good as gold.
Looking back, this show's first season contained more drama per moment than anything else on TV. There was no slow burn to something good—the staffers of SUR immediately started throwing drinks, sleeping with each other, and tossing cardigans on the ground from the get go. But all of those reality TV tropes overlapped in this truly iconic moment. Ronnie Karam, also of Watch What Crappens, says it warms his heart to watch Stassi scream at everyone about her "FUCKING BIRTHDAY" multiple times. "Then her temporary boyfriend Frank called Jax out for living off of Stassi's money—a woman ten years his junior!" explains Karam. "And Jax fought the allegations of poverty with a word only a true poor could rely on so dependably: Pawn. 'You're a pawn! A pawn! A PAWN!'"
Karam argues, though, that the best part of this scene is the aftermath. "They're in a strip mall parking lot in front of a stretch Hummer limo, when Tom Sandoval takes off his shirt to threaten Frank with his waxed nipples, and Jax takes off his chunky Old Navy dad sweater so he wouldn't get blood on it when he murdered Frank with single-syllable insults."
Name a crazier reality moment. I'll wait.
Two of the biggest instigators of season six were iPhone voice memos and cushions. After a night of heavy, heavy drinking during Jax's birthday getaway to Mexico, Stassi was fast asleep with pizza and ranch dressing, Tom Schwartz was blacked out at another resort, and Peter was… being Peter somewhere. That left only two Pump-ers, Kristen and James Kennedy, left standing. Two exes who rarely speak were alone together in the attached hot tub off of Jax and Brittany's suite at 7 a.m. after a day (and night) of drinking.
This moment became drama on the golf course the next day, when James is questioned by the other boys until he admits to "sort of hanging out" with Kristen. When Kristen found out about this characterization of their tryst, she short-circuited on a tequila rage and threw a drink at James. The chaos is enough to make poor, sweet Katie Schwartz bleat, "Kristen! I told you not to do that!"
It's just...all so much.
There's no easy way to leave a job. You're worried about upsetting your boss, terrified about whether you're making the right professional decision, and scared you're about to regret this move. But leave it to Queen Doute to demonstrate how to bow out by cursing off your manager in between cigarette puffs.
Danny Pellegrino explains why this moment is so legendary: "In my opinion, one of the best qualities a reality TV persona can have is being willing to smoke on camera," he says. "It's no longer cool to smoke a cigarette, and we all know it's not healthy, but that doesn't mean people don't do it—it just means most TV personalities who smoke will do it off-camera. However, the good ones, like Kristen here, will light up with the boom mic and PA ready to film. She has zero filter, and has delivered countless memorable moments, but her telling Diana to 'suck a dick' in between drags of her Marlboro is a level of reality TV iconography that few can attain. Kristen truly is iconic."
Just like the girls of Sex and the City had the Cafeteria as their go-to brunch spot and Walter White had a meth lab as his home-away-from-home, the servers of SUR have the infamous back alley.
The fights, breakups, and makeups that have gone down there are countless, but some favorites do exist. Amy Phillips, host of Reality Checked (on Sirius XM) can easily cite hers: "The breakup of Kristen Doute and DJ James Kennedy," she says. "James repeatedly calls Kristen by her first and last name while smoking a cigarette, James Dean-style. Kristen gives us a range of emotions, from tears to anger. They spar with their words from the restaurant chairs to the parking lot and around the garbage cans, and it crescendos with a double walk-off. Epic and emotional television at its finest."
You know when you're pissed off that your best friend slept with your ex-boyfriend while her boyfriend was asleep in the other room while the movie Drive was playing? Me neither, but watching it go down on this show was everything I needed and more. It brought the first season to a mind-bogglingly dramatic close and kept us all hooked for more.
More than anything, this moment really goes to show just how much can change in a year (or a season). Just a handful of dramatic group vacation later and these Witches of WeHo are making a wine together. Cheers!

The seventh season of Vanderpump Rules premieres Monday, December 3, on Bravo.
Danny is the cultural and social editor for BestProducts.com where he's been covering crazy trends, celebrities, and anything else insane since 2016; He has also contributed to Marie Claire, Delish, and Medium. When he's not looking for the next viral sensation online, you can find him watching Bravo, drinking a third cold brew, or trying to convince people to go to karaoke.