Who Is Rod Blanchard, Father to Gypsy Rose Blanchard of Hulu's 'The Act'?
They're working to rebuild their relationship.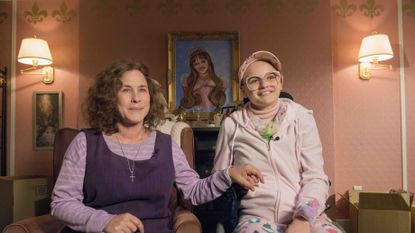 (Image credit: Brownie Harris/Hulu)
Rod Blanchard—does the name ring a bell? If you've seen Hulu's new anthology crime series The Act, that'll be why. Rod is the IRL father of Gypsy Rose Blanchard, the woman whose real-life story is the inspiration behind the The Act. The series premiered March 20, and depicts the toxic mother-daughter relationship between Gypsy Rose Blanchard (Joey King) and her mother Dee Dee Blanchard (Patricia Arquette). But there's a missing piece: Where was Gypsy's dad Rod Blanchard during all of this, you might wonder, and what does he think about everything that's happened?
A little background: For most of her life, Gypsy was under the impression that she was terminally ill and living with physical and mental deficits, thanks to her mother Dee Dee, who is thought to have had Munchausen syndrome by proxy. But in Gypsy's teens, she discovered her mother has been lying to her—she didn't have leukemia, epilepsy, muscular dystrophy, or any illness at all.
Now, Gypsy Rose is serving a 10-year sentence for second degree murder of her mother, who was stabbed to death in their Missouri home. Gypsy's online boyfriend, Nick Godejohn, who carried out the stabbing, is serving out a sentence for first-degree murder
Sign up for Hulu to Watch 'The Act'
Throughout the 20-something years of abuse that Gypsy endured, Dee Dee managed to have everyone around her fooled, including Gypsy's father Rod, a man she reportedly always kept at an arm's length. According to a 2016 BuzzFeed article, Dee Dee told doctors and friends that Rod was a deadbeat drug addict who abandoned his daughter, which wasn't true.
Here's what is, according to Rod: He began dating Dee Dee when he was in high school. He was 17 and Dee Dee was 24 when she became pregnant with Gypsy. The two married shortly afterwards. But when Rod turned 18, he came to a realization. "I wasn't in love with her, really. I knew I got married for the wrong reasons," he said.
But Rod didn't abandon Gypsy, like Dee Dee had insisted. He paid $1,200 a month in child support, even after Gypsy turned 18. "There was never a question whether or not I was going to stop paying," Rod said. He provided Gypsy with gifts, like a television set and a Nintendo Wii. Rod and his now-wife Kristy reportedly visited Gypsy often in the first ten years of her life. But eventually Dee Dee began to limit their time together.
According to the Springfield News Leader, Kristy recalls several occasions where she and Rod had planned visits to Missouri. But on the days leading up to their trips, Dee Dee would not respond to their calls or texts. Then, weeks later, Dee Dee would explain that Gypsy had been in the hospital. These kinds of impromptu hospitalizations worried both Rod and Kristy.
"We were very intimidated about her medical conditions," Rod told the News-Leader. "Dee Dee was explicit that she had to be by her side 24-7. So we never did get to build that bond."
In an interview with Fox News, Rod said that Dee Dee was always scared that he would get close to Gypsy. It bothered him, he said. "But I was always hoping that Gypsy would get old enough that one day we could bond. It got hard, it really did. But I didn't want to push it too far. Dee Dee had full custody and could cut me off completely from any kind of relationship we already had. There was a fine line I had to walk with her," Rod said.
But in a 2017 interview with Dr. Phil, Rod admited that he wish he'd done more to fight for a relationship with his daughter. "I feel guilty. How can I let this happen? Why wasn't I there for Gypsy more," Rod said. "If I coulda built that relationship with her, she wouldn't have hesistated to call and say 'Daddy, ' you know, 'this ain't right.'"
Since the murder and Gypsy's prison sentence, it seems like Rod is determined to make up for lost time. He started an online petition—one that more than 18,000 people have signed—in an effort to reduce Gypsy's 10-year sentence. According to the petition's description, which Rod wrote, Gypsy calls him 3-5 times a week and has developed a great relationship with her stepmother, Kristy.
Despite the crime committed, both Rod and Kristy have said they will support Gypsy once she's released on parole, which could happen as early as 2024.
"Yeah, it's wrong, and there were other options that Gypsy had — which she tried some of those avenues and they didn't work out," Rod told People. "Bad as it sounds, she [Gypsy's mom] asked for what she got."
Related Story
He also told People that Gypsy will always have a home with him and Kristy. And the two plan to "put her on the right path" once she's released. Rod may feel guilty about the past relationship he had with Gypsy, but he's clearly proud of the relationship now and has high hopes for the future.
"It's a hundred times better, honestly," he told Fox News about his and Gypsy's relationship. "We email each other. She can call me anytime and she does. I'm keeping tabs on all of her accomplishments in school. She's getting her GED. It's wonderful. I can't wait for her to get out so we can build on that foundation that we started here."
You can stream The Act on Hulu right now.
---
For more stories like this, including celebrity news, beauty and fashion advice, savvy political commentary, and fascinating features, sign up for the Marie Claire newsletter.
Related Stories
Marie Claire email subscribers get intel on fashion and beauty trends, hot-off-the-press celebrity news, and more. Sign up here.
Alexis Jones is an assistant editor at Women's Health where she writes across several verticals on WomensHealthmag.com, including life, health, sex and love, relationships and fitness, while also contributing to the print magazine. She has a master's degree in journalism from Syracuse University, lives in Brooklyn, and proudly detests avocados.