#HotGirlSummer Explained: Inside Megan Thee Stallion's Viral Mantra
It's not too late to join in.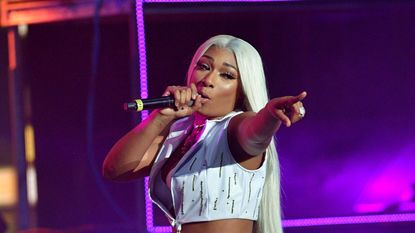 (Image credit: Prince Williams)
Three words: Hot Girl Summer. It's a mood, it's a lifestyle, it's a vibe. It's about the way you act, feel, and take up space in the world. It 100 percent describes Megan Thee Stallion, and it could also describe you.
The term initially came about after the Texas rapper behind the hit "Freak Nasty" released her first official mixtape Fever in May. Fully embracing her alter-ego Hot Girl Meg, the record's cover features Megan in a leopard-print two-piece with flames behind her head and a cover line with an exclusive callout to Thee Hot Girls. The cover also reads, "She's thee HOT GIRL and she's bringing THEE HEAT."
And that's all the internet needed to make Hot Girl Summer a meme—a call to action from one of the hottest hot girls around.
But Hot Girl Summer is hard to define, because it's unique to anyone who adopts it. So how can you be a part of it? We broke it down:
Adopt the right attitude.
First things first: Embrace the essence of Hot Girl Summer. In an interview with The Root, the rapper elaborated on her mantra:
Hot Girl Summer comes in many forms, and though it has the word "hot" right in the title, it's not really about what you look like—it's about how hot you feel. Then use that internal hotness to do whatever you, as a hot girl (of any gender), want to do.
Embark on self-care.
One thing you could do is be kind to yourself, in order to attain maximum hotness, inside and out. Drink that water. Read that book. Go on that walk. Put on that face mask. Do whatever makes you feel like the best version of you.
I've been outdoors all week, drinking water, journaling, taking my vitamins, using SPF, avoiding sugar and carbs and minding my business. That's a #HotGirlSummer in your 30s.July 12, 2019
See more
Listen to Megan Thee Stallion.
Though by no means the ultimate decider in Hot Girl Summer participation, Megan welcomed Ciara into the Hot Girl Club in June after seeing this video.
Watch as Ciara unapologetically twerks to Meg Thee Stallion's "Pimpin," with husband and NFL football player Russell Wilson beside her and what appears to be a driver and security up front. She's doing what she wants, when she wants, and having a good time doing it. No explanation necessary. Very Hot Girl Summer.
Stay informed and engaged.
Hot Girl Summer is about not letting labels define you. Just because you like to wear cutoff shorts and twerk does not mean you're not also a civically engaged citizen who is up-to-date on Elizabeth Warren's stance on women's reproductive rights.
Meg herself is (in addition to being a full-time rapper) a college student studying health administration at Texas Southern University. Hot girls can do it all and should not be underestimated.
can't wait to wear my megan thee stallion booty shorts and my elizabeth warren tshirt at the same time #hotgirlsummerJuly 3, 2019
See more
Say yes, or no, to activities whenever you want.
See, Hot Girl Summer is as much about saying no to things you don't want to do as it is about saying yes to everything you do. It's about reconnecting with the friends that raise you up and disconnecting with people who bring you down. It's about making goals and treating yourself to things like vacation and dinner dates. It's about investing in you again.
Organize for Love made a helpful checklist:
And even though it has "summer" in the title too, this is a mood that's here to stay. May the Hot Girl Summer be ever in your favor!
For more stories like this, including celebrity news, beauty and fashion advice, savvy political commentary, and fascinating features, sign up for the Marie Claire newsletter.
RELATED STORY
Celebrity news, beauty, fashion advice, and fascinating features, delivered straight to your inbox!
Alexis Jones is an assistant editor at Women's Health where she writes across several verticals on WomensHealthmag.com, including life, health, sex and love, relationships and fitness, while also contributing to the print magazine. She has a master's degree in journalism from Syracuse University, lives in Brooklyn, and proudly detests avocados.