Self-Care Ideas, Courtesy of Our Editors
Get inspired to do something nice for yourself by learning 'Marie Claire' editors' self-care routines—whether it's curling up with a great book or using a life-changing Instant Pot.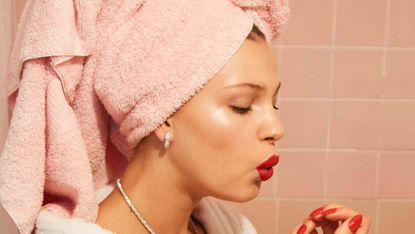 (Image credit: HAO ZENG)
Marie Claire Newsletter
Celebrity news, beauty, fashion advice, and fascinating features, delivered straight to your inbox!
Thank you for signing up to Marie Claire. You will receive a verification email shortly.
There was a problem. Please refresh the page and try again.
Nobody really teaches you about the importance of daily self-care. Social media suggests doing something nice for yourself when you're depressed or feeling exhausted after a long week, but the key to getting that #balance we all deserve is making the time to do something nice for ourselves every day. It's easier said than done, especially with unpredictable work schedules and, well, life, but it is possible.
Here, Marie Claire editors share their personal self-care routines to inspire you to celebrate yourself on International Women's Day...and every day. Make time for 'em or don't, but at the very least you're guaranteed a great skincare rec.
"With office hours, press trips, and beauty events morning and night, my work week is all over the place. This makes a nighttime ritual hard to nail down. When I do get home at a reasonable hour, I pour myself a glass of red wine, put on a podcast, and cook a simple but satisfying dinner—usually shakshuka or crispy skinned salmon, both of which I could make with my eyes closed. All of the chopping, seasoning, and simmering feels meditative after running around Manhattan and writing all day.
As for the weekends, my perfect "self-care Saturday" actually means leaving my apartment. (Shocking, I know.) I hit New York Pilates in the morning, then get ready for the day. Instead of going makeup-free, I put on a fun makeup look that makes me feel good, like a monochromatic eye/lip/cheek situation using Rituel de Fille's multi-creams (this shade is my go-to) or a cat eye with wings sharper than a box cutter. For the rest of the afternoon, I read in the park or treat myself to a long, lazy lunch."
—Taylore Glynn, Associate Beauty & Health Editor
"My favorite form of self-care is taking a Flywheel class. It's a full 45 minutes that I am phone-free, likely listening to Beyoncé, spinning so hard I don't have the capacity to worry about my to-do list, and doing something that is 100-percent just for me. I've found that Flywheel is one of the best ways for me to manage stress—and while it can be harder to find the time to take a class on the days that I have 10,000 unread emails in my inbox (me, currently), I'm trying to make that more of a priority, because I know working out makes me a calmer, happier, more productive person. And I've never walked out of a class regretting taking it. Watching the Great British Bake Off on my couch comes in a close second."
—Sally Holmes, Digital Director
"My number-one self-care necessity: A hot water bottle. Americans think it's weird—for that matter, my fellow Brits think it's weird to be so attached to it—but I can't relax without one. I quite literally cannot sleep without cradling one in my arms like a newborn (I have four, if you're wondering), and at least twice a day I'll gently place one behind my back to watch TV or scroll through Instagram.
On a perfect self-care afternoon, maybe a Saturday, I'll get back in bed with a hot water bottle and my dog, and turn on the TV that faces my bed. Then, I'll drink a hot cup of Earl Gray tea with milk (tea before a nap makes for a better nap, dontcha know), lie as close to horizontal as I can get while still being able to see the TV, and drift off to sleep, clutching my hot water bottle like a lifejacket. Sometimes I even do this after work if I'm feeling worn down. Seriously, people, get on board the hot water bottle train—they are deeply soothing and everybody should have one (or four)."
—Jenny Hollander, Deputy Editor
"Running without a watch or dedicated mileage is part of my self-care routine. When I don't have a specific workout in mind, it's the most relaxing for me because I am solely focused on feeling good and being in tune with my own body. Besides that, I like to eat cheese and watch documentaries online (hello Frye Festival) to zone out. It's all about balance, amiright?"
—Megan DiTrolio, Executive Assistant to the Editor in Chief

"I recently Kondo-ed the medicine cabinet over my bathroom sink and it's bringing me so much joy. On the bottom shelf, I now have my skincare routine all lined up in a row: Cotton pads inside an old Diptyque candle jar, next to my Mary Kay eye makeup remover; then comes my Glossier milky jelly cleanser, followed by Glossier's Solution exfoliating skin perfector, and lastly, Glow Recipe's watermelon sleeping mask. All of the bottles are light pink or a soft white, and I find going through the steps very soothing at the end of the day. Now I actually enjoy washing my face before bed every night, which means I'm doing it with greater consistency than ever before."
—Kayla Webley Adler, Senior Features Editor

"As a rape survivor, I make self-care an important part of my life. I've got dairy-free ice cream in the freezer, Billy Eilish songs on my phone, and an ambient noise machine by my bed. But my favorite self-care routine is cooking. Because I have so many allergies, I end up making my own meals a lot, and it's evolved into major therapy for me. I know that as soon as I throw on my apron, pour myself a glass of wine, and open the fridge, I'm about to chill out (and make a big ole mess, TBH).
As a Christmas present for myself, I splurged and bought an Instant Pot. It absolutely lives up to the hype. So far, I've made the most perfectly-cooked sushi rice and slow cooker beef stew to counteract the cold weather. The best part? I only had to do about 10 minutes–worth of work to make them. My Instant Pot sits proudly in the middle of my kitchen like the cooking badass it is, and we're becoming BFFs."

—Katherine J. Igoe, Morning News Editor
"For me, self-care is all about working out. People think I'm psycho for waking up at the crack of dawn almost every day to work out, but it's really the only thing that keeps me sane. I've made Rumble Boxing a part of my every day routine as a way for me to reserve 45 minutes solely to myself to let out any fears or angers by punching a bag and not thinking about anything else. It's like therapy, so I'm basically paying for a 2-for-1."
—Adrienne Faurote, Fashion Market Assistant
"Whenever I'm feeling overwhelmed, there's nothing like going through my nighttime skincare routine, slowly and surely, while listening to slow jams. I usually light my bathroom candles, then take my time massaging every product into my skin (while singing along, of course). After I cleanse, I put on my favorite face mask, which is Orveda Visibly Brightening & Skin Perfecting Mask at the moment, and run my bath water.
No matter how late at night it is, soaking in a candlelit bath for at least 15 minutes makes me feel so good—those few minutes of my day are dedicated solely to me. Then, I finish up my 15-step skincare routine, and get into bed. I wake up feeling so rested, and my skin is glowing from spending time on it the night before, so all feels right in the world."

—Maya Allen, Digital Beauty Editor
"When I think of self-care, I picture that 30 minutes before bedtime where I slap on a mask (I've been loving this K-beauty one) for 15–20 minutes while laying in bed. During that time, I'm usually either reading MC's latest book club pick or I'm on my phone scrolling through Instagram while texting my boyfriend. I don't know if it's the ingredients in my skincare routine or the act of doing something nice for myself, but a mask really does make me feel (and look) amazing/refreshed. I usually try to commit to this sacred time one or two times per week, which reminds me...it's mask night."

—Marina Liao, Fashion News Editor
"A few years ago, I went home to Cali after a particularly long few months of zero self-care, and my mom saw my feet and was horrified—a combination of a much-needed pedi and dry heels. She made me take a long shower and settle in to watch Netflix while she rubbed my feet with Vaseline and covered them with socks before demanding I go to bed early (more self-care, yes, but mostly she didn't want me to get Vaseline all over the floor).
Since, I've tried to keep this self-care routine up once per month. My mom, of course, sent me home with latex gloves to stop the Vaseline from getting all over my hands. I'm still looking for a pair of socks thick enough to handle the jelly-like substance, so I suggest having a designated pair of house slippers if you have to move around. I've also added a heavenly body lotion (Bum Bum Lotion is the shit), a Joanna Vargas face mask, and a Fresh lip mask to the mix, because I might as well hydrate everything.
I try to not look at my phone during this time, which is something I struggle with. Before I jump into the Netflix portion of my self-care routine, I'll light a candle, read my Angel Cards to check in with myself, and journal for a bit. Once this little routine is over, I feel lighter and more refreshed. Highly recommend on a Friday or Sunday night."
—Krystyna Chávez, Social Media Editor
"My self-care routine is relatively simple: After stressful work days or during slow weekends, I plop on my couch, wrap myself in a cozy blanket, and escape via the pages of a gripping novel (always fiction, since my day job involves a lot of non-fiction) with my husband and my pup by my side.
I cannot rave enough about Ling Ma's Severance, my favorite book of 2018. So far this year, I've loved Susan Choi's Trust Exercise, Andi Bartz's The Lost Night, and I just started Helen Oyeyemi's Ginger Bread. Two go-tos I can always revisit? Kate Chopin's The Awakening and Lorrie Moore's Who Will Run the Frog Hospital."
—Colleen McKeegan, Senior Features Editor
"My self-care philosophy is very much the opposite of my work life philosophy: spontaneity. I'll usually start by lighting whichever candle happens to match my mood at the moment (whether that be musky teakwood or fruity citrus) and slapping on a Korean face mask that I vibe with—FaceTory has a huge variety of fun ones to choose from. Then, I'll either bury my nose in a good book, scroll through horror/thriller movies on Netflix, or re-watch episodes of How I Met Your Mother on repeat (it's the ultimate therapeutic show for me)."
—Hana Hong, Beauty Assistant
"My self-care instincts usually lead me to online shopping or scrolling through Instagram, but that often leads to a short rush and lasting regret, so I'm really trying to fight those impulses. I set my phone aside after my commute home and do things around the house like washing dishes, cooking dinner, or other non-screen activities that actually feel nice after staring at a computer screen all day. If I'm feeling really wound up or overstimulated, I'll take a hot bath.
Walking is also an activity that makes me feel grounded. I'll take a walk around my neighborhood (sans phone) in Brooklyn, which happens to be near a Botanical Garden. This weekend, I took a free Yoga Nidra session—a form of meditation that edges into a near sleep state and promises to provide the benefits of four to five hours of deep sleep in just 30 minutes. I was really into it, and I plan on using an audio guide so I can do it on my own. If all else fails, hanging out with my two cats usually puts me in a peaceful state of mind."
—Bridget Burns, Photo Editor
For more stories like this, including celebrity news, beauty and fashion advice, savvy political commentary, and fascinating features, sign up for the Marie Claire newsletter.
Celebrity news, beauty, fashion advice, and fascinating features, delivered straight to your inbox!
Rachel Epstein is a writer, editor, and content strategist based in New York City. Most recently, she was the Managing Editor at Coveteur, where she oversaw the site's day-to-day editorial operations. Previously, she was an editor at Marie Claire, where she wrote and edited culture, politics, and lifestyle stories ranging from op-eds to profiles to ambitious packages. She also launched and managed the site's virtual book club, #ReadWithMC. Offline, she's likely watching a Heat game or finding a new coffee shop.