Who Will Be 'The Bachelor' In 2020? Rumors Are Already Flying
We've gotten to know Hannah Brown's suitors in this season of The Bachelorette, and one of them will be the Bachelor in 2020. Here's who is rumored to be under consideration.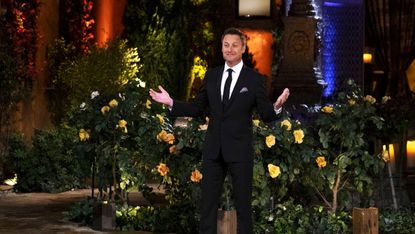 (Image credit: John Fleenor )
Spoilers ahead for The Bachelorette and Bachelor in Paradise. We are still a while away from the 2020 season of The Bachelor, but—no surprise—there's already a lot of buzz about who could nab the coveted role. As of late August, we know exactly who they're going to announce as the 2020 Bachelor on the Bachelor In Paradise finale (if you don't want to know, stop reading now!) and it's Peter Weber, a.k.a. Peter the Pilot.
Right now, what Peter's season will look like mostly speculation, but as we get closer to the show's shooting schedule (production often starts in September) we'll update this post with more details.
He'll be announced tonight.
The finale of Bachelor In Paradise has already been filmed, and Peter has been brought out and officially announced as the 2020 Bachelor. Reality Steve confirmed, and then double-confirmed, the news, tweeting: "(CONFIRMED): For those hoping my intel from Sunday was wrong - sorry. Peter is your next "Bachelor." It was officially announced at the reunion taping yesterday and he was brought out."
Not only has Peter's intro video been taped (more details below), the 33 women vying for his heart this season have already been introduced to the world. ABC released their photos early this week, and Reality Steve followed suit with more details. (The Bachelor usually airs in January, so we've got a while to go.)
The announcement itself might get a bit awkward, because the other frontrunner, Mike Johnson (and the guy I was hoping would be Bachelor, sigh) will also be there, potentially on stage, because he was a contestant on Bachelor in Paradise. Both men have been supportive of each other, though, and Mike could totally be dating Demi Lovato, a.k.a. the luckiest woman on Earth.
There are pictures.
Update, 9/13/19: As I had previously speculated, producers are leaning in to the whole Pilot Peter angle (no surprise). Thanks to some spoilery pics, we now have insight on Peter's intro package, which is looking for and more like a scene from Catch Me if You Can. I mean, I get it, people love a uniform, and he actually does fly for Delta (in one of the photos he's posed strategically under a Delta sign), but I was maybe hoping for something a little different than past seasons.
The producers are apparently shooting at LAX, which is nearby where Peter and his family live, so hopefully it'll connect in with his family—dad's a pilot, mom's a stewardess—and his lifestyle? I dunno. Also, can you imagine how difficult it would be to shoot at such a public place like LAX? You can actually see what looks like real travelers and security in the background there. No wonder there were immediately photos taken from fans.
Here are the pics:
(SPOILER): Peter shooting some of his Bachelor intro video today at LAX. pic.twitter.com/FlvU6wwFPISeptember 12, 2019
See more
Peter, obviously, has stayed mum on social media, but people are starting to pay attention to his profile more and more. And we're a few days away from the formal announcement on Tuesday, but these pics eliminate any doubt, if there was any. Peter is The Bachelor.
There are new spoilers for the final pick.
Update, 9/11/19: Reality Steve has gone ahead and called it: Peter Weber (a.k.a. Pilot Peter) is going to be the Bachelor. He says he's been convinced about it for a month, but now has the confirmation to be sure. I am...saddened by this, given my love of Mike—even he seemed to know it wasn't happening, based on recent interviews (below).
This also isn't the first time the franchise decided to go for someone who looks and sounds just like all the other Bachelors before him. As a matter of fact, we've already had a pilot Bachelor before—Jake Pavelka—so I mean that kind of literally in this case. I'm bracing myself for a boatload of pilot puns, all the same, and a whole bunch of girl drama. After all, just about everyone is going to want to get the chance to date The Windmill Hookup Guy, as he will forever be known.
I do also wonder if Peter's pre-show girlfriend is going to be interviewed again or come up in the conversation once the announcement happens.
Here's the original tweet from Reality Steve:
(SPOILER): When the "Bachelor" announcement is officially made (guessing next week or the following), it will be Peter Weber. Not too surprising. That's who I've said I thought it would be for the last month. This isn't isn't a guess, a prediction, or "most likely." It's him.August 25, 2019
See more
Sigh. Granted, he hasn't always been right before, but he seems pretty convinced. Unless this is a massive fake out, we have our new Bachelor.
There might be a new guy in the running.
Update, 8/22/19: After Derek Peth got his heart broken for the umpteenth time on a Bachelor show (this time by Demi to pursue her girlfriend Kristian), fans starting clamoring for him to be the next Bachelor.
@BachelorABC I have found your next bachelor...@PethDerek! He's handsome, sweet, loyal...and been royally screwed on this show multiple times. He deserves a happy ending!! #DerekForBachelorAugust 21, 2019
See more
On the show, Derek did in fact give Demi lots of support when she initially came out to him, and even had a graceful, drama-free conversation with Kristian after she came on the show officially. But he's very clearly feeling defeated and miserable, even crying on camera after the news. Spoiler alert: He ends up going home solo, so he would in fact be a good candidate if producers were into it.
Derek's also getting support from Bachelor Nation, including resident BiP bartender Wells Adams, who posted a full appreciation video of his former roommate:
So don't discount him or even potentially Clay Harbor (see below) as a Bachelor selected from a previous season.
Mike Johnson is playing coy.
In an interview with ET's Lauren Zima, Mike said he still hadn't had any serious talks with Bachelor producers on the role and said he expected (and hoped) it would be Pilot Peter for the role. He also got a little shady, saying that "history repeats itself." In other words, the producers tend to go for a similar "look," which could be a veiled reference to the fact that there hasn't been a Bachelor of color so far on the show.
I appreciate his candor and shade equally.
We're getting a big hint that one frontrunner may be out.
Update, 8/16/19: This isn't a huge surprise, considering that Tyler Cameron was already a "distant third" compared to Mike Johnson and Peter Weber in the running for Bachelor. Then there's all that "dating a supermodel after casually hooking up with Hannah and being swarmed by female fans 24/7" stuff he's been doing lately. But Tyler himself provided us with another potential clue as to his plans this coming year:
So, that could absolutely be a sign that he's eliminating himself out of the running (or he knows he's not being considered), because one cannot do both. Or, this could be a fakeout—but I'm not sure I see Tyler saying or doing something like that. This is just another sign that, really, unless they dip into a previous season, it's likely going to be Peter or Mike all the way. So far Mike's had a quiet, uneventful run on Bachelor in Paradise. Fingers crossed.
Bachelor in Paradise might be the deciding factor.
Update, 8/13/19: So, fans who speculated that the reason Mike Johnson showed up on Bachelor in Paradise is because he's being kept in mind for another role can give themselves a pat on the back. "I think they're going to let Paradise play out and see what the reaction to him is," said a source to E! (squeals with delight). We got to see a little bit of Mike's on-screen activity in the 8/13 episode—Onyeka is a huge fan, and so is Caelynn (although I'm not catching a particularly romantic vibe from her, and we know she ends up being attracted to someone else). But Mike is doing his sweet smiley thing while Cam mopes in the corner about Mike "stealing" Caelynn away from her. The edit makes Cam look ridiculous, and Mike hasn't said anything bad about anyone. So far so good.

But lest we start celebrating too soon, that same source explained, "Peter has always been their guy...He's older, he has a career and he has a great backstory. He can definitely carry a show." Hannah also revealed after she eliminated Peter that their overnight windmill hookup happened four times, so, like, ladies would fight to apply if Pilot Peter was the Bachelor. So it's really anybody's guess at this point. Although one thing we know for sure: It's not Jed. Never Jed.
My absolute favorite (Mike) is a strong contender, apparently.
Update, 8/9/19: Oh my Lord. Please please pleeeeease let this happen. According to Us Weekly, a source explained that "Mike is being seriously considered to be Bachelor, and producers have brought up his name a lot to potential contestants." Commencing freakout immediately.
Mike previously spoke to Us about the opportunity, saying, "It makes me feel awesome, I'm not gonna lie about it. It puts a smile on my face to know that people want me to find the love that I want so dearly...I'm, like, super humble in the sense of I shy it down quite often, but being completely transparent, it makes me feel amazing that people would even consider that for me." He apparently wants "a mix between Rachel McAdams in The Notebook and Rihanna," which is...not me, but anyone who fits the bill should get excited!
Again, I know I'm jumping the gun here a bit—we've got a wait ahead of us. There's also this slightly less positive response and more equivocal statement from ABC president Karey Burke:
Will there be a black Bachelor? "I think the show has worked hard to increase diversity in its casting," ABC's Karey Burke said, adding that it "is continuing to evolve" and "you will continue to see more diversity from the franchise." #TCA19 #BachelorNationAugust 5, 2019
See more
So, I'd say it's far from a done deal. However—if Mike's edit on BiP is good, we maybe, maybe will be looking at some very good news come September.
One Bachelor in Paradise cast member was potentially gunning for the role.
Update, 8/8/19: ...oops. Blake Horstmann has been in the news for a rather spectacular run on BiP involving many girls (four, by my count, that he's either hooked up with or been hoping to hook up with). According to a source talking to ET, part of the reason behind Blake wanting to keep the hookups a secret was his hope that he might be cast as the next Bachelor.
He saw how it worked out for Colton Underwood," the source said. "So, he was thinking that he could maybe try and become the Bachelor. He was keeping his options open."
That's...a little confusing to me, TBH. Was he pretending to be the Bachelor before he was even in the running by going after multiple ladies at one time?? In any other situation than The Bachelor, that just makes ladies super mad, dude. His strategy, or lack of, seems to have torpedoed his chances. When show host Chris Harrison calls you a "dumpster fire," you have officially screwed up.
I find the whole situation sad because he was also such a fan favorite from Becca's season. He had so much good will! We were all rooting for you, Blake!
The field is narrowing as we speak.
Entertainment Tonight broke out the top contenders and their likelihood of success. No surprise: Peter, Tyler, and Mike are basically their top three. Lauren Zima rightly pointed out that each one has been a fan favorite and has extremely vocal fans, so for the producers, trying to pick one is going to be tricky. But, in a nutshell, these are the pros and cons ET laid out.
Peter: He's handsome and cool. (I've said it before, but producers would give us approximately one million flying, flight, pilot, and air travel puns if he becomes Bachelor.) He's smart, sweet, and low-key. But then again, there's that pre-show girlfriend he broke up with suddenly just before going on the show who felt "betrayed" and spoke publicly about it.
Tyler: He has no drama, showed lots of development and growth over the season, and demonstrated a very respectful attitude to dating Hannah throughout his time on the show. Interestingly, at 25, he'd be one of the youngest bachelors, but he certainly doesn't act like it. So it likely wouldn't be a huge ding against him.
Mike: He's a leader, he has no patience for pettiness and drama, and he has the support of much of the cast and other members of Bachelor Nation. Oh, and just like Tyler, he has no pre-show drama. But Mike himself had some thoughts about the situation: "I have lots of questions if I were going to be Bachelor. I take stuff like that very seriously," he explained to ET's Lauren Zima.
We know it has to be a fan favorite.
It's not just about who can bring the maximum amount of drama: according to producer Alycia Rossiter, it's all about what the fans want. "We also look for is this person really ready to find the love of their life and get married?" she said. "We really want to find someone who honestly wants to get married and start their adult life in a partnership. There's so many factors. The audience has to love them, but if you love them and I think they're just in it for a rollercoaster ride that's no good for us."
So, authentic, charismatic, connected, and also doesn't have such an insane job that they can't take too much time away, as was the case of dentist Chris "Cupcake" Strandburg.
RELATED STORY
Let's compare the top three guys.
Tyler Cameron, Peter Weber, and Mike Johnson (who isn't top 4, but is a huge fan fave) are your likely picks. These three potential Bachelor contenders do make me excited, I'll admit, so let's break it down.
Tyler has a lot of things going for him: He was an athlete, and nearly played professional football. He's funny, and quippy, and has a personality. He's gorgeous—that's just a fact—and he worked as a model. He used his one-on-one date when Hannah was feeling low to help take care of her, and told her he wanted the real Hannah. His eloquence, compassion, and more laidback tendencies in a show filled with aggression make it clear that he'd do a great job as Bachelor. He'd probably be the safest choice, too, so I can definitely see this happening.
The second runner up on Hannah's season is Peter Weber, who really made fans fall in love with him in episode 7 during a one-on-one. He revealed he speaks Spanish, is a big family guy, and is really kind to Hannah. Also, they have mad chemistry, and considering that part of the fun of the show is imagining yourself as the bachelorette, fans probably also feel like they have chemistry with him too (Twitter definitely enjoyed him last episode). Even before this, he was the first, and so far only, guy to ask Hannah to be his girlfriend, which she thoroughly appreciated, and also they made out on a pool table. Soooo he's thoughtful AND creative, is my point. He's been getting a bit of backlash from the way he handled his pre-show ex-girlfriend, but that may not be a big deal regarding his chances. The news about him isn't having nearly the impact that Jed's pre-show girlfriend did.
I know who I'm rooting for. Military veteran, finance guy, and "happy at life" Mike Johnson has charisma for days. We have not yet had a non-white Bachelor. Much has been written about this already, and it's deeply upsetting, considering how many amazing contestants of color we've had. Mike, in particular, is funny, smart, unafraid to speak his mind, but not mean-spirited. He's become friends with a lot of the other bachelors, in a protective and compassionate way (he refers to Luke Stone as his "guy" during the battle of the Lukes in episode 4) and he is not here for any petty shit. He also grins from ear to ear anytime he's in Hannah's presence, so he comes off as genuine and there for the right reasons.
I think he's the best potential candidate, although there are critics who said he was too Luke-focused and passive aggressive during his time on The Bachelorette. But the cast and former Bachelorette Rachel Lindsay and some of the rest of the cast say they think he's the best pick, so Bachelor Nation has spoken!
Could there be a Bachelor from a previous year?
Just because we have several very strong candidates from this year doesn't mean that producers might not dip into past seasons and pull a fan-favorite to be Bachelor. Looking through Bachelor in Paradise spoilers, one in particular stood out to me as a strong candidate: Clay Harbor. He doesn't end the season engaged, despite cultivating a relationship with Nicole Lopez-Alvar, and he was a strong bachelor on Becca's Bachelorette season before he left due to an injury.
Just looking at Bachelor in Paradise, he seems like the best contender—although, we'll need to see what his edit looks like. Blake Horstmann was a fan favorite but gets involved in a romantic "decagon" this season, according to the trailer. Soooo I don't think he's going to be a fan fave at the end of the season, and thus won't be Bachelor. We'll have to see how Clay fares with his arc—his ex, Angela Amezcua, is on the show as well, and that could lead to some very awkward interactions.
Honestly, I kind of doubt that anyone before 2019 will be The Bachelor, but it's worth laying it out anyways just in case the producers decide to surprise us.
For more stories like this, including celebrity news, beauty and fashion advice, savvy political commentary, and fascinating features, sign up for the Marie Claire newsletter.

RELATED STORIES
Katherine's a Boston-based contributor at Marie Claire who covers fashion, culture, and lifestyle—from "Clueless" to Everlane to news about Lizzo. She's been a freelancer for 11 years and has had roles with Cosmopolitan and Bustle, with bylines in Parents, Seventeen, and elsewhere. It's "I go to dinner," not "Her huge ego," but she responds to both.