Who Gets Together on Bachelor in Paradise Season 6? Here's All We Know
Spoilery intel on the final breakups and engagements.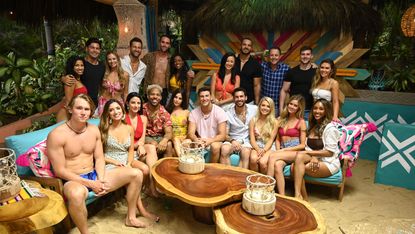 (Image credit: John Fleenor)
Spoilers ahead for this season of Bachelor in Paradise. Hannah Brown's The Bachelorette season reached its inevitable (insane) conclusion, and we're right in the midst of arguably the craziest, most drama-filled show in the Bachelor-verse. I'm speaking, of course, about Bachelor in Paradise, season six, in which all the craziest/most fun/epically melodramatic contestants all get together in the same place. I am loving it, thus far.
So what do we know about this season and what's going to happen? Luckily, we have some spoilery intel.
One couple's a bit rocky.
So, thanks to the previews, as well as spoilery intel, we know that Chris and Katie had a rough go of it since becoming engaged, mainly to Chris complaining in public about the difficulties in the relationship (dude...) and trying less than Katie (DUDE). In fact, in previews for the finale, Katie's not wearing her engagement ring:
However, thanks to spoilers, we know that Chris and Katie apparently work out their grievances—onstage with Chris Harrison, no less—and she puts the ring back on. So...things are ok? And they have been spotted out and about since then.
One couple isn't over yet.
In other news, Tayshia gave some clarity on why she surprise-dumped JPJ on BiP: "Honestly, I felt like I'd made a really big mistake letting someone go that genuinely cared about me, but also I knew that my heart wasn't there, so I didn't wanna lead him on or anything," she told Entertainment Tonight.
Tayshia also referenced the blow-out fight between JPJ and Derek, saying, "I hadn't seen that side of John before... and then for Derek as well, they were really in each other's faces. Honestly, it was really unattractive and at that point I didn't really know what I wanted, whether it be one or the other or neither of them at all." But we know from spoilers she ends up forgiving JPJ and pursuing him off-show, so the couple is still going strong (also, I think that "surprise engagement" thing in the finale preview is a fakeout).
One BiP alum is happily pursuing a celeb.
I don't know if you heard, but Mike Johnson has rebounded from not being selected as The Bachelor (weeps) by going out on a date with Demi Lovato. After many, many flirty comments and likes. I am delighted by this, and it's very reminiscent of the Tyler Cameron-Gigi Hadid relationship. Famous fans of the show want love too, turns out!
Hannah and Dylan are going strong.
The pair aren't even bothering to hide that things are going really, really well for them, despite the fact that they still are not yet Insta-official.
Another pic seemed to show her without a ring, but I never wear a ring to the beach (it'll get damaged!) so I'm not reading too much into that.
Dean and Caelynn have been spotted together.
Caelynn and Dean are still making it work, and they made it Insta-official (teeny tiny eyeroll at the "vantasy suites" pun but ok):
I had no idea Caelynn would be so happy in a van, but more power to her!
Thanks to some eagle-eyed Instagram fans, we knew the couple was doing ok even before that. Apparently the two have been hanging out in the same place together:
We're about to see them on the reunion show, so they can stop (poorly) hiding their show results from the world.
In August, TMZ spotted them at a tattoo parlor (pictures here). The two are dressed casually, and Dean is sans mustache. Apparently Dean was in the process of getting two tattoos, one on his calf of a man in a parachute, and one unidentified one on his back. TMZ reports that the interaction looked "kinda tense," although they admitted that might be due to Caelynn's dislike of his new ink, rather than issues in their relationship. The photos show them cuddling on a bench, but they both look serious. Caelynn didn't have a ring on, but that's not really a surprise to me. Dean was super honest from the get-go that his nomadic, unemployed life (he lives in a van, people) isn't really conducive for a long-term relationship. So, I'm a bit worried about their post-show pairing, TBH.
On the show, Dean is about to fully convince Caelynn to leave the show and just pursue him IRL. More on that relationship, below.
Tayshia and JPJ are dating!
This, from Reality Steve: JPJ and Tayshia are seeing each other after they left BiP. More on their show arc, below, but the short version is that JPJ wows Tayshia with a poem that he mostly forgot from Romeo and Juliet, Tayshia is charmed despite herself, and the two have a connection. Then, both take a detour (JPJ to Tahzjuan and Haley, Tayshia to Derek), JPH and Derek get into an altercation over respect, and Derek leaves. JPJ/Tayshia are back together and almost make it to overnights but then call it off. But now they've made a match off the show!
There are a total of three engagements being reported this season.
Beyond Demi Burnett and her girlfriend Kristian Haggerty, who were the first couple to be revealed as engaged (more details on them below), two other couples joined them, Dylan Barbour and Hannah Godwin and Chris Bukowski and Katie Morton:
This is interesting for a lot of reasons. First, Hannah G. was getting some buzz for being connected to Dylan several weeks ago. I happen to like Dylan from The Bachelorette, although he barely got any time at all on camera. He was one of a group of guys who had issues with Luke and didn't get as much one-on-one time with Hannah as a result. So far on the show, Dylan has been absolutely committed to Hannah as his one-and-only, and Hannah...explored her options a bit with Wills and Blake before she settled in with Dylan (no shade).
Chris and Katie are also a very interesting pairing. We know Katie's fun and funny, and friends with Alabama Hannah and Demi, and I quite like her based on her (very limited show run on Colton's season. Chris, on the other hand, is a huge Bachelorverse alum and has been around forever (genuinely, since like 2012, and then he "retired" in 2015). So for him to be back in full force and engaged is a really cool narrative arc—especially if the pair make it for the long haul, and this becomes his long-term relationship after several times in the running.
Aside from a small snafu in which Katie encouraged Chris to go explore his options and then immediately regretted it, the two have been one of the strong couples this season. I'm a sucker for a happy ending, so I'm excited. Guys, love, and crazy, is in the air this season in particular. It sounds like the whole thing top to bottom is going to be insane.
Dean and Caelynn got together.
Caelynn Miller-Keyes had a rough go of Colton Underwood's season, and she also got caught up in the Blake Horstmann drama on and off screen (the full details are in that link, but the short version is they have two very different accounts of their pre-show relationship, she felt particularly hurt by his actions on the show, oh and he released texts purporting to show her only interesting in hooking up). But it seems like she might have ended up with a Bachelorette/BiP alum. Apparently Dean gave Caelynn a rose, then pivoted and left BiP because he couldn't see the relationship continuing. Caelynn moved on to Connor S., then Dean returned, professed feelings for Caelynn, and they left the show together. Oh boy. Dean has a history of, uh, irritating on-show and off-show behavior, and this doesn't feel much better. But Caelynn has had a ton of ups and downs, so maybe this relationship might be good for her? I might be sugar-coating it, who knows.
Interestingly, Caelynn and Dean might have been chatting before the show and perhaps before/during The Bachelor, according to Caelynn's fellow cast mate Katie Morton.

The pair have reportedly hung out in Spain and Mexico. They're not allowed to post photos together or talk about their relationship, but they are allowed to be in the same place at the same time together. That...doesn't feel very sneaky! But as long as they're happy, I guess?
We later got a photo of the pair:
I am SO intrigued to see if they make it long-term. That was...not the couple I was expecting to get together, honestly.
Two contestants got together outside the show.
Remember Connor Saeli? He's the tall, sweet, "note" guy who helped Hannah feel better when she was feeling sick. Well, after he's eliminated from her season, he apparently has quite the run on Bachelor in Paradise.
This is all courtesy of Reality Steve tweets. Apparently, Connor and Whitney Fransway (from Nick's Bachelor season) met at Chris and Krystal's wedding, and totally hit it off. Connor was waiting on the show for Whitney to arrive, dated Caelynn Miller Keyes briefly, then left the show because Whitney hadn't arrived. Surprise! Whitney shows up immediately after, realizes Connor isn't there, leaves the show, and the pair are together. Awww!
As a reminder, this is Whitney:
And this is Connor:
It's kind of ironic, because he looks like Blake Horstmann, who's also on the show this season creating some intense drama.
Several couples don't make it to the end of the season.
As is the norm, there are a whole bunch of people that pair off this season, but not everyone ends up in a happy place (although, ending a season with, like, eight engagements would be hilarious and/or fun to watch). So, these are the couples who last until overnights but don't end up making it past that:
Matt Donald and Bri Barnes
Chase McNary and Angela Amezcua
Blake Horstmann and Kristina Schulman
First let's address the elephant in the room here—Blake makes it farrr on the show. A lot farther than I expected, given recent episodes. But apparently once things settle down with the various laydees trying to get with Blake, he and Kristina start giving each other friendship roses and then eventually decide to try being in a committed relationship. And then Kristina breaks up with him before overnights, saying she'd "buried" her feelings for him. Oh man.
Bri comes on late (she's the one with the fake Australian accent on Colton's season, so, yea) and Matt (the farmer from Hannah's season) came on a bit before her, so that relationship doesn't have much time to develop before overnights. A similar situation happened with Chase (from JoJo's season) and Angela (from Nick's season/BiP, and Clay Harbor's ex). Both come on the show late in the game and don't have a ton of time together.
Clay Harbor and Nicole Lopez-Alvar become a thing for a little while and actually head into an overnight together, but Nicole breaks things off at the end because Clay doesn't seem to be as into it as she is.
We know more about other show pairings.
Obviously, trying to recap this is confusing, because people can match up with several people in one show—someone needs to make an enormous family tree of hookups we can all refer back to. But Sydney and Mike Johnson show interest in each other, and Derek and Tayshia have a thing for a bit (that's why he and JPJ get into a fight).
Onyeka never ends up matching with anyone, so she leaves. Cam Ayala, Kevin Fortenberry, and Wills Reid are eliminated (can't say I'm terribly sad about Cam), and Mike Johnson, Sydney Lotuaco, and Derek Peth end up going home as well. Jordan Kimball and Christian Estrada (fistfight), Tahzjuan Hawkins, Haley Ferguson, Jen Saviano, Caitlin Clemmens, Chase McNary, Luke Stone, and Revian Chang all come on but subsequently leave. That's a lot of broken hearts.
Hannah Brown made an appearance!
Thanks to previews and show photos, we knew that Bachelorette Hannah was making an appearance on the show. At the time this was aired, she was probably still engaged to or quasi-dating Jed Wyatt (ugh). That might even be her engagement ring she's playing with in this photo:
Anyways, the point is that Hannah's BFFs with Demi Burnett and even supported Demi when she got backlash for bringing on her girlfriend. So they just had a heart-to-heart that helped "convince" Demi to follow her heart and bring on Kristian. More on that coupling below.
This Demi-Kristian drama is heating up, on and off the show.
On the show, we finally got the chance to meet Kristian and see the adorable and sexy chemistry that she has with Demi. Kristian wasn't...thrilled...by the mention of Derek and Demi getting together, but Kristian and Derek managed to have a civil conversation and Demi proudly brought on Kristian to meet the other contestants. It's been really sweet to watch so far, aside from Derek getting his heart broken. The whole situation has led to a surprise surge of #DerekforBachelor, so that'll be intriguing to watch.
Off-camera's a little bit of a different story for Demi-Kristian. Most of Bachelor Nation has been supportive, but one or two have been calling Demi out, even going so far as to compare her to Jed Wyatt for having a pre-show girlfriend. Demi spoke to ET about the relationship. "We were just two humans enjoying each other's company. I had always known that I was gonna go on Paradise and I was upfront with her about that when we first met. So we both agreed to keep it open and non-exclusive."
"I was always open and honest and communicated exactly what I was feeling and what I was going through," she added. "I wasn't hiding anything from anyone. I kept everyone on the same page as I was experiencing the emotions I was, so it's nothing alike." She also clapped back at the concept that there was a "plan" in place before the show about bringing on Kristian. "I am not a producer, and what you see is what happened."
Here's when important guest contestants come on the show.
Mike Johnson, who comes on before the second rose ceremony, has a connection with a couple people (Caelynn Miller-Keyes and Sydney Lotuaco from Colton Underwood's Bachelor season, as well as Angela Amezcua from Nick's season), before being eliminated. This makes me laugh, because lots of ladies on the show are clearly interested in him. I also hope it bodes for a good edit on Mike.
Meanwhile, Kristian Haggerty, also known as Demi Burnett's new serious girlfriend, doesn't come onto the show until the third rose ceremony, so we have a bit of a ways to wait before the big reveal. I anticipate fans are either going to fall into the "About time! Yay!" category, "They're only doing this for ratings" category, or "I hate this" category. I admit to being in the first, while totally recognizing the second. I'm hopeful that it gets handled tactfully, but we'll see.
We know who gets into a fistfight.
Thanks to another BiP trailer, we're starting to see what this season holds for us: Dean's mustache, Blake's "decagon" romantic entanglements (DUDE), John Paul Jones and a very steamy connection with Haley Ferguson, and then an actual, literal, "people running at each other and security breaking things up" fistfight:
You can read the full details here, but the gist is that we already know who the two individuals are and why they fight. Christian Estrada and Jordan Kimball, both from Becca's Bachelorette season, get into an altercation over a piñata, of all things (facepalm). Christian had brought it for Nicole Lopez-Alvar, Jordan tried to rip it down, Christian grabs his arm, and Jordan bodyslams him. Then security and producers run over, and both men have to leave the show. This seems...ridiculous, and I feel like neither guy is going to come out looking particularly great once it airs?
Also of note from the trailer: Mike Johnson is officially in Paradise, but before people start to freak out, Colton Underwood and Nick Viall also went on the show and then went on to become Bachelors. So there's still hope, and yes, I am totally biased.
The first-look trailer revealed a ton about the season.
Oh my God, there's so much here. Dean, WYD with that mustache?? Blake weeping and saying "This is real life!" (Is it, though?) John Paul Jones, complete with Prince Charming hair and fun abs! John Paul Jones...weeping?? (Noooooo!) Demi, minus her gorgeous girlfriend but stirring up drama per usual! Tayshia looking iconic, like always!
From a coupling-specific standpoint, we have Blake and Tayshia kissing (with a voiceover saying that two people kissed before the show) and Blake and Hannah snuggling. There's a whole bunch of drama pertaining to Blake: Full details below, but the gist is that he gets with or at least expresses interest in four women over the course of the show. Kristina and Caelynn are the other two girls, and Blake is probably right to be crying—he's in trouble.

There was one HUGE engagement spoiled weeks ago.
Oh my gosh, I can't wait to watch this!
I think it's really sweet and lovely. I have so many questions. How did it happen? Was Demi doing the proposing? (She's such a badass, and so forward, I can totally see it. I know very little about Kristian yet, though, so that's purely speculation on my part.) How will the show treat it? Please, please, let it be graceful and cute. Will Demi and Kristian get married on the show, just like Chris Randone and Krystal Nielson do this season?? How will Bachelor Nation react? Will we have more couples like this? I have all the questions, and zero answers so far.
Also, note that we're talking about "at least one engagement." So chances are there are more spoilers to be had coming up. I cannot wait.
And we got so many details about the show's first same-sex coupling.
This is soooo exciting. It also sounds insane, but what a monumental step for the show. So apparently Demi Burnett, who I love for her sassiness and take-no-prisoners attitude, is bisexual. She's been dating someone special, and that person is coming on the show at some point in the season. Quoting directly here: "Demi's girlfriend showed up on the beach late last week, Demi told everyone this is the woman she's been dating, they were given a date card that night, and got to stay on the show."
Demi's girlfriend is (reportedly) Kristian Haggerty and they've (again, reportedly) been together since February:
Demi really, really grew on me for cutting through the BS and being unabashedly herself. Some critics aren't enjoying the way this feels pre-planned and somewhat geared towards ratings, not necessarily the huge step from the show to be inclusive. I'm so excited to see how it plays out, though, because it's still a big, monumental, important decision. Fingers crossed.
Blake drama was a THING from the very beginning.
Oh boy:
Blake apparently made up for his time out of the spotlight since he went home after becoming a fan fave on Becca's season (yikes). Reality Steve went on to further elaborate that "whatever you think it is, it's worse than that." A fan tweeted him to ask if Blake was the new Dean Unglert, who's both very vocal and very hated (and also on this season of BiP!). "No, he's not the new Dean," replied Steve. "Dean only juggled two women." Oh NO.
Then we got some more (horrible) details. Apparently Blake got with or tried to get with Tayshia, Kristina, Caelynn, and Hannah G., before the show. A word that'll get used a lot during this drama will be the word "Stagecoach," which is a music festival where Blake got with or hung out with Tayshia, Caelynn, and Kristina (Caelynn said he hooked up with her and Kristina less than 48 hours apart from each other, yikes.). Blake also hung out with/potentially hooked up with Hannah G. before the show, which is why she was so devastated to not get a first date with him. But the sh*t hits the fan when all the women find out about his actions and put it together for the first time that they're all being played. Caelynn in particular, with whom he hooks up, has a very upset reaction to this—remember, she's a survivor.
I can infer from this speculation that Blake makes a big chunk of the season about him—both his, uh, diversification, and then trying to apologize for it. It sounds like a nightmare for the contestants, but also highly watchable. We're going to see him for most of the season before he finally leaves.
This drama is also continuing off the show—Blake disputed Caelynn's on-screen portrayal of their "relationship" by releasing her texts indicating she was interested in something casual. She countered by saying those texts didn't show the full story and saying she was "mortified" he did that. So the two have wildly different takes on what went on.
There was a wedding between two fan favorites.
Former Bachelor in Paradise couple Chris Randone and Krystal Nielson threw an engagement party and were rumored to actually be getting hitched, in Mexico, during this season of BiP:
They had a bunch of show alums at the party, said Krystal. "We had quite a few Bachelor Nation members attend. Jade and Tanner, Ashley and Jared, Angela, Chelsea and Annaliese, Josh Murray, Heather and Katie from Colton's season. Everyone was having a great time together."
I wonder if because they couldn't have guests on the show, this engagement party served as their version of a big blowout where they invited all their friends to celebrate.
And it'll be a big deal on the show.
People, meanwhile, confirmed that Chris and Krystal did in fact get hitched. "[They] exchanged vows in front of fellow Bachelor Nation alum on—where else?—the site of their very first date in Mexico. 'We are so excited to start this new chapter of our lives together,' Nielson tells People exclusively. 'We will have each other's backs forever.'"
The wedding was officiated by Chris Harrison (natch) at the Vidanta Hotel in Puerto Vallarta, and "Former Paradise castmates and Bachelor stars were on hand, including Ashley Iaconetti and Jared Haibon, Becca Kufrin and Ben Higgins, to witness the I Do's, which capped off a whirlwind romance." So this sounds like it is going to be a huge deal on the show—not just a fun and romantic scene, but a reunion of sorts from previous show participants.
Krystal posted a picture, no caption:
by way of a potential spoiler (it looks different than the dress she's wearing in the People article, so it's probably a throwback). So amidst all of this apparent craziness will come a bit of sweet romantic love—yay!
A ton of fan faves, and a few villains, will be there.
We got a (very preliminary) list weeks ago, courtesy of Reality Steve, before ABC came out with their official one. The full spoilery list is here, but from Colton's Bachelor season, we have Tayshia, Demi (oohhhh Demi, you delight), Hannah G., AND Caelynn, just to name a few. We also have a few from Hannah's Bachelorette season, including John Paul Jones (the quirkiest of quirkys! Hooray!), Dylan, Connor, Cam (ugh), and Box King Joe Barsano/Farmer Matt Donald among others. It is going to be an ECLECTIC bunch, if you know what I'm saying.
Filming likely started at the beginning of June.
This is based on what's happened in previous shows. Filming was expected to start on June 6, and usually lasts about 18 days, apparently (that feels SO short to me, but what do I know). That makes sense for an early August premiere—right after The Bachelorette finishes up.
We'll update this post as we know more.
For more stories like this, including celebrity news, beauty and fashion advice, savvy political commentary, and fascinating features, sign up for the Marie Claire newsletter.
Katherine's a Boston-based contributor at Marie Claire who covers fashion, culture, and lifestyle—from "Clueless" to Everlane to news about Lizzo. She's been a freelancer for 11 years and has had roles with Cosmopolitan and Bustle, with bylines in Parents, Seventeen, and elsewhere. It's "I go to dinner," not "Her huge ego," but she responds to both.