All Three Major Pageant Titles Belong to Black Women for the First Time in History
The women talk to Marie Claire about what the milestone means.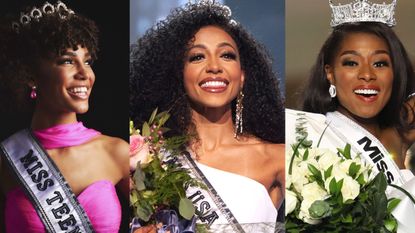 (Image credit: Benjamin Askinas/Miss Universe Organization +Patrick Prather/Miss Universe Organization + Getty Images)
When Cheslie Kryst of North Carolina became Miss USA in May, her victory represented more than a personal achievement: It marked the first time black women held all three major pageant titles simultaneously. Kryst joined Miss America Nia Franklin of New York, who was crowned last fall, and Miss Teen USA Kaliegh Garris of Connecticut, who won her title in April, and together the women set a new standard for what beauty queens look like. Senator and presidential hopeful Kamala Harris (D-Calif.) called the trio "trailblazers." Gayle King described them as a "trifecta of black girl magic," celebrating just how far pageants have come since the days when black women were barred from competing. (Miss America, which began in 1921, required contestants to be of "the white race" for its first two decades; the first-ever black Miss America, Vanessa Williams, was crowned in 1983; Miss USA, created in 1952, saw its first African American winner in 1990; Miss Teen USA followed a year later.)
The milestone was also a much-needed bright spot for the pageant organizations, both of which have faced controversy in recent years. In 2015, NBC and Univision cut ties with Donald Trump, co-owner with NBC of the Miss Universe Organization—the umbrella group that includes Miss USA and Miss Teen USA—after he insulted undocumented Mexican immigrants during a speech announcing his run for president. Trump sued and sold the organization after buying NBC out; the case was settled out of court in 2016. In 2017, Miss America faced a scandal after CEO Sam Haskell, board members, and another executive employee were found to have emailed derogatory comments, some sexual and vulgar, about previous winners. In response, Haskell and the others resigned and the organization named Gretchen Carlson, Miss America 1989, to chair the board. Carlson and an all-female leadership team went on to scrap the swimsuit competition in favor of extended interviews with judges, among other reforms, before resigning this June. (Former South Dakota secretary of state Shantel Krebs was named Carlson's replacement.)
Now, with new leadership and revamped competitions—and three winners with a variety of skin tones and hair textures for little girls to look up to—the pageants appear to be back on solid ground. Here, ahead of the Miss America contest next month, Franklin, 26, a classically trained opera singer; Garris, 18, who recently graduated from high school; and Kryst, 28, a civil-litigation attorney preparing to compete in Miss Universe later this year, discuss their historic wins, how they are pushing boundaries, and why pageants still matter.
Marie Claire: Tell us about the moment you realized you'd won.
Cheslie Kryst: My mind went blank. The entire competition, I kept telling myself things like You're not on national television. This auditorium is really small. It's just you and a few friends hanging out in pretty dresses. By convincing myself of that, I wasn't nervous. So after they called my name, I let it all sink in. It was more than I could have ever expected or dreamed of. I just couldn't believe it happened.
Kaliegh Garris: It was a huge rush of adrenaline. I turned my head to find my mother in the audience and I yelled, "Mom!" because she's really been my number-one supporter.
MC: What do you think of all three titles being held by black women?
CK: I couldn't be more ecstatic! I didn't realize that all three titleholders were women of color until people started tweeting about it and posting on Instagram. It was really cool that everybody not only noticed but was proud and excited about it. My mom is a former Mrs. North Carolina United States. She was one of the first black women to win that title. I remember the significance of her win and how excited I was that she had reached that milestone, and now I'm following in her footsteps.
Nia Franklin: I am so happy for the other two women to be a part of this. They earned their titles. I personally saw the work they did over the years. It's wonderful to see them in this position and to be right alongside them.
KG: It shows how far we have come in the pageant industry and redefining what beauty is. But it also shows how far we have to go because it is such a huge topic of conversation. I'm hoping at some point it's not unusual anymore.
MC: What were the best and worst parts?
CK: It was fun to be around all these like-minded, accomplished women. The conversations we had were incredible. We got to take a trip to Lake Tahoe. It's so beautiful there, and I'd never been. We cooked s'mores by a firepit at the hotel in onesies. Mine had Angry Birds on it. That was one of the most fun activities.
NF: There's so much noise, so many opinions. The most difficult part is listening to yourself. I didn't even show my mom a picture of my gown before walking out on that stage because I wasn't going to let anybody limit what I brought on that stage with me. That was my way of protecting myself.
MC: Two of you received attention for wearing natural curly hair on stage. Tell us about that.
KG: Growing up, I would straighten my hair because I looked up to my mom. She has straight blond hair and I wanted to embody the same characteristics as her. When I was younger, I thought I had to do that physically, but as I grew I realized I couldn't do that while also being myself. I wanted to find a version of myself that I'd really love, and that came to be with my natural hair. I wasn't trying to make a statement on stage; it was just me being who I am. Some people were like, "Oh, maybe you should straighten your hair," because they think that's what going to work best. I had to stick to my guns about who I am, and I knew that if I straightened my hair, I wouldn't feel 100 percent myself or completely unique.
CK: I just thought, Why shouldn't I be able to wear my hair like this in an event that celebrates beauty in women? Kára McCullough, a former Miss USA, won with almost the exact same hairstyle two years ago. I remember being nervous, thinking, I wonder if two women can win this close to each other? But I was like, why not? If two blond women can win back-to-back, why can't two with naturally curly hair?
MC: What have you heard from fans?
NF: There's a picture of a girl looking up at my gown and crown that are on display in Atlantic City. It reminds me of the little girl looking up at the Michelle Obama painting [by Amy Sherald]. You can see how having an African American woman as Miss America impacts such a young girl. That will stay with me forever.
CK: Someone tagged us in a picture on Instagram. It was a grid: The top row was the crowning moments for Nia, Kaliegh, and me. The bottom were these three little girls copying our poses and wearing the dresses and sashes we wore and doing the poses that we were doing. It was so cute! And it was a reminder that there are so many little eyes watching us, and our win meant something to people. It wasn't just about each of us; it was about breaking boundaries and stereotypes for the people watching us.
KG: A little girl messaged me to say how she never really saw anybody that looks like her on stage. She is biracial as well and has curly hair, and she never felt comfortable wearing her natural hair. Seeing me gave her the confidence to wear her hair naturally and not be afraid to tell people she's biracial. That warmed my heart because it was always hard for me to find a person to look up to.
MC: Have you received criticism as well?
CK: There have been several people commenting on my social media that I need to tell people to stop referring to me as an African American woman because I'm biracial. When I was growing up and I had to fill out standardized forms, there were no boxes for biracial or mixed-race kids. You could be black, white, or other, so I had to choose. Ultimately, I chose to identify as a black woman. So when people say, "You have to identify as mixed race," that is the same as when [forms told me], "You can't be biracial. You have to pick." I hope people accept that I identify as a black woman. And if you identify as mixed race, that's okay too. I've just chosen a different path.
KG: I'm hearing the same exact stuff. The thing is, I call myself biracial because, growing up, I lived in a very diverse hometown, but I go to school in a predominantly Caucasian area. I was never black enough to be black and never white enough to be white. I finally grew comfortable being both.
MC: Any advice for those facing such issues?
NF: I'll never forget a young Caucasian boy who used a racial slur and said I should go back to Africa. That always affected me. I had never heard that word before, but I knew it was full of hate. My advice is to know that you need to have somebody to talk to. I definitely talked to my parents about that. Some people do judge you on the color of the skin, they told me. Let them have their opinion, but prove them wrong and let them know that this isn't all that defines you.
MC: What purpose do pageants have in 2019?
CK: Pageants help define today's modern woman. There are three titleholders who are women of color, and in society, diversity and inclusion are hot topics. So pageants do a great job of showing what the pulse of America is.
KG: People say pageantry sexualizes women. That's completely untrue. I was never the person to start conversations or ask questions; I'd always keep my hand down. When I started pageantry, it got me in tune with myself, and now I can start conversations and not be afraid.
NF: Take a look at the scholarships and opportunities they provide. After getting my degrees in music, I was $16,000 in debt. And because of Miss America, I'm now going to be debt-free. This organization supports women.
MC: Nia, how did you feel about the end of the swimsuit competition?
NF: The swimsuit competition was about showing your health and fitness, and I felt it was a way to be even more motivated. But I didn't feel like anything was missing without it. [Not having it] took some of the pressure off and was
a little more relaxing. I felt like I was there for a job interview, and that's what the organization was going for. This is one of the most coveted jobs in America, and it's good to be able to speak more about the things that matter to me and to be able to show who I am with my mind rather than my physicality.
MC: What's next for each of you?
NF: I want to continue spreading my advocacy for the arts. As Miss America, I've been able to lobby for music education on the Senate floor in North Carolina to get people to see what the arts have done for me.
KG: I'm going to Southern Connecticut State University, majoring in nursing. I'm really excited to get college life started and to live on my own. And I'm really hoping to get more into my social movement. I go to schools and educate kids on how to use "people first" language[, which puts a person before a diagnosis, like "a child with a disability," not "the disabled"].
CK: One goal for me is to continue my advocacy for Dress for Success. I also hope to win Miss Universe. That would be pretty dope. Beyond that, I want to continue breaking stereotypes and what people believe is beauty.
This article originally appeared in the August 2019 issue of Marie Claire.
RELATED STORY
Adrienne Samuels Gibbs is an award-winning journalist. Her work has appeared in Vice, Fit Pregnancy, Essence, The Boston Globe and Chicago magazines. She lives in Chicago.