'The Giver of Stars,' Jojo Moyes' Latest Historical Novel, Is Surprisingly Modern
We stan the Pack Horse Librarians of Kentucky.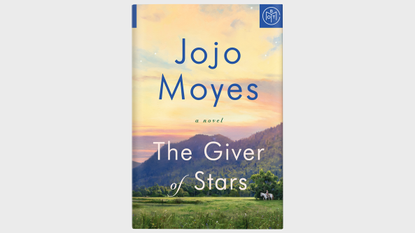 (Image credit: Design by Morgan McMullen)
Fans of Jojo Moyes were thrilled with the Me Before You author's latest novel, The Giver of Stars. Set in small-town 1930s Kentucky, the book (and soon-to-be movie, release date TBD) is based on the real-life Pack Horse Librarians of Kentucky, who delivered books as part of Eleanor Roosevelt's traveling library program.
Though readers have given the historical novel five stars overall, #ReadWithMC couldn't ignore the recent headlines that have suggested similarities between Moyes' work and Kim Michele Richardson's The Book Woman of Troublesome Creek. In response to the controversy, Moyes told Marie Claire that most of her books "are inspired by a snippet of news or conversation, and this was no different." See how the #ReadWithMC community set the record straight on the differences between the two books, below, and why they loved The Giver of Stars so much.
"I would give this book even more stars if I could. It's perfect for those who love and understand the power of books and the escape they provide us. The Giver of Stars takes place in the U.S. Depression Era in Kentucky and centers around five women who are part of the Horseback Librarians of Kentucky. The English Alice Wright marries American Bennett Van Cleave to escape the confines of her limited life in England, only to realize that she has only traded one cage for another and that married life is not at all what she expected it to be. She eventually volunteers for Eleanor Roosevelt's efforts to establish traveling libraries, where she meets the brave, independent Margery—who leads the book initiative—along with Beth, Izzy, Sophie, and later on Kathleen.
Despite her overbearing father-in-law's criticisms and opposition from home, Alice forms beautiful friendships with these women, finding solace, comfort and acceptance with them and by helping others. Yet despite their best efforts to improve literacy and knowledge with books, they are faced with constant resistance, and it was truly heartbreaking to see the headstrong and proud Margery so beaten down that she had began to lose hope. But her friends fought for her 'till the very end, and that's the most beautiful part of the story...the way these women with different personalities and backgrounds could love and help each other grow to discover their identities and their freedom, becoming braver and overcoming adversity together.
Full of lush descriptions and immersive writing, the powerful and moving narrative heavily explores powerful themes such misogyny, racism, and poverty that remains relevant to this day. This is definitely one of my favorite books of the year! It's a book for all book lovers who understand the impact reading has on our lives. It's the kind of book that pulls you in from the first chapter and never lets go." —@teacupbooks_
"I wasn't sure what to expect from this book (the title and the premise felt a little obscure to me), but I was so pleasantly surprised! I loved it! It's not a twist per se, but waiting to bring the prologue back into play more than halfway through was a very cool and successful narrative device - I raced through the last third in one sitting." —@danismcnally
"'If he'd had a glass or two of bourbon, those pronouncements would come thick and fast, and Annie would find reasons to lurk in the kitchen before he could rile himself and find fault with dinner.'
My @bookofthemonth pick this month was also @reesesbookclub and #ReadWithMC pick for the month, so I knew it was gonna be a good one! This book, set in the Depression era in Kentucky, is about five women who became known as the Packhorse Librarians of Kentucky. Loved reading this historical fiction about a time and place I was totally unfamiliar with. I had never heard of this initiative, which was championed by Eleanor Roosevelt, to bring books to more rural parts of the country. The book did drag a bit for me after 3/4 of the way through, but still well worth reading.
I do want to mention that there is some speculation that there may have been some plagiarism and although it's not proven, it is unfortunate to hear. I did not factor that in at all in my review, but it definitely gives me some pause and I personally think it's worth mentioning. I plan to read the other book shortly, so I'll have more thoughts after I'm done!" —@readtotheend
"In my bookshelf I have almost all of Jojo Moyes books and I love them, so you can imagine I was excited when I finally got my hands on a digital ARC of her new book. I haven't waited in vain because I freakin' love it! This is historical fiction based on true events and I'm here for it.
I read this book in one day, I just wanted to know what was happening, so I'll say that the prose flows easily and it pulls you in. I fell in love with these women! Jojo Moyes has done a great job! Thank you @jojomoyesofficial." —@booklover1974
"'There is always a way out of a situation. Might be ugly. Might leave you feeling like the earth had gone and shifted under your feet. But there is always a way around.'
EVERYBODY STOP WHATEVER YOU'RE DOING AND READ THIS BOOK!! I promise you won't regret it. The Giver of Stars by Jojo Moyes is the unforgettable story of a group of women that become the Packhorse Librarians of Kentucky. The women are all vastly different, but the way they come together to protect each other and serve their community is incredible.
As you can probably tell, I LOVED this story. Absolutely loved it. I was immediately drawn into the beautiful descriptions of the Kentucky mountains, and by each unique character fighting to break free of the traditional expectations set upon women and create a life for themselves. I loved the lengths with which they would go to deliver books to their community, and the incredible life-changing impact that we all know that books have. The story primarily revolves around Alice, a British woman brought to Kentucky by her new husband who quickly discovers the marriage to not be all she thought it would be; and Margery, a bit of an outcast from town, but the feisty leader of the Packhorse Librarians, and a women not afraid to live by her own rules. Together Margery and Alice discover what it means to truly fight for the life you want to live, and how far the bonds of friendship can sustain us.
I loved all the beautiful romances throughout the story, and the ways that each relationship developed. The second half of the book completely took me by surprise with the new plot lines that were introduced, and by the end I found myself crying with a smile on my face. That ending was SO moving. I wish this review could truly do justice to this incredible story, but it honestly can't. The Giver of Stars quickly became one of my favorite reads of the year, and one of my favorite stories of all time. I highly recommend that everyone read or listen to it. (The audiobook is phenomenal by the way. I mean, it's Julia Whelan...need I say more?!)" —@pieladybooks
"I absolutely love Jojo Moyes' books so you know I was super excited about her writing historical fiction. This is the story of a specific group of packhorse librarians in Baileyville who couldn't be more different—an English woman upset with her marriage, a self-sufficient woman who refuses to ask for permission, a young lady crippled by polio who dreams of being a singer, a wild young lady who swears and drinks to her life's fulfillment, and an African American woman used to adversity who is the only one trained to be a librarian.
These women come together to build a library as well as become friends who support each other even when the town tries to shut them down or rallies against the character of one of them. They face community outrage when the community finds out that they have been sharing a little blue book that teaches about married love, otherwise known as sex education. Together, they change the lives of those they help both big and small. I loved this book and only wish that it had at least 100 more pages." —@dc_booknerd
"@itoaghayere on The Giver of Stars: 'Both lyrical and poetic, this moving story is about the power that books can have to tear own the barriers of class and misogyny to bring purpose, joy, and a sense of belonging to a forlorn and forgotten rural community. It's also a story about friendship and sacrifice, justice and compassion, and a compelling homage to books that is not to be missed.' Tap the link in our bio to read the full essay on our site!" —@bookofthemonth
"After hearing the controversy about these two books, I felt that I needed to withhold any judgement until I read them for myself. I read The Giver of Stars in October, and finished The Book Woman of Troublesome Creek over the weekend.
So, are they really that similar? From the outside, yes. They are both centered around women who worked for the Pack Horse Library in Kentucky during the 1930s. Each book has romance, death, and detail the poverty of that time. But when you really get into these books, they really are two different stories. The similarities are as similar as any two books that are set during war times or New York in the 1930s. Any books written during the same time period and in the same setting are going to be similar.
The biggest differences for me was that The Book Woman of Troublesome Creek really focused on the main character Cussie's struggle with being blue-skinned. Although there are a few side characters, the book really is about Cussie. The Giver of Stars was more about this group of women that grew so much together and individually as they worked as Pack Horse women. The story was mostly about Alice and Margery, but all of the characters were so well developed. Also, The Giver of Stars was much more romanticized than Troublesome Creek. Troublesome Creek tended to show more of the ugliness and harshness of this time.
So, to sum up...I believe these were both written independently and both are well written. I can see the beauty of each story. I think that this time in history is overlooked and multiple books about it should be celebrated. Which is better? I have my opinion, but I encourage you to read both and decide for yourself!" —@jaylamm.reads
Missed out on our November pick? Starting December 1, we'll be reading actress, comedian, and author Jenny Slate's debut book, Little Weirds. Learn more about the book and read an exclusive interview with the author here.
For more stories like this, including celebrity news, beauty and fashion advice, savvy political commentary, and fascinating features, sign up for the Marie Claire newsletter.
RELATED STORIES
Rachel Epstein is a writer, editor, and content strategist based in New York City. Most recently, she was the Managing Editor at Coveteur, where she oversaw the site's day-to-day editorial operations. Previously, she was an editor at Marie Claire, where she wrote and edited culture, politics, and lifestyle stories ranging from op-eds to profiles to ambitious packages. She also launched and managed the site's virtual book club, #ReadWithMC. Offline, she's likely watching a Heat game or finding a new coffee shop.