Netflix's 'You' Season 3: Everything We Know
Here's who's joining the cast—and what's in store for Joe.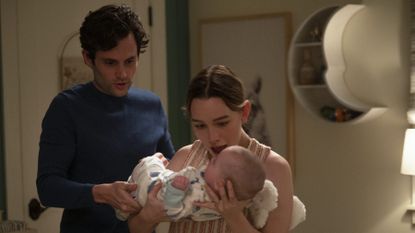 (Image credit: JOHN P. FLEENOR/NETFLIX)
If you, like me, simply can't wait for the hotly anticipated next season of You, you might be wondering...where will this show go next? The end of season two left our murderous main character Joe Goldberg, played by Penn Badgley, in a bit of a cliffhanger, with his future headed in one direction and his dreams (obsessions) taking him in another. The third season of You will hit Netflix on October 15, 2021, so we don't have to wait long to find out. Still, we have a pretty good idea of what to expect, aside from, you know, stalking and cold-blooded murder.
Is there a trailer for You season 3?
In the first trailer, released August 30, Joe bakes a beautiful birthday cake for their new son—filled with what we can only hope is a gooey strawberry center and not blood. In the tantalizing clip, we hear Joe's trademark voiceover reveal his son's name—Henry—and his regret that he and Love birthed a son instead of an expected daughter. "And I would be lying if I said the thought of a mini-me was purely exciting and not without...challenges. Let's just say I'm hoping you'll do as a say and not as I do," he recites. Us too, Joe. He continues, "But for you I can change." Again, us too, Joe.
Then, on September 17, Netflix dropped the full-length trailer:
In the trailer, Joe says, "This is the most scared I've ever been." Cue: a baby crying. "I've always believed in the one," he says. "I moved to some soulless suburb. For you, I'd marry the monster. Your mother, Love. What could go wrong?...We're just the nice, normal neighbors next door."
There's more: In the trailer, we see Love hitting someone with a rolling pin and lifting an axe to strike someone else, at least one dead body, Joe lifting a bow and arrow, and the couple burying a body while their baby coos in its stroller. "I never thought to wonder: What happens after boy gets girl?" Joe says in a voiceover.
Netflix also dropped first-look photos, giving a glimpse at Joe and Love's new life in Madre Linda, a Northern California suburb. While Love works at a bakery, Joe's on daddy duty, bringing baby Henry with him around town. One image even shows Joe wearing his stalking hat with Henry strapped to his body into a baby carrier. Also, the cage has made the trip to NorCal (hopefully they show how he's been transporting that thing).
What will happen in You season 3?
Fortunately, Caroline Kepnes, who penned the book Hidden Bodies that You is based on, has released the third book in the You series, titled You Love Me. (Kepnes is also already working on a fourth book—could that mean a guaranteed fourth season for the show?)
The third book's synopsis reads: "Joe Goldberg is done with the cities. He's done with the muck and the posers, done with Love. Now he's saying hello to nature, to simple pleasures on a cozy island in the Pacific Northwest. For the first time in a long time, he can just breathe. He gets a job at the local library—he does know a thing or two about books—and that's where he meets her: Mary Kay DiMarco. Librarian. Joe won't meddle, he will not obsess. He'll win her the old-fashioned way...by providing a shoulder to cry on, a helping hand. Over time, they'll both heal their wounds and begin their happily ever after in this sleepy town."
Showrunner Sera Gamble told Us Weekly that the third season will feature individual storylines for Love. "The intention is to build her out—her point of view, her desires, her problems—in a way that makes her feel as fully realized as her troubled romantic partner."
A Vulture piece that was published in August 2021 teased more details about the upcoming plot and how the show's central pair handle the challenges of being new parents. "Joe is a golly-gee young father living in a fictional Bay Area suburb populated by tech billionaires, anti-vaxxers, and mommy bloggers," it read. "His new wife, Love Quinn (Victoria Pedretti), is just as willing to kill for love as Joe is, but his violent tendencies remain unsated."
What did we leave off in You season 2?
The second season of You found our romance-obsessed lead, Joe Goldberg, transplanted to the West Coast, ready to start fresh in his version of hell, Los Angeles. He changes his name to Will, gets a job at a vegan grocery store/book cafe, befriends his journalist neighbor and her spunky sister, and has seemingly abandoned his violent practices. Until Love (Victoria Pedretti), that is.
Joe ends up being the good guy—sort of—at the end of the season, finally admitting his faults and trapping himself in his glass cage...until Love takes matters into her own twisted hands. She kills Joe's ex and neighbor, Candace and Delilah, and gaslights her brother, Forty, until he's killed by a cop investigating the Quinn family. She also reveals her pregnancy to Joe, who subsequently feels trapped in Love's suburban fairytale fantasy.
Who will star in You season 3?
Netflix announced on January 25 that Scott Michael Foster was joining season 3 of You—and if previous seasons are any indication, he better watch his back. Per Deadline, Foster will be playing Ryan, a single dad and local television reporter who has "overcome a history of addiction."
Deadline continues, "Ryan has secrets, including a controlling, calculating demeanor that he reserves for those closest to him and anyone who gets in his way." Sounds like he'll fit right in...
Fans will remember Foster as Nathaniel Plimpton III in The CW's Crazy Ex-Girlfriend as well as roles in Greek, Halt and Catch Fire, Once Upon a Time, and Californication. Foster will join several new cast members including, Dylan Arnold, Travis Van Winkle, and Shalita Grant.
Chilling Adventures of Sabrina alum Tati Gabrielle is also joining the cast as Marienne, a no-nonsense librarian who sees through the town's rich, oblivious residents. Per Deadline, "Beneath her practical, buttoned-up exterior, Marienne is hiding personal struggles that continue to set her back, hard as she tries to create a better life for herself and her young child." Sounds like she'll quickly befriend Joe, though whether she'll survive the friendship could go either way.
Scott Speedman is also joining the growing cast. According to Netflix, the actor will play Matthew, "a successful CEO, husband, and uncommunicative father." (Perahps Joe and Love's child will befriend Matthew's? Though we know how much Joe can't stand bad dads.)
The Netflix description of Matthew continues, "He's reserved, mysterious, and has a tendency to be withdrawn ... all of which masks a deep well of emotion underneath."
As for fan favorites from seasons 1 and 2, it's hard to say. In You, no one dead truly stays gone—consider Candace (Amber Childers) who fans thought was just a ghost in season 1. But she was alive and (kinda) well in season 2...not for long, though. Perhaps she'll show up in season 3, yet again as a figment of Joe's imagination. Then there's Guinevere Beck (Elizabeth Lail), who was killed at the end of season 1 but popped up in a few season 2 episodes as a ghost haunting Joe's consciousness. And while the actor who played Love's brother, Forty Quinn, James Scully, hasn't said anything about being back on set (and did die in the season 2 finale) we'd imagine he'll be back in season 3 in flashback form as Love processes the grief from his tragic passing.
The same goes for Ellie (Jenna Ortega), who Joe told to flee to Florida at the end of season 2 after her sister Delilah was brutally murdered by Love. Considering how smart Ellie was, we wouldn't be surprised if she returned to California to get to the bottom of her sister's disappearance in season 3.
Celebrity news, beauty, fashion advice, and fascinating features, delivered straight to your inbox!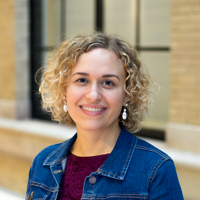 Katherine's a Boston-based contributor at Marie Claire who covers fashion, culture, and lifestyle—from "Clueless" to Everlane to news about Lizzo. She's been a freelancer for 11 years and has had roles with Cosmopolitan and Bustle, with bylines in Parents, Seventeen, and elsewhere. It's "I go to dinner," not "Her huge ego," but she responds to both.