Netflix's 'You' Season 2: Everything We Know So Far
You didn't really think Joe's reign of terror was over, did you?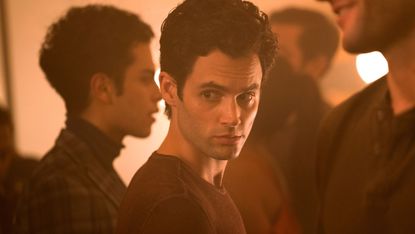 (Image credit: Netflix)
Marie Claire Newsletter
Celebrity news, beauty, fashion advice, and fascinating features, delivered straight to your inbox!
Thank you for signing up to Marie Claire. You will receive a verification email shortly.
There was a problem. Please refresh the page and try again.
Fans of Penn Badgley found themselves looking at the 32-year-old actor a little differently after binge-watching all ten episodes of the Netflix series YOU. In the psychological thriller, which dropped on the streaming service last December after originally airing on Lifetime earlier in 2018, Badgley played Joe Goldberg, an anti-social bookstore manager with a dark side. And when I say that Joe has a "dark side," I'm seriously underselling it; the protagonist (who is simultaneously the story's big bad) spends the entire 10-episode story arc stalking grad student Beck (Elizabeth Lail) and murders any and everyone that attempts to come between them. In the final episode of the first season, Joe actually ends up turning on Beck herself, taking her out when he realizes that she finally sees him for what he is: A violent sociopath. Obviously.
Update, 12/18: We've seen season two, and if you want our take on it (spoiler-free!), you can read it here.
Fortunately for us, Netflix has seen our tweets and heard our pleas, and season two of YOU is coming on December 26, 2019. That means that there's sure to be more conflicted inner dialogue about Joe's adoration ("Yes, he's psychotic, but look how much he loves her!") as well as pained screaming at your television/computer screen ("WHY DOES NO ONE ON THIS SHOW CLOSE THE BLINDS IN THEIR APARTMENTS?!") to come, and honestly? I'm equal parts excited and terrified to my core. After last year's rollercoaster ride of a season, where else can the Netflix thriller's twisted storyline take us? How much further can Joe go for love?!
A third season is pretty much confirmed.
Netflix tends to wait a few weeks after dropping a new season of a show to confirm a subsequent season, but we have a few big hints that we're going to get a season three of You. Number one: According to its end-of-year stats, the second season of You was Netflix's fifth most popular release of the year, which bodes well for future seasons. Number two: The show's production companies applied for and received a tax credit for the third season, should they make it, which is always a good sign.
Number three is perhaps the most damning, though: The show's star, Badgley, basically confirmed it. In an interview with Entertainment Tonight, he let a nugget about character development in the show's third season slip, saying of Love Quinn: "She doesn't appear to be the same kind of person. She doesn't appear to be the same kind of predator. She doesn't appear to be the same kind of… you know, dare I say, in the third season—oh, God!" Trying to backtrack, he adds. "I literally know nothing about the third season." He's then asked if this is a tacit confirmation of season three, to which he replies: "Technically I can't… I mean, like, unofficially?"
So, that's that—season three is unofficially, but basically, confirmed.
We have a full trailer!
Praise the TV gods, because we've officially gotten a full-length season 2 trailer with some major deets to sort through. There's Candace, and a little bit of background on what Joe did to her (looks like it's just as evil as you expected) as well as her reemergence to cause problems for our anti-hero. There's shots of Joe and his new obsession Love becoming closer and forming a connection. There's a lot of blood, and a lot of maybe-murderin'. There's...a shot of Joe/"Will" being arrested??
We also have a number of characters/potential victims on display, including Joe's landlord Delilah, Love's brother Forty, and all her L.A. friends. Oh, this looks so good, and now I have so many questions. Is Joe trying to be reformed and then totally messes it up? What happens to Love? What happens to Candace? Does Joe go to jail?? I need to know right now.
Also, if you're not following You on Instagram, I strongly recommend that you do, because there are a ton of character profiles, Easter eggs, and bits of foreshadowing that will probably all make sense once we watch (binge) the season when it comes out. But right now they're just tantalizing hints at the craziness to come. I cannot wait.

Netflix dropped a trailer—and Joe has a new name.
The new teaser is something out of a ASMR video, and we're kinda here for it. The video shows us what Joe really thinks of L.A. as he walks around the city narrating strangers' routines. He pokes fun at an influencer ("You're hiding behind this facade, but why?") and throws shade a hippie surfer dude for chowing down on a gluten-free muffin ("You're preening your ego and breaking an intermittent fast"). Isn't he just the nicest guy!
The video also features him waxing philosophical on L.A. culture,"That's the thing about L.A. Everyone is pretending to be somebody they're not." Um. Pretty rich coming from you, Joe. Or should I say...Will?
Yup, that's right—he's no longer Joe. The trailer can't end without his typical creepy antics, and when the barista asks him the name for his coffee order, he tells her "Will." This...sounds like trouble.

We have some first images from Netflix.
Ohhhh boy, I can't wait/am already terrified. The first-look images show Joe and his newest obsession, Love (Victoria Pedretti), and the change of location from New York to Los Angeles. We also see a bit of Candace (Ambyr Childers), whom everyone assumed was dead but showed up very much alive at the end of season 1. Candace looks...I'm gonna be honest, a lot more fine with the whole situation than I expected her to be. That's surprising, given, you know, that maybe Joe tried to kill her?
Love looks, of course, totally clueless that Joe's behind her. Because, you know, stalker.
Netflix has also been doling out more images via Instagram:
This is Forty Quinn, a recurring character in season two, who's played by James Scully. Forty is the brother of Love Quinn, Joe's love interest (get it? Love? Forty? Weird, rich-people, tennis-inspired names?).
Here's Badgley with Jenna Ortega, who plays Ellie Alves in season two. You might recognize Ortega—she's been in Jane the Virgin, playing a young Jane, and she played the lead in Disney Channel sitcom Stuck In The Middle.
Here's The Haunting of Hill House star Pedretti, who plays Love, with what, I'm assuming from the caption, is her friend group in season two. They're more welcoming-looking than Peach, huh?
Aaand, here we have actress Carmela Zumbado as Delilah Alves. It's no coincidence that she shares a last name with "Ellie," played by Jenna Ortega—they play sisters. "New neighbor, who dis?" wrote Zumbado on Instagram of the photo.
We also have a little bit more on character development from showrunner Sera Gamble—specifically, how Joe behaves when he first comes in contact with Love. "It's not that simple love-at-first-sight he might've been looking for a couple of years ago," Gamble explained to EW. "He's a different guy. He's been through more."
We have a preview and a release date.
All my Christmases have come at once. The new cast was teased in a preview video in November, alongside news of the release date:

The story will take place in Los Angeles, California.
Season one of YOU was as much a tour of New York City as it was a grizzly story of obsession and murder; though much of the story played out in Manhattan, Joe's compulsive stalking led him to almost every borough of the Big Apple in pursuit of Beck. Apologies in advance to fellow New Yorkers who took some personal joy in seeing the city's familiar locale ($100 to any Brooklyn resident who didn't involuntary shudder when Beck and Joe almost boarded the G train in the first episode), but YOU is headed straight for the city of angels.
What exactly will Joe be doing in Los Angeles? It's tough to say. He's no longer under investigation for the murders of Beck's close friends, and now that Beck herself is gone, Joe has his eyes set on someone else. What we do know for sure is that sunny L.A. will be lightyears more difficult for our leading man to navigate than the dark corners and alleyways of New York City ever were. "One problem that Joe might face coming to Los Angeles is that you can't walk down the goddamn street without someone posing against a selfie wall for their Instagram," showrunner Sera Gamble told TV Guide. "If you want to lay low, if you want to stay out of trouble, if you're trying not to be known—Los Angeles is the wrong place to live."
Joe's latest obsession is nothing like Beck.
We got a brief introduction to Joe's next target in the last season, a seemingly normal young woman named Love Quinn (Victoria Pedretti), and from the looks of it, she and the late Beckster are like day and night. What they do have in common is that certain je ne sais quoi that leads Joe to become inexplicably enthralled with them; Joe's immediate interest in Love is what convinces our main character to make the big move all the way to California in the first place.
As Love, Pedretti (who made her acting debut in the 2018 spooky Netflix series The Haunting of Hill House) will be a necessary breath of fresh air for Joe, an aspiring chef working as a produce manager in a high-end grocery store. "Like her name, she's very warm and there is a carefree aspect to her spirit that really comes from the fact that she has constructed a life for herself that's about being in the moment and doing what she loves every day," Gamble explained to EW earlier this year.
In an interview with Cosmo, Pedretti noted that she'd prepared for the role by studying "infamous socialites" and doing super L.A. things, like learning about astrology, so we can assume Love grew up weathly. "I tried to think about what it would be like to grow up with a lot of money, with all the resources that a lot of these people have," she said.

Still reeling from the self-inflicted trauma of his ill-fated relationship with Beck, Joe probably isn't going to immediately try to pursue a romantic connection with Love in the second season. "I will say that Love is a person he could only have met after what happened between him and Beck," said Gamble. "Joe is not out there looking for love. He's truly heartbroken by what has happened, and so what [Love] offers is a different kind of friendship and a different kind of relationship."
Joe will be confronted by a whole new group of potential threats, as well as an old flame.
Still mourning the loss of Peach Salinger? Totally understandable; while she was pretty terrible in her own right, Peach didn't deserve to go out like that. But knowing what we know about Joe and what happens to the people around him, it's essential that I warn you now not to get attached to any of the new characters we'll meet in the upcoming season of YOU.

Get ready—Gamble also promises that the new people that Joe is going to meet in Los Angeles will be "1,000 times worse" than the hipsters and snobbish elites he crossed paths with while stalking courting Beck in the concrete jungle. Among those new faces is Gabe, the concerned best friend of Love. Gabe will be played by Charlie Barnett (Chicago Fire, Russian Doll), and the 31-year-old is already fairly certain that his character will meet his tragic end. "It's so funny because online people are like, 'Oh, you're going to die. You're going to die. You're friends with the girl? You're definitely going to die,'" Barnett laughed in a recent interview with TV Guide. Welp...as long as he knows!
We definitely thought that Joe's first love, Candace, was dead (talk about a perfectly executed plot twist!), but she's alive and well, and she has a legitimate bone to pick with Joe now that they've met again. We know that Candace dumped Joe in order to pursue a music career, but is it possible that she'll follow him to Los Angeles and expose for the creep that he is?

Joe hasn't exactly turned over a new leaf.
One might think that after all of the events that transpired in the first season of the show, Joe would finally turn away from his life of crime and pursue more peaceful living in L.A., but no—one would would be dead (I'm so sorry) wrong. According to Gamble, Joe is still very much the "good guy" with a very warped moral compass. "I can't say he's fully reformed," she told Digital Spy. "It isn't like he's getting shelter dogs adopted in season two. He's doing some pretty crazy sh-t."
Badgley confirmed in an interview with ET that things will definitely get messy this season, "There are some things I've done with prosthetic bodies in this [new] season that were kind of nauseating as I did them, I will say that."
Gamble also implied that Joe would be taking his crazy up a notch, which means that fans of YOU can expect even more blood and gore this season. "At least one scene comes to mind that's gorier and scarier than anything we had in season one," the writer promised. "It's also beautifully shot, and the director who shot the second episode lavished a lot of love. Joe is forced to do something he really doesn't want to do."
Terrified but also thrilled at the prospect of Joe possibly resuming his criminal activities? Same. Until December 26, make sure to keep your doors locked and your blinds closed.
For more celebrity news, beauty and fashion advice, savvy political commentary, and fascinating features, sign up for the Marie Claire newsletter.
RELATED STORY
Celebrity news, beauty, fashion advice, and fascinating features, delivered straight to your inbox!