All the Stars and Teeth by Adalyn Grace Is Your Latest Must-Read
The 25-year-old author talks to us about politically-charged fantasy and not being afraid of being a little bit cocky.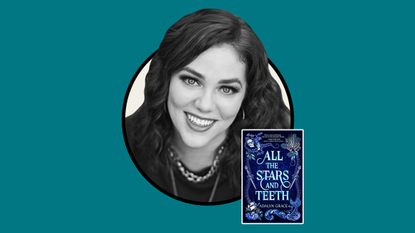 (Image credit: Selena Sorensen)
Adalyn Grace has always known exactly what she wanted: She wrote her first book by 13, graduated college by 18, and now, at 25, is debuting her first novel, the highly-anticipated Y.A. fantasy All the Stars and Teeth (Macmillan, February 4), which is already being hailed as a top read for spring. "I always wanted to be a storyteller; the only doubt was the capacity that that would be in," the San Diego- and Arizona-based young writer tells Marie Claire.
In All the Stars and Teeth, the story she's telling is Amora's, a strong-willed princess of the magical island kingdom Visidia, who is readying herself to take over the thrown. After a disastrous display of Amora's power goes wrong, she's forced to flee. Amora sets out on a mission to prove her worth and, reunite her rapidly dividing people. With the book's sometimes dark themes (murder and civil war among them), Grace joins a rising group of Y.A. writers penning politically-charged stories for a younger generation. Here, Grace explains how she approached those difficult conversations, her writing process, and how nabbing a book deal as a 25-year-old woman changed her life.
Marie Claire: What was your initial inspiration for the book?
Adalyn Grace: It all started with my main character, Amora. I wanted to create a character who was a bit morally grey, and who was very unapologetic for what she wanted. I wanted to create this in a female character because I feel that in media, like in movies in books, male-identifying characters get away with so much more than female characters do...and that's not even considering non-binary characters. Male characters can do anything they want and be really loved for it, whereas female-identifying characters, they have so much more pressure, so much more judgement. I really wanted to create a character who was just everything that she wanted to be, unapologetically: She's fierce, she likes dating, she likes fighting, she likes adventure, and she loves dresses and make-up. It all stemmed from there.
MC: How did you approach creating a character that can be very flawed, but that we still root for?

AG: I wanted her to be imperfect. There definitely are parts in the book that are going to have people really frustrated with her. But she's human and I wanted that to really be represented in the story. I wanted to see her grow.
MC: There's dark stuff in your book, including murder. How do you approach those conversations?
AG: Unintentionally I included a lot of politics and commentary, because everything that's happening in our world right now, in our country, feels so political right now. It feels like we're in such turmoil. I don't think that there's a writer that I know who is fully able to switch that off. So much of the world and what you're experiencing seeps into our writing.
When it comes to approaching those themes, it all depends on the extent of the conversation and how deeply you delve into it. If this were an adult book, it might be a little more graphic, there might be more specific politics involved. I think with Y.A. you have to be mindful that you're presenting something to a younger audience. You do need to say something—you can't just put on paper "oh all these characters are dying" and think that's fine. You can't just leave it blank, because you're talking to a very young audience. Handling those topics with care is so important. But I also did not want to pander to the audience. They are young, but very mature. They can think about these topics for themselves.
MD: What does it mean to you as a young author, coming out with your debut in this moment in which there is more politically charged Y.A. entering the scene? What does it mean for you to be a player in that space?
AG: It's a lot of responsibility—I'm grateful to have the opportunity for it. You don't want to force your opinions. You want readers to be able to think for themselves. I think that was my whole goal: I didn't want to create anything that was super wrong or right. In the book, both sides have very different opinions of the potential war that is going to be happening. And both sides have very good points. Especially the quote-unquote "bad guys." I really wanted to create a situation where people could think for themselves and make their own judgements on everything that's happening.
MC: Have you always wanted to be a writer?
AG: I started writing when I was 10 or 11. Really embarrassingly, I used to write on the website NeoPets that used to be super popular in the '90s and early 2000s. I lived in the same town as Stephanie Meyer, so when Twilight came out, I went to one of her first book signings and realized writing could be an actual job. I wrote my first book—it was awful, it was so, so awful—but I finished it by the time I was 13.
MC: What was it like to get your first book deal?
AG: It was not the first book that I queried or that I've written; I had gotten close with another book that didn't work out. So, I kind of angry-wrote this one. Not getting an agent really fueled me. I had also been in a car accident and broke a couple ribs and parts of my spine, so I had a lot of spare time to write. I drafted this book really quickly, in about three weeks. Before I queried, I spent another three weeks editing it. Then I queried [it] and that happened really quickly. I had a couple offers within the first 24 hours. It was just a very lucky, abnormal process.
I remember the moment I got the phone call and I just sobbed and I was incoherent. I was just like, "I got to go call my mom!" I think that, as a female specifically, you're judged a little bit harsher than your male colleagues. And there are more expectations in terms of communicating with people or being kind. There's just this added social pressure. But for the most part, I try to ignore it because it's just so exciting and I'm just so grateful to have this opportunity to finally be doing what I've worked for for years and years.
MD: You seem so self-assured. Did you have moments of self-doubt?
AG: I think there are always those small moments of hesitation. I think I'm very fortunate in that I'm a little bit cocky, so it helps protect me a little bit. We apologize for being cocky as females. We don't want to be perceived that way. But I think that protects me a lot because I know what I want. And this is what I want, and I don't care what anyone else is going to say. I'm going to go get this because I've worked my butt off for it. And it is finally within my grasp, so I'm not going to back down.
For more stories like this, including celebrity news, beauty and fashion advice, savvy political commentary, and fascinating features, sign up for the Marie Claire newsletter.
RELATED STORIES
Celebrity news, beauty, fashion advice, and fascinating features, delivered straight to your inbox!
Megan DiTrolio is the editor of features and special projects at Marie Claire, where she oversees all career coverage and writes and edits stories on women's issues, politics, cultural trends, and more. In addition to editing feature stories, she programs Marie Claire's annual Power Trip conference and Marie Claire's Getting Down To Business Instagram Live franchise.