Vanessa Carlton Lives in the Present (Even If You're Stuck in the Past)
The 39-year-old singer-songwriter has come a thousand miles since breaking onto the music scene in the early 2000s. And if her new album, Love Is An Art, proves anything, it's that the future is significantly more exciting than what's in the rearview mirror.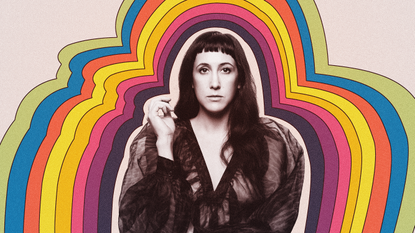 (Image credit: Photo by Alysse Gafkjen/ Designed by Susanna Hayward )
Marie Claire Newsletter
Celebrity news, beauty, fashion advice, and fascinating features, delivered straight to your inbox!
Thank you for signing up to Marie Claire. You will receive a verification email shortly.
There was a problem. Please refresh the page and try again.
Vanessa Carlton didn't lose her virginity in a white house. "It's just a made-up lyric," she says, referring to the chorus of her 2004 coming-of-age hit song, "White Houses," which tells the story of a teen girl's first time during the sticky-heat of summer. (I think we can all recall the lyrics "rush of blood/and a little bit of pain.") "But that's not me. That story isn't mine."
It's late January 2020, 16 years since "White Houses" awoke a sexual curiosity in millennials, and I'm speaking with Carlton because I want to hear a story that is hers. Not the "what ever happened to Vanessa Carlton" clickbait that circles the Internet on repeat, not the "it's time for Vanessa Carlton's comeback" think piece that's been published what feels like every year since she exploded onto the music scene in 2002 with her first record, Be Not Nobody. She's been releasing music all the while—we just haven't always been listening.
She's acutely aware of that fact. "I Can't Stay The Same," a spellbinding synth backed by soft percussions, is the first track on her new and sixth album, Love Is An Art, out March 27. "I thought it would be a nice opening statement for whoever would be listening to this," she says. "Whoever knows my name but doesn't know any of the body of work that has come between 20 years ago and now."
She is actually still the same in a lot of ways, though. She still uses GarageBand to mix songs. ("If you need shitty GarageBand demos, I am your girl.") She still croons airy, hypnotic love letters. At 39, she looks astonishingly similar to the way she did at age 18: Brown doe-eyes, an enviably creamy complexation, and long dark tresses—though she now sports wispy baby bangs. Her style is still indie, but with doesn't-try-too-hard cool that I pray comes with age.

But in other ways, she's an entirely different person than the girl America watched play a flying piano in the music video for "A Thousand Miles" (which to-date has 245 million views on YouTube despite the fact that the video was only uploaded to the platform 6 years after its release). Since her first record, Carlton has released five additional albums and starred as Carole King on Broadway. She moved to Nashville and got married (to John McCauley, front man of Deer Tick; Stevie Nicks officiated their nuptials). She cries at paper towel commercials now, which I have to assume is something she didn't do before. (For context: She had a daughter, Sidney, in 2015, which she says "cracked her open" in terms of emotion and empathy).
Her past five albums capture her evolution as an artist, but Love Is An Art drives the sense of change home most dramatically. Embedded in the 12 tracks—all of which she wrote or co-wrote—is a dreamy falsetto, synthy-pops, humming vibrations, and the kind of aching authenticity that can make you cry on your bedroom floor (some things apparently do stay the same). The lyrics are introspective, calm, controlled. Compared to the so-called "brain bath, soothing record" that was Liberman (her 2016 foray into meditative folk-pop), Love Is An Art is full of unexpected bold riffs and surprising tempo changes. The departure in style was purposeful. "The point of this record was to do everything differently than last time," she says. "It's sort of this orchestral approach...it's so vastly different than where my head was when I made my first record."
Owning her craft came with confidence and age, but a little drug use hasn't hurt, either. She tried LSD therapy for the first time two years ago and says she "had this profound reaction to it." She credits it with helping open her up artistically, break away from the ill-fitting pop mold, and address the harsh spotlight of her early years as a star. "It was easy for me to reference a time when I felt a lot of attention on me from people I didn't know. It's easy for that to arrest your growth. I felt this had happened to me. [In "I Can't Stay The Same"], I'm kind of addressing that, and acknowledging You know what, I need to give myself permission to follow whatever muse, whatever curiosity or adventure I need to go on creatively."
During Be Not Nobody Carlton was young and wide-eyed, breaking into an industry that saw her as a thing to mold—and, maybe, exploit. Music has since experienced a #MeToo reckoning, but in 2002 it was a hot-bed of harassment and inappropriate behavior, especially as it related to young, beautiful wannabe stars. Carlton experienced the impact of those power structures while producing Be Not Nobody; one of the men she worked with often crossed the line: "He'd want to go out with me and my friends," she says. "He was giving us drugs. He was calling me in the middle of the night. And I was like, This is my huge, first real A&R guy. And this was my big record deal." [A&R stands for artist and repertoire, reps who find new artists and sign them labels.] The situation quickly made her uncomfortable and confused about what it meant to be an on-the-rise pop sensation, desperate to make it. It made her question if it was all worth it. "I remember crying and saying to my friend, 'I can't do this. If this is what it means for me to make an album and release it, I'd rather not do that.'"
She told her manager at the time she wanted to speak with Jimmy Iovine, then the head of Interscope Records (part of the same family as her label, A&M) about not working from the producer in question. He was hesitant to set it up. "He said, 'They're going to drop you if you do that. You can't do that. I advise against that.'"
She did it anyway, a move that would mark one of the first—but certainly not last—moments she had to advocate for herself. She flew to Los Angeles for the meeting and told Iovine what was going on behind the scenes. The man harassing Carlton wasn't fired, but Iovine did break up their working relationship, much to her relief—and much to her manager's surprise, he didn't drop her. "I was just a new kid. I had nothing that he would see that would prove that I would be worth his while or to keep me on after all the trouble and money that was spent at that point. But he believed in me."
Carlton has always been outspoken. She recalls a Teen Vogue article she did at 24 in which she opened up about bulimia and bouts of depression; she publicly talked about mental health and sexual orientation on stage at shows. In January 2018, Carlton, a three-time Grammy nominee, tweeted a petition pushing for the ouster of Recording Academy president Neil Portnow for saying women needed to "step up" in order to be nominated for Grammy awards. It accumulated nearly 10,000 signatures, in part due to Carlton's sharing, and Portnow was effectively removed. "If I feel strongly about something, I will say it," she says. "Biting the hand that feeds you… I don't give a fuck."
A former student of the world-renowned School of American Ballet, Carlton also was one of the women to expose the history of misogynist culture at the academy in a 2018 New York Times article. "I came up in the School of American Ballet and knew the culture there. I don't want these environments to stay the same for my daughter. We need to be better," she tells me. "If that means that I'm going to get less opportunities because I'm saying certain things that are going to piss people off that have power, I don't really care."
I ask her if she thinks the It artists of today—many that label themselves singers and activists, environmentalists, or advocates—face the same challenges that she did when she was up-and-coming. "Maybe it's a completely different experience than what I had," she responds. "I think it is. This younger generation, they ask for so much more. They demand more respect than I thought I could even ask for."
The conversation turns to younger listeners too—the demographic she once marketed to. It seems crazy that Gen Z might not even know who Vanessa Carlton is. She, along with the likes of Avril Lavigne and Michelle Branch, defined an era for millennials—I distinctly remember lying face down on my patchwork Pottery Barn comforter, soaking up the moodiness of Be Not Nobody (was I not nobody?); a girl in my middle school English class lyric-checked 'White Houses' in a poem that she wrote about losing her own virginity the summer before.
But the listeners struggling for self-discovery in adolescence today—though maybe in a less angsty fashion than '90s babies—is Gen Z. I ask what Carlton thinks of them. "What are Gen-Zers?" she punts back. "I am old." I say that I think they are aged 9–17. In fact, they're anyone under 22, but her answer makes perfect sense all the same. "I would tell them that they are going to change the world. We are fucking up this planet. It will be up to them to preserve human rights around the world."
A month or so after our interview, "A Thousand Miles" loads into my recommended queue on Spotify (naturally—I have been listening to Carlton on repeat during the process of writing this article). The iconic title was never meant to be: "If I had it my way, that song would be called 'Interlude,'" she says. "The little riff in there just sounded like a little interlude between songs. Maybe that's a shitty idea, but whatever." It's maybe one of the earliest instances of Carlton realizing her artistic vision wouldn't always come to fruition—maybe one of the earliest instances of wishing she had spoken up, and maybe a moment that would define her as a voice in music and in activism.
I'm curious what the course of pop history would have looked like if "A Thousand Miles" had been titled "Interlude?" Would that title have dominated radio stations (at a time when people still relied on the radio for new music) across the country? Would it have raised Carlton to household-name status? Would Terry Crews still have performed a memorable rendition of the song in 2004's White Chicks? I can't say, but I'd bet somehow—maybe through a diverting path—she'd still be exactly where she is right now.
This article was not intended to be a nostalgia trap (though I'll admit, sometimes I've indulged)—it's a look at how Carlton's path has shaped her into the artist she is today, and where she still has left to go. She might not be headed there on a flying piano, but I consider it all the more exciting for that reason.
The last track on Love Is An Art is a bonus track entitled "Break to Save." It closes with these lines: "I leave to redefine me / But I love you and I let you go." Some things may never change—clearly, this is another one of Carlton's many love letters, soft and aching and undeniably true. Though I have to wonder if this one is to herself.
For more stories like this, including celebrity news, beauty and fashion advice, savvy political commentary, and fascinating features, sign up for the Marie Claire newsletter.

subscribe here
Celebrity news, beauty, fashion advice, and fascinating features, delivered straight to your inbox!
Megan DiTrolio is the editor of features and special projects at Marie Claire, where she oversees all career coverage and writes and edits stories on women's issues, politics, cultural trends, and more. In addition to editing feature stories, she programs Marie Claire's annual Power Trip conference and Marie Claire's Getting Down To Business Instagram Live franchise.