Great College Movies That Will Have You Missing Your 8 A.M.
Bottle of cheap vodka that you hid in your dorm not included.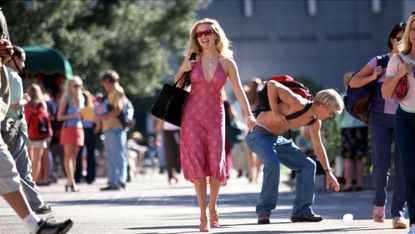 (Image credit: Getty Images)
Marie Claire Newsletter
Celebrity news, beauty, fashion advice, and fascinating features, delivered straight to your inbox!
Thank you for signing up to Marie Claire. You will receive a verification email shortly.
There was a problem. Please refresh the page and try again.
As I settle into my humble post-grad lifestyle, long gone are my days of late-night cram sessions, a diet consisting solely of frozen foods, my friends being a mere minute or two walk away, and a bloodstream filled to the brim with Starbucks Sweet Cream Cold Brew. It's safe to say I miss it. Whether you graduated five or 25 years ago, you'll always hold a special place for those years of growth in your heart. Luckily, there are some great college movies that can capture those feelings of nostalgia in two hours or less.
I've taken the liberty of listing the best college movies that will leave you asking: Should I have stretched out my college career and headed to grad school? Is it too late? The answer is never, my friend.
House Bunny (2008)
Starring: Anna Farris, Colin Hanks, Emma Stone, Kat Dennings, Rumer Willis, Katharine McPhee
What it's about: Playboy playmate Shelley (Faris) finds out she's getting evicted from Hugh Hefner's Playboy Mansion. Now on a quest for a full-time job, she finds herself on a college campus where she soon becomes the house mom for the not-so-popular sorority, ZETA. That's when Shelley decides to use what she's learned from the mansion to the test. In the classic late '00s way, there's a highly satisfying makeover scene.
Everybody Wants Some!! (2016)
Starring: Blake Jenner, Tyler Hoechlin, Glen Powell, Wyatt Russell, Zoey Dutch
What it's about: I'm a woman of simple tastes. If I see something starring Glen Powell, I watch! Dubbed as the sequel to Dazed and Confused, director Richard Linklater brings us back to the 1980s where freshman baseball player, Jake (Blake Jenner), is moving into his new digs a couple of days before the fall semester starts. What follows are days filled with outlandish parties, schemes to get girls, and other activities that I like to classify as "team bonding."
Drumline (2002)
Starring: Nick Cannon, Zoe Salanda, Orlando Jones
What it's about: Before Nick Cannon was hosting MTV's Wildin' Out, he played Devon Miles, an insanely talented street drummer from Harlem who lands a full-ride scholarship to the fictional Southern University, Atlanta A&T University. After being accepted to the school's marching band team, he expects to lead its drum line—to victory but soon finds it's going to take a lot for everyone to play the same tune.
National Lampoon's Animal House (1978)
Starring: John Belushi, Tim Matheson, Peter Riegart, Kevin Bacon, Donald Sutherland, Tom Hulce
What it's about: For the sake of the newbies here, I'll break down probably the most popular college movie of all time. Set in 1962 on the campus of Faber College in Faber, PA, we meet the Delta Tau Chi fraternity, known for its collection of campus rejects and undergrad students who should've graduated a long time ago. The college's dean believes this is the year he'll finally be able to get the boys off-campus, but these guys have other ideas. Chaos ensues, and it features jokes that have not aged well, but like my father says every time he watches it: "But—it's a classic!"
Sydney White (2007)
Starring: Amanda Bynes, Sara Paxton, Matt Long, Jack Carpenter, Crystal Hunt
What it's about: In this modern telling of Snow White, freshman Sydney White (Bynes) shows up to college fully set on joining her late mom's sorority. She's soon dropped from recruitment by the president, Rachel (Paxton), and forced to bunk a condemned house on greek row that houses other misfits. To make sure their house doesn't get condemned, her and her seven roommates run to take over student government.
Neighbors (2014)
Starring: Seth Rogen, Zac Efron, Rose Byrne, Dave Franco, Lisa Kudrow, and Ike Barinholtz
What it's about: New parents Mac (Rogan) and Kelly Radner (Byrne) are looking forward to having new neighbors, but soon find themselves regretting the very thought when they discover it's an off-campus frat house. The couple makes complaints, but the parents soon realize they'll have to get creative to get the message across. The image of a shirtless Zac Efron grilling is forever embedded into my brain.
Accepted (2006)
Starring: Justin Long, Blake Lively, Jonah Hill, Lewis Black, Kellan Lutz
What it's about: The process of applying to schools is next-level terrifying, but what if you didn't get accepted to any of the schools you applied to? Enter in Bartleby Gaines (Long), who finds himself in that exact situation. To fool his parents, he decides, using his computer to create a non-existent college, South Harmon Institute of Technology, and tell his parents he'll be attending there in the fall. Now the next challenge? Making sure his parents don't find out.
Dear White People (2014)
Starring: Tyler James Williams, Tessa Thompson, Brandon Bell, Dennis Haysbert
What it's about: If you loved the Netflix series of the same name as much as I did, this film is required viewing. Following the stories of four black students at the fictional Winchester University where a riot breaks out in protest of an "African-American" themed party at a white fraternity. Thompson is stellar as Sam White, the radio host of Dear White People on the school's station, as she comments on the racist occurrences at the university (and is just an overall badass).
Legally Blonde (2001)
Starring: Reese Witherspoon, Luke Wilson, Selma Blair, Jennifer Coolidge, Holland Taylor, Linda Cardellini
What it's about: Haters can say all they want, but Legally Blonde is a college movie! Sure, the setting is Harvard Law School, but we would've never gotten there if Elle Woods' (Witherspoon) college boyfriend hadn't broken up with her in the first place. As you can see, I have very strong feelings for this heartwarming story of a girl who sets out to better herself for a man (the horror), but ultimately realizes she doesn't need to change herself to be accepted.
22 Jump Street (2014)
Starring: Jonah Hill, Channing Tatum, Ice Cube, Jillian Bell, Nick Offerman, Jimmy Tatro
What it's about: The sequel to 21 Jump Street is surprisingly as funny as the first. Instead of going undercover at a high school, these cops are taking their skills to a local college where they have to find out who's dealing the synthetic drug named WHY-PHY before it's too late.
St. Elmo's Fire (1985)
Starring: Emilio Estevez, Rob Lowe, Demi Moore, Andrew McCarthy, Andie MacDowell, Judd Nelson, Mare Winningham, Ally Sheedy
What it's about: Life after college is a mixture of emotions, and it's refreshing to see them play out onscreen. This film features a group of Georgetown graduates who are unsure what the future holds from them covering topics of substance abuse, relationships, finding passions, and the overall question of: Do college friendships last forever? The score of this film is always somehow playing in my mind.
Pitch Perfect (2012)
Starring: Anna Kendrick, Skylar Astin, Rebel Wilson, Ben Platt, Brittany Snow, Anna Camp
What it's about: New girl on campus Beca (Kendrick) finds herself pulled into the world of college a cappella. To bring her new friends out of the dark ages, Beca finds herself creating all-new mash-ups for the team and is enjoying it. The music is catchy, the performances are fun, and it kind of makes me wish I joined an a cappella group in college.
Spring Breakers (2013)
Starring: Ashley Benson, Vanessa Hudgens, Rachel Korine, Selena Gomez, and James Franco
What it's about: Four best friends are looking to have one wild spring break before their time at college ends, but lack the funds. To get rich quickly, they decided to hold up a restaurant and steal whatever cash they could. The friends soon find themselves living it up in paradise, but then they find themselves behind bars. They think they're screwed until a super creepy (and I mean creepy) rapper named Alien (Franco) bails them out and promises them some unforgettable fun.
Sorority Row (2009)
Starring: Rumer Willis, Audrina Patridge, Carrie Fisher, Briana Evigan, Jamie Chung
What it's about: I couldn't not include one college-themed slasher movie on the list! A sorority prank on a cheating boyfriend goes wrong and leaves someone accidentally murdered. To go on with their senior year, the surviving friends agree to dump the body and never speak of it again. On graduation weekend, however, a mysterious hooded killer begins seeking terror on those who have been keeping the bloody secret.
Life of the Party (2018)
Starring: Melissa McCarthy, Gillian Jacobs, Maya Rudolph, Debby Ryan, Julie Brown
What it's about: After a sudden divorce, Deanna (McCarthy) finds herself suffering a mid-life crisis of some sort and decides to enroll in college. The same college her daughter is currently a student at, and, surprisingly, her daughter isn't that upset. (HOW!) She'll soon learn all there is about frat boys, collegiate freedom, and how new experiences show you your true self.
For more stories like this, including celebrity news, beauty and fashion advice, savvy political commentary, and fascinating features, sign up for the Marie Claire newsletter.
RELATED STORIES
Celebrity news, beauty, fashion advice, and fascinating features, delivered straight to your inbox!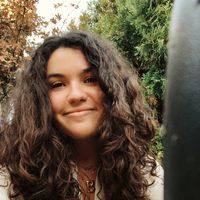 Bianca Rodriguez is the Fashion & Luxury Commerce Manager at Hearst Magazines, covering fashion, beauty, and more for Cosmopolitan, Elle, Esquire, Harper's BAZAAR, and Town & Country. She likes lounging about with a good book and thinks a closet without platform sneakers is a travesty.