No, Matt James Won't Be on 'Bachelorette' Clare Crawley's Season
Clare Crawley's season of 'The Bachelorette' starts filming in July—but will Matt James, the contestant-turned-Bachelor who was cast for her season, be present?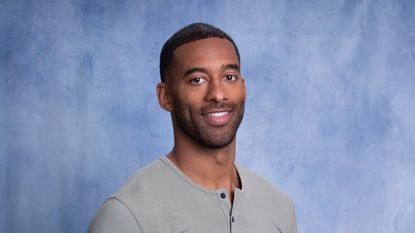 (Image credit: ABC)
In the best news I've heard all year, entrepreneur, real estate broker, and community organization founder Matt James is our new Bachelor—the first Black lead in franchise history. James, Tyler Cameron's BFF and who you've probably seen all over Cameron's Instagram, is also known to the Bachelorverse because he used to be a contestant on Clare Crawley's Bachelorette season. So fans immediately began wondering—is James going to be on The Bachelorette AND The Bachelor? I know it seems confusing, especially with so much in flux right now due to the coronavirus pandemic, so let's break it down.
Was Matt James ever on the Bachelorette?
So, the short answer is no. Entertainment Weekly broke the news, framing it as he used to be a contestant on Crawley's season. Also, if you look at the statement from ABC Entertainment president Karey Burke, it seems pretty cut and dry:
"Matt has been on our radar since February, when producers first approached him to join Bachelor Nation, as part of Clare's season. When filming couldn't move forward as planned [due to the pandemic], we were given the benefit of time to get to know Matt and all agreed he would make a perfect Bachelor. We know we have a responsibility to make sure the love stories we're seeing onscreen are representative of the world we live in and we are proudly in service to our audience. This is just the beginning and we will continue to take action with regard to diversity issues on this franchise. We feel so privileged to have Matt as our first Black Bachelor and we cannot wait to embark on this journey with him."
Also, this, from Reality Steve:
Fun fact: This is 1st time in the last 29 seasons (Bach & Bachelorette) that the lead wasn't from a previous season. Last one was Matt Grant. Although, Matt James was originally cast on Clare's season so its not far fetched to think he would've been Bach if Clare didn't pick him.June 12, 2020
See more
So it seems pretty set. Also, think about it this way: There's no way he'd be on Crawley's season—because the spoilers would be right there. We know she wouldn't select him, because he already has the Bachelor gig lined up. And if it's anything the producers care about, it's not spoiling the ending. So the first time we will really get to meet him is in pre-show interviews and during the show.
Why was there beef between Matt and Clare?
Oh yes, that. Okay, so another reason we know that they didn't hit it off: Crawley wrote during the hiatus before filming: "If you are doing interviews and creating Cameo accounts before you are even on my season... you are in it for the wrong reasons... #dontwasteyourtime." Many fans took this as a veiled attack on James, who had a Cameo account to raise money for those impacted by the coronavirus pandemic.
Though Crawley then backtracked and said that her comments weren't aimed at anyone in particular, the damage was done. Wrote Crawley: "it was about MULTIPLE men and a general thought I was having while we sit here in a real life crisis where someone's (everyone's) time + sincerity hold so much weight and value."
Tyler Cameron later weighed in on the whole thing, saying: "She came at my boy a little bit, you know, that tweet...and the funny thing is Matt had a Cameo, but the guy she picked too had a Cameo. So, you know, it's interesting." (So much shade!)
But James himself has been super classy about it, writing on Instagram that he's excited for Crawley's season and plans to tune in.
Katherine's a Boston-based contributor at Marie Claire who covers fashion, culture, and lifestyle—from "Clueless" to Everlane to news about Lizzo. She's been a freelancer for 11 years and has had roles with Cosmopolitan and Bustle, with bylines in Parents, Seventeen, and elsewhere. It's "I go to dinner," not "Her huge ego," but she responds to both.