Clare Crawley's 'Bachelorette' Cast: Every Detail We Know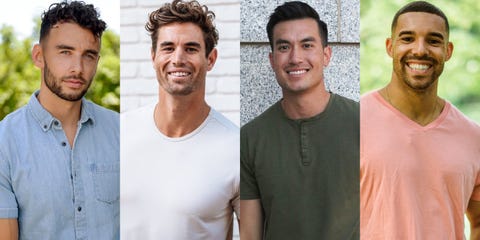 ABC just released photos from the 42 new potential contestants for Clare Crawley's season. There are more than previous years, in case other contestants are needed as alternates due to the coronavirus pandemic (i.e., if any contestants test positive for the virus—so just know that even though they're on this list, they may not make it on screen). Seventeen men are from the original cast; the other 25 are new. Of the new bachelors added, 20 of them are 30 or older—making 26 men in total over 30—and there's apparently a little more diversity than in past seasons. It has been an interesting time to be a Bachelorette fan—scheduling has been delayed on Crawley's season because of the pandemic (filming started in July in one, closed location at the La Quinta Resort & Club in California, and will air in September).
Of note: Contestants may not have been asked back, or they could have chosen not to return. Scheduling conflicts due to work or family life could absolutely have played a part in all this, so we can't make any assumptions as to why. Also: A number of the men's listed home city have changed. Reality Steve speculates that changes might be a structural edit so that they're all uniform to where they grew up, not where they live now (and coronavirus may have changed where they live).
We knew for several months that recasting was happening on Crawley's season, and the results seem to be skewing older—which is great, because Crawley is 39. Originally, 23 of the contestants were in their 20s, with the youngest being 23. One of the potential bachelors, Matt James, is our 2021 Bachelor, so he also won't be filming this season. Details on the men come from their social accounts, Bachelorette spoilers, and Reality Steve. I've included Instagram accounts where available (some of the men don't have them). A lot of them are private, deactivated, or otherwise unavailable at the moment. We'll keep this story updated, so you can see who's been cut, who's stuck around, and (eventually) who's in the running for Crawley's heart.
This content is created and maintained by a third party, and imported onto this page to help users provide their email addresses. You may be able to find more information about this and similar content at piano.io