The Babysitters Club Is Back
On set with the original girl bosses.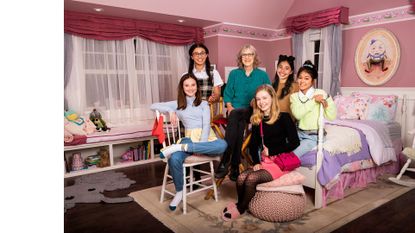 (Image credit: Courtesy)
Marie Claire Newsletter
Celebrity news, beauty, fashion advice, and fascinating features, delivered straight to your inbox!
Thank you for signing up to Marie Claire. You will receive a verification email shortly.
There was a problem. Please refresh the page and try again.
You could say I was an ambitious child. At age 10, I crafted a menu for a hypothetical restaurant featuring at least 20 flavors of chocolate milk and sandwiches that combined ingredients I was weirdly into like provolone cheese and alfalfa sprouts. (There was nothing else on the sandwich.) I "published" The Webley Family Newspaper, which included personalized content for each member of my family, my cat, Sylvester, included. (I was ahead of my time, I tell you!) And, in perhaps my greatest stroke of genius, I opened "Kayla's Everything Store:" a collection of random household oddities, many stolen from the junk drawer in our kitchen, which I crammed into a Caboodle. I would announce that the "store" (Caboodle) was open and my parents would fork over money to buy back the rubber bands, paperclips, and pens they had only moments before owned outright. (Thanks for your business, mom and dad!)
My entrepreneurial streak may have had something to do with the books I voraciously consumed at the time. Every week for years of my adolescence, I would go to the library to check out The Babysitters Club books, the long-running and wildly popular series—between 1986 and 2000, some 176 million copies were sold—by Ann M. Martin about a group of friends who run a babysitting service.
Reading about the adventures of a successful childcare startup operated by girls about my age taught me that kids could earn money, too. I can't remember what I did with the proceeds from my various schemes, but that's not what matters. Making my own money made me feel good. Powerful, even. It's a lesson I carried with me to my first job setting trap at a gun club at age 13, and to the smattering of afterschool and summer jobs—law firm errand girl, camp counselor, gymnastics coach, lifeguard—I held throughout high school and college.
In hindsight I feel lucky that I happened to have stumbled upon such inspirational, if fictional, role models. I may not have had a babysitting operation, but I was clearly motivated by what I gleaned from the pages of The Babysitters Club. Which is why I'm especially happy Netflix is bringing the child rearing squad to life again for the next generation. The 10-episode contemporary take, premiering July 3, begins just the same as the books: with president Kristy Thomas's genius idea to start the club.
Last summer, I was able to live out my childhood dreams by visiting the B.S.C. set in Vancouver, British Columbia. Walking onto the soundstage, I was transported to the tree-lined streets of fictional Stoneybrook, Connecticut, able to casually walk into the bedrooms of my one-time idols. There are bold purple walls in Mary Anne's room and candy stuffed inside hallowed out books in Claudia's. As a journalist, I was there to report on the making of the show, but as a superfan, I wanted to make sure my beloved babysitters were in good hands.
Any concern I had vanished when I met director Lucia Aniello and showrunner Rachel Shukert. (Both are also executive producers.) Not only are these women veterans of two of my favorite shows—Broad City and G.L.O.W., respectively—they are also total B.S.C. geeks like me. "It was pretty much my major personality trait that I loved The Babysitters Club," Aniello tells me.
A couple of years ago, with nostalgic reboots all the rage in Hollywood, Aniello's agent asked her if there was anything from her childhood that she'd like to work on, "And I was like, 'Babysitters Club. That's not even a question,'" Aniello says. She found out who owned the rights and made her case. "I had so much to say about what it means to me and what it would look like as a show today and how I wanted it to feel," Aniello says. "I really just expressed my love and [Walden Media, who owned the rights] were totally on board." She found the perfect showrunner in Shukert, who got a new Babysitters Club book for every "A" she earned on her report card growing up. "I can't believe all of those days at recess where [my friends and I] would just talk and talk about The Babysitters Club, and now I am making it a TV show," Shukert says.
Like all B.S.C. obsessives, we spent some time explaining which characters we relate to most. I'm a Mary Anne (the shy secretary), who wanted to be a Stacey (the fashionable cool girl, who moves to town from New York City and serves as the club's treasurer). Shukert identifies most with Claudia, budding artist and B.S.C. vice president, who hosts the meetings because she has her own phone line. "I was an out-of-the-box kid," she says. "I was very interested in theater and being an artist and creativity, and I was not very interested in school or academic performance." Aniello, who calls herself a "Kristy with a Stacey rising," wishes she were a Claudia, too. "People either want to be Claudia or Stacey," she says. "If you're genuinely the coolest person, you're Claudia. I'm not sure I'm that cool, but a girl can dream."
Aniello and Shukert worked together to ensure the show stayed true to the novels while making some necessary updates for present day. "The books, for the most part, were inclusive and ahead of their time, so we tried to think about pushing that forward a bit more," Shukert says. There are some obvious changes: On Netflix, Mary Anne Spier is Black and Dawn Schafer is Latina, as well as some tweaks that are more subtle. Take Dawn, for example, who in the books is blonde, from California, and into health food. "Who is she now? She's a girl who is much more politically aware, an activist, active on social media—someone who really has a keen sense of social justice. And, she's vegan," Shukert says. "We thought about the essence of these girls instead of making sure that, like, Dawn has blonde hair exactly how she does in the books." Other details, like the landline phone that the club uses to book appointments, felt so crucial that they left them unchanged. (During my set tour, Shukert indulged me by letting me pretend to answer the B.S.C. phone. Pinch me!)
During one scene I observe, the babysitters are at Claudia's art show, where she's exhibiting paintings of some of her favorite candy treats. On brand, Dawn says, "These are so good they almost make me forget refined sugar is legal poison." Claudia, super-cool as always, wearing a long earring in one ear and a stud in the other, rolls her eyes. Between takes the girls hug, dance, and high-five. At lunch, they sit together and play Uno, bonded just like the club members. Shay Rudolph, 14, who plays Stacey McGill in her first major role, tells me it's nice to have a new group of friends in the industry who understand her life (her friends back home Southern California don't get why she takes so much time away from school to audition or film). "That we're all friends makes it fun and not like work," Rudolph says.
Another attribute that has stayed consistent in the Netflix adaptation is the club's entrepreneurial spirit. "How wild is it that the protagonist is starting a small business?" Aniello says. She mentions Guy Raz's NPR podcast How I Built This, which tells the story of how companies grow and overcome hard times. "The babysitters club could literally be on that podcast—they deal with the ups and down of starting a business with a bunch of friends," Aniello says. "They're dealing with business models, paying dues, making schedules—very sophisticated stuff for 13-year-olds."
She hopes the show will inspire young viewers in the same way the books inspired me. "If little kids, young women especially, see these girls starting a business, then maybe they can, too," Aniello says. Shukert thinks there's a reason why that aspect of B.S.C. is so appealing: "It's not a story about how hard it is to make it work," she says. "It's a story about it working. Every kid wants to be a part of a club and wants to have a group of friends and make money."
Martin, the author of the original books, points to her attendance at all-women's Smith College as the driver of that working-girl storyline. "We were encouraged to be independent, forward thinkers," Martin tells me. "I'm sure that informed my decisions when I was writing the series." Martin serves as a producer on the Netflix series and visited the set but declined a cameo because she's too shy. "I feel very protective of my characters," she says. "So I approached this at first with a bit of caution, but very quickly I became extremely comfortable and pleased with the direction the series was going to take. It's been almost 35 years since the books launched and to be able to start all over again with a more modern, updated take has been wonderful." She liked that the women behind the scenes were fans "so they knew the characters well and understand my maternal feelings toward them, my protectiveness," she adds.
When Martin came to set, Shukert, who wrote the author fan mail as a child, was starstruck. "I can't believe that, like, I know her," Shukert says of Martin. Growing up, "she was just the most famous person in any of our minds." Having Martin's approval was important. "Ann told us that while there have adaptations before"—a 1995 movie and a 1990 HBO series—"this was the first time it was being done by people who grew up reading the books and who were shaped and influenced by them," Shukert says. "[Martin] said it added a whole other level of depth to it, which is a very nice thing to say."
Shukert and Aniello care a lot about doing the fans justice, both old ones like me and new followers of the graphic novel series adapted by Gale Galligan and Raina Telgemeier, popular with preteens today. "To anyone who loves The Babysitters Club as much as I do, I just hope I make you proud," says Aniello, who calls the show "her Star Wars."
The adaption might mint some brand new B.S.C. devotees, too. Alicia Silverstone, who plays Kristy's mom, had never heard of the books before being tapped for the role. "I guess I'm a bit peculiar," Silverstone tells me. "But once I heard about them, every single human I came in contact with had heard about them and loved them." Upon previewing the episodes, she says, "I felt like my heart was really happy the whole time I was watching," she says. "And all the little people—they're so delicious!"
Months after my set visit, when I sit down to watch the series during the initial weeks of COVID-19's arrival in the U.S., I have that same heartwarming feeling Silverstone describes. "The thing I've often said is that I want this show, for adults, to be like watching The Great British Bake Off," Aniello says. "You just want to turn it on and feel good and happy." I laughed, I cried happy tears—granted we're in the middle of a pandemic, but still! It was a delightful departure from reality, and much needed. "The babysitters are trying to be good citizens—they really try to be responsible and take care of one another" Shukert says. "That seems like a lovely thing to watch right now." For longtime fans and new viewers alike.

For more stories like this, including celebrity news, beauty and fashion advice, savvy political commentary, and fascinating features, sign up for the Marie Claire newsletter.
RELATED STORY
Celebrity news, beauty, fashion advice, and fascinating features, delivered straight to your inbox!
Kayla Webley Adler is the Deputy Editor of ELLE magazine. She edits cover stories, profiles, and narrative features on politics, culture, crime, and social trends. Previously, she worked as the Features Director at Marie Claire magazine and as a Staff Writer at TIME magazine.