Evanescence's Amy Lee on the Band's New Album, 'The Bitter Truth'
The singer is ready for the band's next era and to be seen as more than just a "cute frontwoman."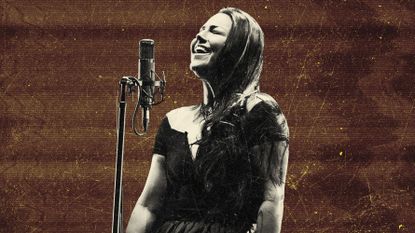 (Image credit: Getty/Morgan McMullen)
Marie Claire Newsletter
Celebrity news, beauty, fashion advice, and fascinating features, delivered straight to your inbox!
Thank you for signing up to Marie Claire. You will receive a verification email shortly.
There was a problem. Please refresh the page and try again.
In the early aughts—when Juicy Couture sweatsuits dominated and The O.C.'s Seth Cohen was TV's no.1 man—it was nearly impossible to not hear Evanescence's "Bring Me To Life" piercing the airwaves. The throaty vocals and crushing guitar riffs help raise the single to number five on the Billboard Hot 100 and secure its certified platinum status. So it's almost hard to believe that nearly two decades ago that level of success seemed unattainable for the band.

"From every angle starting out, we were the indie long shot," bandleader Amy Lee recalls to Marie Claire from her home in Nashville. "Too many things about us didn't quite fit the mainstream for it to be safe to spin [on the radio]."

She continues: "The biggest thing about us that was different, was that I'm female. The label insisted we had a male vocalist on the chorus of the song, to make it more familiar. I said 'no,' so they cut our funding, and I moved back in with my parents. I thought we were dropped. Instead, they called us a few weeks later with a compromise: We only had to do it on one song, and if we did it, they had a placement for us in a film that tied in the male/female theme and made the song have a bit of creative purpose."
The film was the critically-panned Daredevil. But regardless of the film's flop, placement on the movie's soundtrack bolstered the band's pedigree. In a few short months in 2003, Evanescence went from playing clubs to an international stadium tour for their debut album, Fallen. The band catapulted to fame for their melodramatic, baroque-laced harmonies. And Lee, who was just 21 at the time, became revered for her "goth" rock princess aesthetic, flaunting heavy black eyeliner and sleek, raven hair.
Life quickly changed for Lee, who "wasn't emotionally prepared to be so exposed."
"I struggled with the differences between myself and my image, feeling like I was always coming up short of someone's expectations, and frustrated about the lack of support I was getting from the people around me," she says of the band's early success. "I had to toughen up and fight for my place, my beliefs, my music, my band." Lee's internal battle ultimately prompted a shift in tone on Evanescence's second album 2006's The Open Door. "I stopped asking somebody to 'save me,'" Lee says, quoting her "Bring Me to Life" lyrics, "and started making changes for the better."
But it's been nine years since Evanescence has put out any new material. "I needed to just remember who I was," she says. "We had been going hard. I was just ready for a new chapter of my life." So she started one. During the band's sabbatical, Lee ended up writing music for a handful of films—including 2014 drama War Story and the romantic flick Blind (2017)—and recorded a children's album featuring covers, as well as original songs. "I was really inspired to do something that didn't sound like Evanescence," Lee, now 38, recalls. "I needed an outlet to show some other sides of my personality for a while. That felt really good."
At the same time, Lee was going through changes on a personal level: She relocated to Tennessee after living in New York for 13 years, had a son, now 6 years old, and suffered the loss of her brother. "It just sort of makes you zoom way out on yourself where you're looking kind of more existentially at life," she says.
That perspective eventually evolved into something tangible: This year, the singer rallied the band back together. By February, Evanescence had a handful of songs ready to go. "We thought we were about to go on a big tour," she recalls. The pandemic, of course, had other plans for the group.
But Lee was determined to put out music. Quarantine only made her need to create more salient. "I just wasn't going to stop," she says. "We were going to find a way, within the limitations, to do this now because I was not waiting anymore." As it became harder to go into the studio, Lee worked with their producer, Nick Raskulinecz, alone. She met Raskulinecz in a parking lot, and he laid out the preamp, the compressor, and gear needed for recording while they sat 10 feet apart. The process was "unusual" but it worked.
The result is Evanescence's forthcoming album, The Bitter Truth. "There are songs that are a part of this album that have been in the works for a decade, and songs that just started up this year," she says. The material reflects how inspired the songwriter has become over time. "I get inspired being in nature, walking through the woods, looking up close at weird bugs," she muses. But her biggest inspirations are the emotional experiences she's had in her life, something that makes Evanescence's music "as dramatic as it is." "Things like losing someone you love, being a part of creating a new life." Lee says. "[They] rock me on a deep level to a point where I feel like I have to make music."
To usher in their new era, Evanescence released their slow-burning single "Wasted on You" in April. "I started writing [the song] on New Year's Eve, and we got together and we finished it as a band," she recalls. Evanescence didn't intend for this particular track to be the The Bitter Truth's lead single, but its meaning resonated more as lockdowns began, prompting a change in plans. "'Wasted On You' wasn't supposed to be about this moment that we were all in—feeling frozen in time and stuck in place and wanting to break up with a moment and all those things—it just already existed and suddenly applied in a way that had more gravity than it did before," says Lee.
Because of the overwhelming presence of COVID-19, April wasn't the right time to release what they had intended to be their first single: the fierce political anthem "Use My Voice." It instead debuted last week. "Our world is really messed up right now, and if we want it to change, then we can't just sit around, complaining about it," Lee says of the track. "We need to get up, speak out and use our voices, and make the change."
For Lee, "Use My Voice" was a track that had been "bubbling" and "building" the past few years because of the state of the world and American politics. But she was struggling to find the right chorus to accompany the verses. To help her finish the track, Lee enlisted VERIDIA singer and friend Deena Jakoub. It's something she couldn't have imagined doing 15 years ago, when she felt like she needed to have complete ownership over her music to be taken seriously. "It was so hard to break through, and I had to fight so much for my rights beyond being a 'cute frontwoman,'" says Lee. "Like, I'm a writer. I'm a piano player. I'm all these other things first, so hold on a minute before you count me out of the technicalities here. I never would have been open to that kind of collaboration [before]."
As one of the most powerful women in rock—a (largely) male-dominated category—Lee has had to simultaneously prove herself and get comfortable speaking up for her needs. Truthfully, she didn't have much of a choice.

"I definitely have been the only girl in the room a lot in my life," she says. While she has felt "empowered" by the number of women moving into diversified roles—producers, engineers, lighting technicians—she can't help but acknowledge the challenges she faced: "You have to make your own space. You have to be the first one, make a great impression, be the most professional, the most on time and the most patient because you're there and that's not normal. You better prove that a woman does belong in the room."
Amy Lee always has.
RELATED STORIES
Celebrity news, beauty, fashion advice, and fascinating features, delivered straight to your inbox!
Ilana Kaplan is a writer and editor based in Brooklyn. She covers music, culture and entertainment and has written for Rolling Stone, The New York Times, NPR, GQ and more.