Who Is Princess Diana's Sister, Sarah Spencer?
She has a brief but memorable part in the fourth season of The Crown.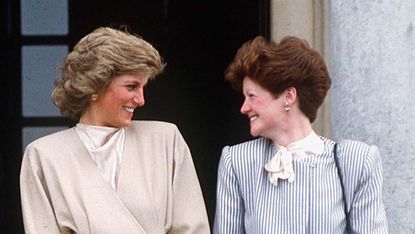 (Image credit: TIM GRAHAM / GETTY IMAGES)
After years of hype and speculation surrounding Princess Diana's grand entrance into the dramatized history of the British royal family that is The Crown, the ill-fated moment has finally arrived with the fourth season of the show, which hit Netflix on Nov. 15. Early in the first episode of season four, Prince Charles, played by Josh O'Connor, meets a teenage Lady Diana Spencer (Emma Corrin) while visiting the home of his current girlfriend—who just so happens to be Di's older sister, Lady Sarah Spencer, played by Isobel Eadie.

While the showrunners have taken some liberties with this portrayal of Charles and Diana's first meeting, Sarah's (short-lived) relationship with the prince and her involvement in his courtship with her sister are completely real. Sarah dated Charles for a few months in 1977, and later took credit for introducing him to her younger sister, going so far as to label herself the "Cupid" of their relationship when news of their engagement broke in 1981.
Here's everything you need to know about the real-life matchmaker, from her royal fling to her current relationship with the royal family.
Who is Sarah Spencer?
Sarah was born Elizabeth Sarah Lavinia Spencer in 1955, and is Diana's oldest sister; sandwiched between them is Cynthia Jane, who now holds the title of Baroness Fellowes. Sarah and her sisters grew up in close proximity to the royal family, with their childhood home located on the Sandringham Estate and their roots tracing back to multiple kings of England, though mostly through illegitimate rendezvous. Like her sisters, Sarah attended West Heath boarding school in Kent.
In 1980, several years after her connection with the crown prince had fizzled, Sarah married Neil Edmund McCorquodale, making her Lady Sarah McCorquodale. They have three children, Emily, George, and Celia, and two grandchildren.
When did Sarah Spencer date Prince Charles?
Sarah and Charles dated in 1977, when both were in their twenties and working their way through a long line of brief romances—Charles with his "string of arm candy" and Sarah with her "thousands of boyfriends."
Their relationship came to a screeching halt within a few months, when Sarah gave an interview to two reporters in which she confessed that she wouldn't marry the prince "if he were the dustman or the king of England." She also reportedly opened up about her past struggles with an eating disorder and alcohol abuse, dropped that line about her "thousands" of suitors, and claimed she was keeping a scrapbook of press clippings regarding her relationship with Charles to show her future grandchildren, prompting her interviewers to report that "her head seemed to have been turned by the publicity."
When she showed her then-boyfriend the article, he was reportedly furious, telling Sarah, "You've just done something incredibly stupid."
Did Sarah introduce Charles and Diana?
In a way, yes. Similar to the way their meeting is depicted in The Crown, Sarah didn't actually orchestrate a formal introduction between her younger sister and Prince Charles, but she's certainly the reason the two met. According to a 1981 report in The Times, Diana met her future husband in Nov. 1977, when she was 16 and he was 28, while he was visiting the Spencers' home to see Sarah. Diana reportedly said she met Charles "in the middle of a plowed field."
Later, after Charles and Diana had reunited and, following a whirlwind courtship, gotten engaged, Sarah named herself the mastermind of their pairing. "I introduced them. I'm Cupid," she told The Guardian in 1981.
How does Sarah fit into the royal family now?
Diana's eldest sister remained close to the royals even after breaking things off with Charles. She served as a lady-in-waiting to Princess Di, and, along with her younger sister Jane, accompanied Charles to Paris to retrieve Diana's body after she died in Paris in 1997. She was named co-executor of Diana's will and served as president of the Diana, Princess of Wales Memorial Fund until it was closed in 2012.
Sarah has also remained active in the lives of her nephews, Princes William and Harry. She reportedly visited both of them throughout their school years after Diana's death, and was often present to support their biggest achievements, including when Harry received his pilot wings in 2010. More recently, she attended both of their weddings—and they, too, attended the nuptials of her children, their cousins—and has made a habit of inviting them to spend time with the Spencer family to reminisce about their mother. Ahead of Harry's 2018 wedding to Meghan Markle, a family friend confirmed to Vanity Fair that "Harry has always kept in close touch with the Spencers," and in 2019, when their son Archie was born, the royal family made sure to include Sarah and the rest of the Spencers in the birth announcement.
Celebrity news, beauty, fashion advice, and fascinating features, delivered straight to your inbox!
Andrea Park is a Chicago-based writer and reporter with a near-encyclopedic knowledge of the extended Kardashian-Jenner kingdom, early 2000s rom-coms and celebrity book club selections. She graduated from the Columbia School of Journalism in 2017 and has also written for W, Brides, Glamour, Women's Health, People and more.