The Pop Queens of 'Promising Young Woman'
Emerald Fennell's film reclaims pop anthems from Paris Hilton and Britney Spears to create a soundtrack about female power and rage.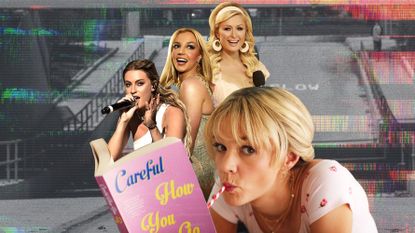 (Image credit: Morgan McMullen/Getty Images)
This story contains several spoilers about Promising Young Woman.
Rage. Vengeance. The gyrating of drunk, sweaty, khaki-wearing men. In Promising Young Woman, there's a pop song for everything.
And that's intentional: The radical thriller, helmed by writer-director Emerald Fennell (best known as the Emmy-nominated Killing Eve's season two showrunner and on-screen as Camilla in Netflix's The Crown) is a powerful #MeToo revenge story that uses music to underscore the tragic, emotional complexities that result from rape. In it, Cassie (Carey Mulligan), a cunning med-school-dropout-turned-barista, lives a double life. She spends her days half-heartedly making soy lattes and her evenings pretending to be intoxicated at bars to exact payback on predatory men. Why play vigilante? She's left incensed by a system that failed to protect her best friend Nina, who was raped and later died by suicide.
In Promising Young Woman—which hit theaters December 25 and VOD on January 15—pop music highlights the intense and complicated power of Cassie's feelings, and, more specifically, female rage. This isn't an uncommon occurrence in pop music: Female artists have often used their songs to reclaim the power taken from them by men. In 2015, Lady Gaga released "Til It Happens To You," a towering tribute to survivors of sexual assault. Kesha's 2017 power ballad "Praying" was a response to the pain she endured in the music industry, particularly at the hands of her longtime producer Dr. Luke, whom she accused of sexual, physical, verbal, and emotional assault in 2014. (In February 2020, a judge sided with Dr. Luke, ruling the singer had defamed him; Kesha has since appealed the decision.) And in 2011's "Man Down," Rihanna tackles domestic violence head-on—something she experienced personally; the music video shows the singer's character shooting her rapist.
Like Cassie, the use of music in the film is quite clever. "These songs provide her waves of different emotions that she's going through. Sometimes they're really poppy and dismissive, and other times they're quite deep, dark, and edgy," music supervisor Susan Jacobs tells Marie Claire. As a cynical Cassie oscillates between retaliation and absolution, the film's female-led soundtrack magnifies the fugue state of Cassie's trauma—oftentimes more aptly than the dialogue itself. It becomes a vessel for her power.
In the opening minutes of Promising Young Woman, the chiptune beats of Charli XCX's "Boys" narrate a cringeworthy visual: a dance floor packed with inebriated bros. It's an ironic choice considering XCX's song is an ode to daydreaming about crushes, paired with a pin-up calendar video of attractive celebs like Joe Jonas and Riz Ahmed. The scene, instead, flips the script and uses the track to highlight the blissful ignorance of men and their gross behavior—all before cutting to Cassie who is the (seemingly) sloshed onlooker.
"When I was writing [the film], I was busy thinking about boys, and Cassie was certainly busy thinking about them, so it felt like the right opening," Fennell tells Marie Claire. "And part of it is, really right from the get-go, establishing to the audience that although the subject matter is dark, the film isn't necessarily going to be all the time, and they have permission to laugh and to enjoy themselves because that's a necessary part of the film."
After a night of (non-violently) teaching a toxic man a lesson, Cassie is catcalled by a group of construction workers; she's in her disheveled clothes from the night before, with jelly from a doughnut she's ravaging running down her face. As she stops and glares at them, a cover of The Weather Girls' camp classic "It's Raining Men" plays in the background. As with "Boys," the DeathbyRomy cover is an auditory eye roll at crude male behavior. The song further amplifies Cassie's ability to wield the power of her own stare, turning an on-the-nose experience for women and femme-presenting individuals into a darkly funny reality check.
Throughout the film, there are glimmers of hope for Cassie. Despite how this tragedy has derailed her life, maybe it is possible for her to trust a man and, well, love him? When she finally decides to let her guard down with Ryan (Bo Burnham), a former classmate she reconnects with at the coffee shop, it seems like she might be able to escape the anger and retribution that has consumed her life. One of the film's best moments feels like an outtake from a rom-com: At the height of their bliss, Cassie and Ryan deliver a showstopping karaoke performance of Paris Hilton's 2006 track "Stars Are Blind" in the aisles of a pharmacy—reclaiming the song's once-cheesy reputation and turning it into a full-on, sparks-flying love song.
"Falling in love kind of feels like a movie montage," says Fennell. "It feels like you are kind of high in this sort of pastel candy land. And so for me, it was about what song, if somebody knew every single word to it, would it make me fall more in love with them? And that song, for me, was 'Stars Are Blind,' by Paris Hilton." The burst of sunshine, while brief, is a moment that sticks with you long after viewing the film.
Hilton was honored that her pop anthem could be a part of Fennell's vision. "I met Emerald a few months ago, and she told me how perfect my song was for the movie," Hilton tells Marie Claire. "I'm so proud of how iconic and timeless [the song] is, and how much fans love it to this day."
While the "Stars Are Blind" scene is unforgettable, the movie's climax is its shining moment. In it, Cassie decides to confront Al Monroe (Chris Lowell), the guy who raped Nina, at his bachelor party. (Fennell considers it to be a bit of a "fairytale" moment gone awry—like "Hansel and Gretel going into the woods.") Posing as a stripper, complete with rainbow wig and sexy nurse costume, Cassie readies herself to enter the lion's den to a tense, string version of Britney Spears's "Toxic," arranged by Anthony Willis.
With the backdrop of the soul-stirring Spears cover, the suspense builds, and it becomes clear Cassie has snapped: Her wrath has reached the point of no return. "What's so amazing about 'Toxic' is it does have almost 'Psycho' strings in it. It's already a song that's got this malevolent undertone, which is so thrilling," says Fennell. "This movie is about so much that is toxic, and I think even Cassie's gotten to the point where she's now, kind of increasingly unable to contain her rage." While the arrangement provides a playful, almost naughty twist on the pop song, Willis's remix is also an indication of the looming danger Cassie faces if she lets her trauma continue to take over her life.
The end of the movie, which sees Cassie using a contingency plan from the grave (a.k.a. scheduled texts) to bring Al down, comes with a wink and a nod. The audience sees police cars raiding Al's wedding, taking him away in handcuffs. There is no happy ending for Cassie, but there is a heroic one.
For Fennell, the final song needed to be "a delicate balance of humor, something that's also heartfelt, but sort of subversive and sort of wickedly funny." While she had contemplated filling the final scene of the film with the Dirty Dancing theme "(I've Had) The Time of My Life" or a cover of The Walker Brothers' "No Regrets," she ultimately found Juice Newton's "Angel of the Morning" to be the perfect balance of heart, triumph, and a bit of devilry.
The final sentiment was perfectly capped thanks to FLETCHER, who penned "Last Laugh" for the film's credits scene. "I really wanted to take a strong and powerful stance because that's what Cassie's role is throughout the entire film," the artist tells Marie Claire. "She's trying to right the wrongdoings of the past, and at the end, she's the one that has the last laugh."
Ultimately Promising Young Woman's soundtrack contextualizes the film, empowers female voices, and celebrates pop music. And frankly, the movie wouldn't have been the same without it. There's a sonic landscape for every push-and-pull in the movie, and we can thank a cohort dominated by badass women for making it possible.
Related Stories
Celebrity news, beauty, fashion advice, and fascinating features, delivered straight to your inbox!
Ilana Kaplan is a writer and editor based in Brooklyn. She covers music, culture and entertainment and has written for Rolling Stone, The New York Times, NPR, GQ and more.