The Best Drama Movies of 2020
I'll take movie drama over life drama any day.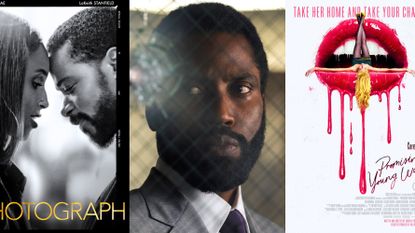 (Image credit: Universal Pictures + Warner Brothers + Focus Features)
I've said it before: Drama, when done well, can elevate any movie genre. On this list, we have some romance, sci-fi, horror, and action—but each promises to have a stellar dramatic narrative. We already know 2020 has given us some great films, and these are no exception. Plus, there are more great dramas to come, and this list is going to get a lot longer as more movies come out. We'll keep this article updated as we get more 2020 dramatic gems.
Note: The coronavirus pandemic has impacted movies' scheduled release dates, so that's up in the air for a lot of these films. We may see some of these—I'm thinking Dune in particular, which is a huge and complicated production—get pushed to 2021. I'll keep the post current with new dates and whether the films (like Invisible Man) are already available to stream from home. Here's hoping we get the chance to watch these fabulous dramatic gems soon, but I'll keep you updated either way.
Shirley
Release date: June 5, 2020
Starring: Elisabeth Moss, Victoria Pedretti, Odessa Young, Michael Stuhlbarg, Logan Lerman
Famed horror and mystery writer Shirley Jackson is the GOAT, so it's about time she gets her own movie. While the verdict is out on whether it's based on real events, Moss as the acclaimed author who's set on finding inspiration for her next novel through a charming couple who moves into her home, no matter the cost, is crazy creepy and highly entertaining.
Lost Girls
Release date: March 13, on Netflix
Starring: Amy Ryan, Thomasin McKenzie, Gabriel Byrne, Lola Kirke, Oona Laurence
A missing daughter. A police investigation that turns cold. A mother's desire to find out what really happened. A discovery found unheard of before. Based on true events and the book Lost Girls: An Unsolved American Mystery by Robert Kolker, Lost Girls, brings to light the serial killings of five sex workers, whose bodies were found on the same Long Island beach in 2010 and the race to catch the Long Island, serial killer before he strikes again.
On the Rocks
Release date: October 23, 2020
Starring: Bill Murray, Rashida Jones, Marlon Wayans, Jessica Henwick, Jenny Slate
All right, so this one may be considered more of a comedy than drama to the film-verse. BUT if your playboy-of-a-dad (Murray) rolled into town and basically convinced you that your husband's work trips were an affair and therefore they should go follow around said husband to catch him in the act, you'd want to watch all the drama unfold too! Also, it's directed by Sofia Coppola so, uh, you know some deep stuff is bound to happen.
Arkansas
Release date: May 5, 2020
Starring: Liam Hemsworth, Patrick Muldoon, Vince Vaughn, Clark Duke, John Malkovich
Hemsworth fans, rise! Our favorite Aussie plays a low-level southern drug dealer named Kyle, who plays by the rules of an insane drug kingpin named Frog (Vaughn). While they never met, he and his buddy Swin (Duke) have no plans on ever doing so since they've been doing some pretty illegal things behind their bosses' back. Surprise, surprise though Frog gets word, and if there's one thing he's known for, it's his temper. If you're into cat and mouse sort of films with crazy endings, this film's for you.
The Boys in the Band
Release date: September 30, on Netflix
Starring: Jim Parsons, Zachary Quinto, Matt Bomer, Andrew Rannells, Charlie Carver
A group of gay friends get together for a birthday party in a teeny-tiny Manhattan apartment with a bunch of unspoken feelings, hidden truths, booze, and drugs. Nothing should go wrong, right? Wrong! Inspired by the famous 1968 Off-Broadway play of the same name by Mart Crowley, Ryan Murphy gives the classic story a reboot with a cast of exclusively openly-gay actors, which makes it even better.
The Photograph
Release date: February 14, 2020, now streaming
Starring: Issa Rae, LaKeith Stanfield, Chelsea Peretti, Courtney B. Vance, Lil Rel Howery
A dual love story for a woman and her daughter that spans decades, this romantic drama covers familiar territory (a lost family connection, a profound fear of intimacy). But it also has the double star power of Stanfield and Rae—talented, vulnerable, and gorgeous—plus a powerful mother-daughter story. This looks like a slow burn story of love and loss, in the best way. And great news: The reviews have been roundly positive, so the critics love it too.
Miss Juneteenth
Release date: June 19, 2020
Starring: Nicole Beharie, Kendrick Sampson, Alexis Chikaeze
Actually, there are a couple similarities to The Photograph here. It's a story of two women separated by a generation, a mother who won the Miss Juneteenth pageant at a young age and is now hoping the same for her daughter—whose own hopes and dreams may be profoundly different. It's a celebration of Black motherhood and simultaneously a smart, revealing look at the challenges of being Black in America. AND it's got gorgeous performances and a smart story to boot.
She Dies Tomorrow
Release date: August 7, 2020
Starring: Kate Lyn Sheil, Jane Adams, Katie Aselton, Chris Messina, Tunde Adebimpe, Michelle Rodriguez, Josh Lucas
Fair warning, this is trippy. But it's also a profoundly compelling concept executed well: Amy (Sheil) is absolutely convinced she's going to die tomorrow. She has no evidence of this, it's just a feeling that absolutely overwhelms her. But here's the thing—everyone she tells immediately starts believing the same thing. Not everyone loved this (if you're looking for a neat and tidy ending, look elsewhere), but it's so interesting that it'll carry you all the way through the movie.
Bad Education
Release date: April 25, 2020, now streaming
Starring: Hugh Jackman, Allison Janney, Geraldine Viswanathan, Alex Wolff, Rafael Casal, Ray Romano
Technically debuting in 2019 at the Toronto Film Festival, the film had a wide release in 2020. If you're not familiar with the story of the largest public school embezzlement in U.S. history (spoiler alert, but it's in the trailer), this is absolutely a must-see. Knowing what you're getting into won't spoil the fun—and yes, despite being a riveting drama, the film is also sharp and filled with darkly witty performances. Jackman dials it back from his OTT Greatest Showman style to portray a charismatic, well-meaning, profoundly ambivalent lead who watches his carefully crafted district fall apart around him.
Da 5 Bloods
Release date: June 12, 2020, on Netflix
Starring: Delroy Lindo, Jonathan Majors, Clarke Peters, Johnny Trí Nguyễn, Norm Lewis, Isiah Whitlock Jr., Chadwick Boseman
This Spike Lee film is typically doing a lot of things very well: It's a heist adventure (much like Lee's incredible Inside Man) and a sharp look at the experience of Black soldiers in the Vietnam War. It covers current events and politics, but it's also a realistic throwback to another critically important moment in American history. It's long—over two hours—but it flows so smoothly you won't even notice. Go watch, especially if you don't know much about the history.
Never Rarely Sometimes Always
Release date: March 13, 2020, now streaming
Starring: Sidney Flanigan, Talia Ryder, Théodore Pellerin
(content warning: abortion) This won't be an easy watch: A young woman has to travel across states with her cousin in order to get an abortion. It's an ostensibly quiet film, but all the more powerful for its devastating, reserved performances. It's as much about resilience, friendship, youth, and hope as it is about the terrifyingly complexity of the subject matter. You may need to be in the right mood for this, but give it a look.
Uncorked
Release date: March 27, 2020, streaming on Netflix
Starring: Courtney B. Vance, Lashun Pollard, Michael Mobley, Robert Cox, Mamoudou Athie
This is a sweet and beautifully acted take on a traditional story: What happens when your dreams conflict with your family's expectations? Here, the setting and subject matter are refreshing—Elijah works in his father's BBQ restaurant but wants to be a sommelier—and the story's told with a love and respect that doesn't demonize any of the characters. Courtney B. Vance, love him, is particularly funny, angry, and heartbreaking at the same time. And Mamoudou Athie proves he's destined for greatness as the witty dreamer who longs for France, wine, and his passion. If you like wine and great acting, put it on.
Tigertail
Release date: April 10, 2020, streaming on Netflix
Starring: Tzi Ma, Christine Ko, Hayden Szeto, Lee Hong-chi, Kunjue Li, Fiona Fu, Yang Kuei-mei, James Saito, Joan Chen
On the surface, this is a profoundly personal story: Pin-Jui (Ma, incredible) leaves his beloved in Taiwan to pursue an arranged marriage and move to the U.S. Then the American Dream quietly sours for him. He ends up estranged from just about everyone in his life, including a daughter who desperately needs him (Ko). But at its core, this has a sad but poignant universality—the sacrifice, dreams, stress, and exhaustion of the immigrant experience. It's a must-see.
Promising Young Woman
Release date: Originally April 17, 2020, now December 25, 2020
Starring: Carey Mulligan, Bo Burnham, Laverne Cox, Clancy Brown, Jennifer Coolidge
(content warning: rape) Be prepared for this one to be another tough but important watch. Trauma survivor Cassandra (Mulligan) is hell-bent on vengeance against men who take advantage of drunk women sexually. It'll very likely be a smart, savage commentary on rape culture and the ubiquity of sexual assault, while also being a devastating look at how trauma can affect a person for (potentially) years and decades into the future. I'm imagining this one will ultimately be available to stream instead of premiering in theaters.
The Half of It
Release date: May 1, 2020, on Netflix
Starring: Leah Lewis, Daniel Diemer, Alexxis Lemire, Collin Chou
If you thought Cyrano de Bergerac couldn't be modernized, guess again. It's the classic love triangle with a twist: Two men are in love with the same woman, and one writes letters on behalf of the other to help win her over. Only, this time the letter-writer is female, a young Asian-American woman (Lewis) suffering prejudice in her small town and quietly yearning for the prettiest girl in school (Lemire). Then she becomes friends with Paul (Diemer), who's got the same predicament without any of her writing skills. Be prepared for this one to surprise you—especially as the two pals become close and talk about the frighteningly real stresses in their lives.
The King of Staten Island
Release date: June 12, 2020, direct to streaming
Starring: Pete Davidson, Marisa Tomei, Bill Burr, Bel Powley, Maude Apatow, Steve Buscemi
Judd Apatow's latest feels like a nice continuation of the character type he loves: The sweet, lovable loser who finds his/her way in the world after a lot of hilarious difficulty (see also Trainwreck, The 40-Year-Old Virgin, and Bridesmaids). In this case it's Pete Davidson, playing a role that's not too far afield: A stoner feels adrift after his father died when he was seven, but his mom's new firefighter boyfriend (Burr, constantly funny) forces him to reevaluate his life. I'm enjoying how close to life this is—Davidson's own firefighter father died on September 11, and Davidson's been open about his struggles with mental health and drug use. This was envisioned as a sort of alternate reality—Davidson, if he hadn't started standup. Apatow's films are side-splitting at first, but then the sadness and sweetness creep up on you.
The Invisible Man
Release date: February 28, 2020, now streaming
Starring: Elisabeth Moss, Oliver Jackson-Cohen, Harriet Dyer, Aldis Hodge, Storm Reid
This one could definitely fall into "horror," too, so be wary if it's not your genre. Normally I wouldn't ever go see a horror movie in the theater (you'd be able to hear my screams from the parking lot), but I made an exception for this one: Elisabeth Moss is absolutely riveting as a domestic abuse survivor who is absolutely convinced her husband faked his death and is driving her crazy. Or, she could just be going crazy. This is just so, so scary, in the best kind of way, but also a really impressive metaphor at how insidious abuse can be. Moss has Handmaid's Tale to lend us some extra context to her performance—she is just so good at this character type that I was all in after the first five minutes.
Tenet
Release date: September 3, 2020, now streaming
Starring: John David Washington, Robert Pattinson, Elizabeth Debicki, Kenneth Branagh, Michael Caine, Aaron Taylor-Johnson, Himesh Patel
Even when he's confounding (Interstellar) or experimental (Dunkirk, basically every movie he's ever done), Christopher Nolan is always interesting. Not much is yet known about Tenet, other than the fact that it's got some cool up-and-comers like Washington and Pattinson, combined with acting pros like Caine and Branagh. Based on the trailers, it's typical brain-bending, time-warping madness. Washington is a reanimated(?) spy(?) who attempts to stop a man-made apocalypse.
The Many Saints of Newark
Release date: Originally September 25, 2020, now March 12, 2021

Starring: Michael Gandolfini, Vera Farmiga, Jon Bernthal, Ray Liotta, Corey Stoll, Billy Magnussen
This Sopranos prequel will take a look at the gangster's youth—Tony as an up-and-comer, an early version of the therapy-seeking gangster. Having Michael Gandolfini play the role that made his late father famous feels like a fitting tribute. Show creator David Chase is producing and also writing the screenplay, with Alan Taylor back as director, so it feels like this is in good hands. I'm hopeful that this may have Easter eggs for die-hard fans and enough good drama for the uninitiated (this will give me a good excuse to finish the series. I know, I know, I'm behind the times.).
BIOS
Release date: Originally October 2, 2020, now April 16, 2021

Starring: Tom Hanks, Samira Wiley, Caleb Landry Jones, Skeet Ulrich
Directed by Michael Sapochnik, who envisioned some of the most major Game of Throne moments ever, this post-apocalyptic tragedy sounds compelling. The last man on Earth is trying to make a robot that'll keep his dog happy after he dies. First Mr. Rogers, and now this? I'm already crying. Also, I've been hoping for Samira Wiley to get more movies (she is just THAT good on Orange Is the New Black and Handmaid's Tale). Hopefully, this is the one that'll make her a movie star.
Death on the Nile
Release date: Orginally October 9, 2020, now TBD
Starring: Gal Gadot, Armie Hammer, Kenneth Branagh, Rose Leslie, Annette Bening, Emma Mackey
I'm a die-hard Agatha Christie fan, and I might have been the only one who cheered for the Murder on the Orient Express remake. This, I'd argue, has the better story: Linnet (Gadot) steals the boyfriend (Hammer) of her former BFF Louise (Mackey). Spoiler alert: Linnet ends up dead, but her jilted ex-friend couldn't possibly have done it. Unlike Orient Express, a classic love triangle ages effectively, and the massive star power here will make it worth your time.
The Witches
Release date: October 22, 2020, now streaming
Starring: Anne Hathaway, Octavia Spencer, Stanley Tucci
I may be watching a lot of movies this weekend, if both films keep the same release date. TBH, Roald Dahl was my childhood, and The Witches was my Exorcist. Seriously, it is terrifying—Dahl really know how to ramp up a scary story by putting his characters in the worst peril imaginable. This is another movie that absolutely benefits from CGI (the effects were clunky, even for back then). Anne Hathaway as the movie's Big Bad very likely knows she has some huge shoes to fill, thanks to the iconic and inimitable Anjelica Huston. Can a girl get a cameo for old-time's sake?
The Trial of the Chicago 7
Release date: October 16, 2020, on Netflix
Starring: Eddie Redmayne, Alex Sharp, Sacha Baron Cohen, Jeremy Strong, John Carroll Lynch
The 1968 Democratic National Convention was frequently disrupted by anti-Vietnam war protests, and seven men were charged with conspiracy and incitement to riot in the aftermath. So, if you know anything about writer-director Aaron Sorkin, this is the perfect kind of vehicle for him. It's got the intention-obstacle dynamic he loves (where a character wants something and have a massive impediment standing in the way). It's politics mixed with human rights and moral issues (a staple of his West Wing plots). And it's destined to have some of the sharpest dialogue around, a la The Social Network.
Dune
Release date: Originally December 18, 2020, now October 1, 2021
Starring: Timothée Chalamet, Zendaya, Oscar Isaac, Josh Brolin, Rebecca Ferguson, Javier Bardem, Jason Momoa, Dave Bautista
One part sci-fi, one part adventure, Dune could be 2020's most epic drama in the right hands (although some have said that it's too sprawling to ever be contained on film). Denis Villeneuve is the man to take on the challenge, and he'll have some of this generation's most bankable stars—Chalamet, Zendaya, Isaac—to help him get there. This is a perfect example of a movie that deserves better special effects than the ones it got in the original. And hopefully some more coherent storytelling (the first film was...hoo boy, although it's since developed a cult following. You might want to skip it and go straight to this version.).
Mank
Release date: November 13, on Netflix
Starring: Tom Pelphrey, Lily Collins, Amanda Seyfried, Gary Oldman, Charles Dance, Tom Burke
It was a Hollywood feud that resulted in one of the best films of all time. It checks all the boxes for a cool historical drama: 1) It's a slice of culture that in the right hands (David Fincher) could absolutely come alive. 2) Truth is stranger than fiction—this is actually based on a real story (Drunk History did a fabulous segment on it, if you're not familiar). 3) It combines some heavy-hitting star power (Charles Dance I love you!) with some up-and-comers. I won't lie, I'm not the biggest fan of Oldman, but the story looks riveting enough to give all the actors time to shine.
The Souvenir, Part II
Release date: TBD, 2021
Starring: Tilda Swinton, Joe Alwyn, Amber Anderson
The first movie (2019) was artsy and gorgeous—Honor Swinton Byrne plays alongside her mom, Tilda Swinton, as a young women in film school who falls into her first bad romance. Tom Burke (who also plays the titular Strike in the BBC series based on the Robert Galbraith/J.K. Rowling series) is complex, sexy, and trouble with a capital T. This is semi-autobiographical by acclaimed director Joanna Hogg, and she's back for the second part of the story. It's not clear if Byrne or Burke are back, but it will be starring Taylor Swift's boyfriend Joe Alwyn. Either way, it's likely to be just as devastating and beautiful as the first.
Supernova
Release date: January 29, 2021
Starring: Colin Firth, Stanley Tucci, James Dreyfus
This one sounds about as sad as BIOS, to be honest—Firth and Tucci star as partners of 20 years. Tucci's character has been diagnosed with early-onset dementia. They're traveling across Europe in their RV, visiting the people and places that matter to them. To quote the current synopsis, "Their time together is the most important thing they have." I love both these actors. To watch both of them quietly love each other as they grieve this upcoming loss, while both of them are still present, feels like an honor.
---
Related Story
Related Story
Celebrity news, beauty, fashion advice, and fascinating features, delivered straight to your inbox!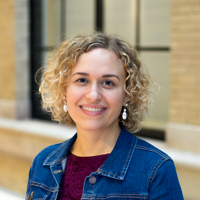 Katherine's a Boston-based contributor at Marie Claire who covers fashion, culture, and lifestyle—from "Clueless" to Everlane to news about Lizzo. She's been a freelancer for 11 years and has had roles with Cosmopolitan and Bustle, with bylines in Parents, Seventeen, and elsewhere. It's "I go to dinner," not "Her huge ego," but she responds to both.