Lady Whistledown's Identity in 'Bridgerton' Makes Perfect Sense
She's a master of slipping through high-society functions unnoticed.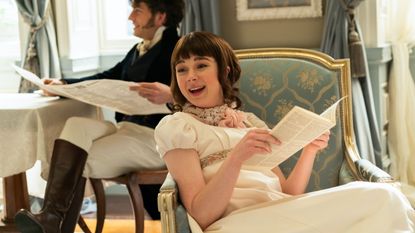 (Image credit: Liam Daniel)
Warning: Spoilers for the finale of Bridgerton ahead! The final episode of season one of Bridgerton dropped multiple bombshells on viewers of the modernized period drama—the fate of Daphne and Simon's relationship, Marina Thompson's plans for the future, and the consequences of Lord Featherington's double-dealing, to name a few—but none more shocking than the long-awaited reveal of Lady Whistledown's identity.

Much of the season followed Eloise Bridgerton and Queen Charlotte as they collected clues and masterminded schemes to unmask London's most notorious gossip columnist, to no avail. They suspected Lady Danbury, a house maid, and a tradesperson, finally deciding that the modiste, Madame Delacroix, was in the perfect position to listen in on all of the town's gossip and might be hiding something other than her reasons for faking a French accent. For the record, dear reader, this reporter was set on the seamstress' illicit lover Benedict Bridgerton as the culprit, as he seemed to have a knack for showing up at the scene of every scandal and, as a member of a high-ranking family, had access to every gathering of the subjects of Lady Whistledown's scandal sheet.
Alas, Eloise, the queen, and I were all very wrong, with Whistledown revealed in the final seconds of season one to be none other than—final spoiler warning!—Penelope Featherington, who, by the way, was not abruptly unmasked but instead chose to reveal her identity to us on her own terms, just as we'd expect from the elusive yet powerful gossip hound. To recap: Julie Andrews narrates Whistledown's final gossip column of the season as the hooded writer travels by carriage across the city. "Perhaps I will come forward one day, though, you must know, dear reader, that decision shall be left entirely up to me. Yours truly, Lady Whistledown," she says while finally lowering her hood to reveal Penelope, wearing a sly grin.
Though undeniably surprising, when you really think about it, Whistledown's identity makes perfect sense—and here's why.
Penelope had access to every high-society function.
The Bridgerton sleuths' assumptions that Whistledown was a maid or tradesperson certainly made sense, since working-class members of Georgian society were not only regularly in the company of higher-class families but also were typically overlooked in those settings, meaning they could fly under the radar while listening in on all of the Ton's hottest gossip. The flaw here, though, it that Whistledown's reports were often published mere hours after the latest dinner party or ball had concluded, and while the Regency rumor mills moved quickly, they didn't move that quickly. Therefore, Lady Whistledown had to be someone who was actually in attendance at those events. Enter: Penelope, played by Derry Girls' Nicola Coughlan.
She had a knack for blending into the background.
While attending those events, Penelope was rarely the life of the party, due to a sense of self-consciousness imposed by her family and a preference to keep her eyes peeled for drama from the sidelines. In fact, according to Coughlan, if you go back and keep an eye out for Penelope in those social scenes, you'll often see her lurking in the background of the show's biggest moments.
"I would think, 'What's the Whistledown column? Is something happening?' And I would say to the directors, whose main focus would be on the duke and Daphne, because that's what the scene was about, 'Would you mind if I sort of planted myself and just was here just to witness this?'" Coughlan told Harper's Bazaar of her approach to playing the gossip girl in disguise. "I don't need to be there with binoculars or with a pen writing things down, but I do need to take all that in. I couldn't be overt, but I think it will be fun for people to watch season one back and spot Penelope, like Where's Waldo, around the ballroom."
Showrunner Chris Van Dusen also confirmed that he and the show's writers decided to follow the series of romance novels by Julia Quinn on which Bridgerton is based and keep Penelope as Whistledown because of this dichotomy: "She presents as this wallflower, this person who just sinks into the background and doesn't really have an opinion about things, but then you see a totally different side to her," Van Dusen told Variety, adding that the true motivation behind Penelope's side gig will be explored in future seasons.
With her talent for subterfuge, it may seem like an odd choice on the Bridgerton writers' part to have Penelope reveal herself to the audience so early in what promises (hopefully) to be a long-running show—especially since this reveal doesn't arrive until the fourth book in Quinn's series. But in an interview with Decider, Van Dusen explained that the choice was made deliberately to assure fans of the books that the adaptation was a faithful one, while also keeping newcomers to the series intrigued.
"For me, it felt like it was time," he said. "I think that there were always two tracks for us in the writers' room when looking at Lady Whistledown. We knew that there was a portion of the audience that had read the books and had their thoughts and theories about who Lady Whistledown was. Then, there was an entirely new group of people that are not as familiar with the books, and have no idea where the story of Lady Whistledown went. It was about keeping the mystery alive and fun for fans of the books, but also, never being ahead of it. Never telegraphing where we're going."
She was made to feel powerless by her own family.
Some of Whistledown's most scathing reports concerned Penelope's own family: She downplayed her sisters' prospects on the marriage market and, even more shockingly, revealed her cousin and friend Marina Thompson's out-of-wedlock pregnancy. And while it might seem unthinkable that Penelope would jeopardize her own family's social standing, it makes sense when you consider how they treated her. Her mother and sisters regularly dismissed her own marriage prospects, teased her for being "two stone heavier" than them, and, in general, left her feeling unimportant and unseen in her own home.
"I think the way that Penelope has grown up, she's used to keeping secrets, because she doesn't really have anyone in her family to confide in," Coughlan told Bazaar. Her sisters are this double act, that they just get on really well. Her mom and dad don't really know she's alive. I think it's her coping mechanism, it's not necessarily a healthy thing, but I think it's interesting because she's so young, too."
As for Penelope's decision to reveal Marina's potentially reputation-destroying secret, Coughlan mused to Variety that it was likely a childish miscalculation on the part of Penelope, after becoming so accustomed to being overlooked at home and in society. "I know people are really angry at Penelope, but she's 17 years old. And she's someone who's so ignored in her life. Whistledown is her way to have some power in the world, but she hasn't realized in season one how much power she actually has," Coughlan said.
She's a romantic at heart.
And finally, in contrast to her staunchly anti-marriage best friend Eloise, Penelope is wholly invested in the goings-on of the ton—and what it means for her own romantic prospects—so she'd surely find it satisfying to exercise some control of her own over that world. For example, in naming Daphne Bridgerton the jewel of the social season, Penelope was demonstrating her love and respect for her best friend's family, who regularly showed her far more compassion than her own parents and sisters.
Her decision to share Marina's secret was also sparked by love. Revealing Marina's pregnancy not only protected Marina's fiancé Colin Bridgerton and his family from potential scandal down the road, but was also an act of jealousy that stemmed from Penelope's own secret love for the third Bridgerton son.
"I think there's a lot of compartmentalizing in Penelope's life. Because she's very different around her family, in which she's this outcast; to how she is around Eloise, where she's bright and sparkly; to how she is around Colin, where she's this romantic, but would never tell Eloise that," Coughlan told Decider of Penelope's seemingly contradictory missives as Lady Whistledown. "I think in being Whistledown, she gets to release a lot of her emotion and stress, and the things she feels like she's too shy to say."
With Marina out of the way and Colin on his way to travel the world, it's anyone's guess how and in which direction Whistledown will choose to wield her power in the next season of the show (which I am manifesting into existence as we speak).
Celebrity news, beauty, fashion advice, and fascinating features, delivered straight to your inbox!
Andrea Park is a Chicago-based writer and reporter with a near-encyclopedic knowledge of the extended Kardashian-Jenner kingdom, early 2000s rom-coms and celebrity book club selections. She graduated from the Columbia School of Journalism in 2017 and has also written for W, Brides, Glamour, Women's Health, People and more.