What 8 'Bridgerton' Seasons Based on the Books Could Look Like
The Netflix show is based on a long-running series of romance novels.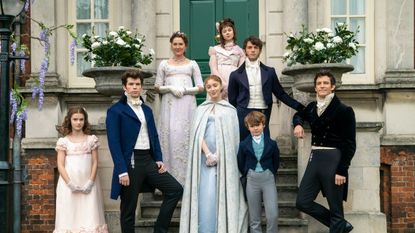 (Image credit: Liam Daniel)
Marie Claire Newsletter
Celebrity news, beauty, fashion advice, and fascinating features, delivered straight to your inbox!
Thank you for signing up to Marie Claire. You will receive a verification email shortly.
There was a problem. Please refresh the page and try again.
By now, you probably know that Bridgerton has proven itself to be a diamond of the first water, the true "incomparable" of Netflix's winter season, as the show is estimated to reach 63 million households in its first four weeks. You may also know that the first season of the hit show is based on The Duke and I, the first entry in a series of novels by Julia Quinn that track the romantic escapades of each of the eight Bridgerton children. What we don't know, however, is whether Netflix and Shonda Rhimes' Shondaland will be sending all eight of Quinn's novels to our TV screens—though a second season seems more inevitable by the day and, if my manifestation journal and I have anything to say about it, more will definitely follow.

For the record, Bridgerton showrunner Chris Van Dusen seems to be on board with adapting Quinn's entire series. In an interview with Collider, he said, "This being a family of eight children and there being eight books, I would love to be able to focus and really tell stories and love stories for all the Bridgerton siblings. For each character, for sure." When asked whether that means he wants to make eight seasons of the show, Van Dusen confirmed, "I would love that. In success, I would love that."
As readers of the novels know, season one of Bridgerton took quite a few liberties with the plot of The Duke and I: While Daphne Bridgerton and Simon Basset stayed at the center of the story, each episode was filled out by equally critical storylines about their friends and family members, many of whom are relegated to the background of Quinn's series or are given their own plotlines only much later in the books. (For example, one of the biggest bombshells of the season one finale isn't revealed until the fourth book, while Marina Thompson is only mentioned in passing in the prologue to the fifth.) It's safe to assume, then, that future seasons would be similarly creative in following multiple characters at once while still staying true to the core of each novel.
So, as we wait for Bridgerton to be renewed not once but, again, seven more times (are you listening, Netflix?!), here's what you can expect from future seasons of the show, based on the plotlines of Quinn's series. Warning: Spoilers ahead for the Bridgerton books and any future seasons of the show.
Season 2 — The Viscount Who Loved Me
The first season of Bridgerton all but confirmed that its follow-up will focus on Daphne's older brother Anthony. For one, the bees that buzzed throughout several of the episodes are seemingly a symbol of Anthony's deathly fear of following in his father's footsteps and dying young from a bee sting. For another, the season closed with Anthony announcing that he was finally ready to settle down and find a bride to make his viscountess. Of course, this mission won't be as straightforward as he's hoping since, in the second book, Anthony settles on a suitable wife, only to find his eye continually drawn toward her "meddlesome" but fiercely protective older sister. Gee, wonder how this one ends!
Season 3 — An Offer From a Gentleman
Continuing on in alphabetical order, the next Bridgerton in the spotlight would be Benedict, another of Daphne's older brothers. His story is essentially a retelling of Cinderella, with a slight twist: Benedict falls for a masked woman at his family's masquerade ball but, while trying to uncover the identity of his mystery dance partner, becomes increasingly attracted to a housemaid who is the daughter of an earl but has been forced into servitude by her wicked stepmother. Maybe this will help clear things up, Benedict: Have you ever seen both women in the same room?
Season 4 — Romancing Mister Bridgerton
Season four would tie up a lot of loose ends from the series' first season, which already devoted a good chunk of airtime to Colin Bridgerton's connections with both Marina Thompson and Penelope Featherington, and ended with him deciding to leave Regency society behind and travel the world. Romancing Mister Bridgerton (finally) brings Penelope to the forefront—revealing a crucial secret about her along the way—as Colin returns from his travels and finally comes to his senses by realizing that his longtime friend might just be his perfect match.
Season 5 — To Sir Phillip, With Love
Interestingly, the titular Sir Phillip in this book is the same one who swoops in during the show's first season to take his late brother's place as Marina Thompson's husband (we won't spoil what becomes of Miss Thompson in Quinn's books). Even more interestingly, the fifth book in Quinn's series sees Daphne's younger sister Eloise entertaining the possibility of a life spent not as a "spinster" but as the wife of a man with whom she's only corresponded via snail mail. When they finally meet in person, they seem like polar opposites, but since when has that ever gotten in the way of a true love match?
Season 6 — When He Was Wicked
Francesca appeared only briefly in the first season of Bridgerton, but her standalone story is a juicy one. In When He Was Wicked, Michael Stirling has taken on the title of London's "consummate rake" from the likes of Simon Basset and Anthony Bridgerton, but is quickly inspired to go full marriage-ready gentleman upon meeting Francesca Bridgerton. Francesca, meanwhile, sees Michael only as one of her closest friends and confidants—until one fateful, passionate night. Let's call this one When Harry Met Sally, circa 1818.
Season 7 — It's in His Kiss
Rather than continuing on alphabetically, Quinn jumped ahead to the youngest Bridgerton's story in her seventh novel, which follows the intelligent and outspoken Hyacinth as she helps a desperate man uncover family secrets that could help him preserve his fortune and reputation around the ton. Then again, maybe the key to saving his future is standing right next to him in a very fancy dress...?
Season 8 — On the Way to the Wedding
Gregory Bridgerton takes after his older sister Daphne as probably the only true romantics of their family. He's of the belief that all he needs to do is marry the first woman who makes him feel those true-love-y fireworks inside and live happily ever after. As we all know, however, the course of true love never did run smooth, and in Gregory's case, things get downright messy, as he falls in love with a woman who's already in love with someone else, then is consoled by her best friend who, of course, has fallen in love with Gregory, despite being engaged to another man. Good luck keeping all that straight for 371 pages (or eight hour-long episodes).
Celebrity news, beauty, fashion advice, and fascinating features, delivered straight to your inbox!
Andrea Park is a Chicago-based writer and reporter with a near-encyclopedic knowledge of the extended Kardashian-Jenner kingdom, early 2000s rom-coms and celebrity book club selections. She graduated from the Columbia School of Journalism in 2017 and has also written for W, Brides, Glamour, Women's Health, People and more.