What 'Bridgerton' Got Right About Queen Charlotte
She's widely believed to be Britain's first biracial royal.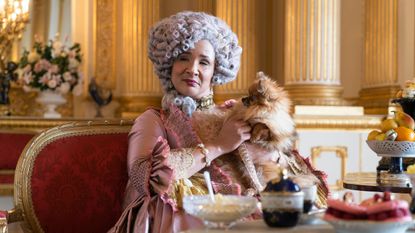 (Image credit: Liam Daniel)
Marie Claire Newsletter
Celebrity news, beauty, fashion advice, and fascinating features, delivered straight to your inbox!
Thank you for signing up to Marie Claire. You will receive a verification email shortly.
There was a problem. Please refresh the page and try again.
You've probably figured out by now that Bridgerton isn't exactly based on a true story. String quartets (unfortunately) didn't play "thank u, next" at formal balls in the 1800s, and young ladies of the time wouldn't have dared push back on their families' plans for them. There's also the fact that the Netflix series is based on a series of romance novels by Julia Quinn, who has described the process of building the Bridgerton family's world herself.
Still, there's plenty that the period drama does get right about the Georgian era of the early 1800s (thanks in large part to Quinn's heavily researched world-building and historical consultant Hannah Greig's contributions to the TV adaptation). The social season and "marriage market" were very real, as were Regency-era ladies' lack of sex education and the birth of anonymous gossip columns and scandal sheets. Another historically accurate tidbit? Bridgerton's portrayal of Queen Charlotte, who isn't actually included in Quinn's series. Here's everything you need to know about the fascinating real-life wife of King George III.
Queen Charlotte may have actually been Black.
Many historians believe that the royal, born Sophia Charlotte of Mecklenburg-Strelitz in 1744, did indeed descend from African ancestry. Claims that Queen Charlotte was of mixed race were initially sparked by historian Joel Augustus Rogers, who wrote in 1940's Sex and Race, Volume 1 that portraits and contemporary descriptions of Charlotte "clearly [show] a Negro strain."
More recently, a Frontline investigation by historian Mario de Valdes y Cocom traced Charlotte's ancestry via six separate lines back to Margarita de Castro e Souza, a 15th-century noblewoman whose own lineage leads back to Madragana, a mistress of King Afonso III of Portugal who many historians believe to have been a Moor of Northern African descent.
For the record, after the Frontline series was published in 1999, a spokesperson for the royal family—that is, Charlotte's great-great-great-great-granddaughter Queen Elizabeth II—reportedly told the Boston Globe of Queen Charlotte's potential mixed-race heritage, "This has been rumored for years and years. It is a matter of history, and frankly, we've got far more important things to talk about."
Charlotte's rumored background influenced the casting of Bridgerton.
Bridgerton showrunner Chris Van Dusen has shared that he was largely influenced by this version of Queen Charlotte's history while seeking out actors to bring the lords and ladies of the series to life.
"It's something that really resonated with me, because it made me wonder what could that have really looked like. And what would have happened? What could she have done? Could the queen have elevated other people of color in society and granted them titles and lands and dukedoms?" Van Dusen told Collider. "That's really how our Simon Bassett, our Duke of Hastings, came to be. We get to explore it in a really interesting way. And it goes to the idea of what the show does is—we're marrying history and fantasy in a really exciting, fascinating way."
Queen Charlotte and King George III's marriage was truly a love match.
George and Charlotte were married within six hours of their first meeting in 1761, and though that may seem indicative of a union formed more for international strategy than for love, theirs is believed to have been one of the most successful and loving royal marriages up to that point. They welcomed 15 children together and doted upon each other throughout several decades of marriage, as evidenced by Charlotte's signing her letters to her husband as his "very affectionate wife and friend." They also are said to have shared a love of music, and often joined the royal band in playing the harpsichord and flute.
The pair remained married for nearly 60 years. Toward the end, as depicted in Bridgerton, Charlotte was deeply affected by King George's mental and physical illnesses. Though they lived separately during this time, Charlotte remained devoted to her husband, writing in one letter, "Our separation must be & really is equally painful to us both." Charlotte died in 1818, barely a year before her husband.
The queen actually oversaw the goings-on of London society.
Queen Charlotte was indeed very involved in the Ton's social scene. In fact, the first known debutante ball was hosted in her honor, with King George establishing the annual Queen Charlotte's Ball in 1780 to commemorate his wife's birthday.
Van Dusen, too, noted just how crucial a part of London society the queen was. "Adding Queen Charlotte afforded us an opportunity to see what true excess and decadence looked like at the time. She brings real import to the world as we get to be in some amazing spaces with her—from Buckingham Home to St. Regis Palace," he told ET Online. "Not to mention, she was definitely very much a part of the social scene during Regency times, so having her with us was important from a historical perspective as well."
Queen Charlotte was believed to be addicted to snuff.
In Bridgerton, Charlotte, played by Golda Rosheuvel, is often shown demanding snuff from her footservants. Snuff is a form of dried, ground tobacco and, yes, Queen Charlotte is believed to have been addicted to it. Charlotte is said to have kept an entire room at Windsor Castle full of nothing but snuff and, due to her addiction, was nicknamed "Snuffy Charlotte."
Celebrity news, beauty, fashion advice, and fascinating features, delivered straight to your inbox!
Andrea Park is a Chicago-based writer and reporter with a near-encyclopedic knowledge of the extended Kardashian-Jenner kingdom, early 2000s rom-coms and celebrity book club selections. She graduated from the Columbia School of Journalism in 2017 and has also written for W, Brides, Glamour, Women's Health, People and more.