'Firefly Lane' Season 2: Everything We Know
In the immortal words of Tully Hart, "Firefly Lane girls forever!"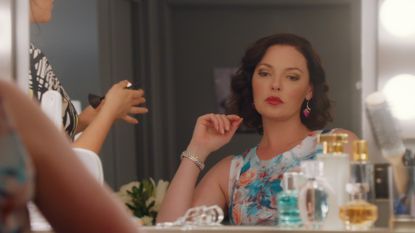 (Image credit: Netflix)
In most soapy, emotional, roller-coaster-y TV shows—think Virgin River, This Is Us, etc.—the tumultuous relationship at the core of the series is a romantic one. We spend episode after episode watching two people fall in love, be driven apart, and find their way back to each other against all odds—with that cycle often repeating multiple times throughout each season. It's refreshing, then, to see Netflix's heartwarming drama, Firefly Lane, put a gentle twist on this genre by focusing instead on the just as tumultuous relationship between two best friends across more than 30 years.
Leading the cast of Firefly Lane are Katherine Heigl and Sarah Chalke as the adult versions of Tully and Kate, respectively, who have been inseparable since they became neighbors on the titular Firefly Lane in eighth grade. The first season's 10 episodes span the ensuing decades, jumping around from the early days of their friendship in the 1970s, to their college years during the 1980s, to their midlife crises in the early 2000s.
Of course, with those midlife crises come even more drama, and though the first season of Firefly Lane seems at first to be ending with Tully and Kate having rebuilt their friendship to be stronger than ever, that illusion is shattered in a cryptic confrontation in the last few seconds of the final episode.
Renewal
On May 26, 2021, Netflix announced the season 2 renewal of Firefly Lane via a video by the show's stars:
"We can't wait to continue on this journey of Tully and Kate with all of you," said Sarah Chalke.
Given the success of the show's first season, a second season was practically a given: According to Netflix, Firefly Lane pulled in 49 million worldwide viewers in just its first 28 days. Not to mention, the book the first season is based on has a sequel, Fly Away, meaning there's plenty more content to mine for the second season.
But the second season—which will clock in at 16 episodes—will also be the last, Netflix confirmed in October of 2022.
Netflix's official description of the season reads: "What could possibly have ended the tight-knit thirty year friendship of Tully and Kate, our "Firefly Lane Girls Forever?" We'll learn the answer this season—but first—Kate grapples with the painful aftermath of Johnny's ill-fated trip to Iraq, while Tully faces a lawsuit after walking away from her talk show, and must start her career over from the bottom. This leads her to search for answers about who she is and where she comes from—including a quest to find the father she never met, against the wishes of her secretive hippie mother, Cloud. In the '80s, we see Kate and Johnny first fall in love, creating more than a little drama in the newsroom where they work, as Tully's career rises and she spars (and flirts!) with cocky sportscaster Danny Diaz. She just might have met her match—that is, if they can stop arguing for five minutes. While in the '70s, teenage Kate and Tully struggle to keep their friendship together as Cloud goes to jail for dealing drugs and Tully goes to live with her grandmother, far away from Firefly Lane. As the girls face the tumult of high school apart, they know the one thing they really need is each other."
Release Date
The blockbuster second season of Firefly Lane will air in two parts. The first nine episodes will premiere on December 2, 2022, and the remaining seven episodes will drop at an undisclosed time in 2023.
Plot
Right off the bat, we'll need season two of Firefly Lane to answer all of the many (many) unresolved questions that were left hanging at the end of season one. To name a few: Is Johnny dead? Will Tully and Kate start a new show? And, most importantly, what caused Kate and Tully's dust-up at Bud's funeral? (Heigl's take on the latter, for the record: "It can't be that Tully sleeps with Johnny. I don't think that any friendship can come back from that. I'll fight to the death that it not be that.")
A good chunk of Hannah's Firefly Lane novel was left out of season one of the onscreen adaptation, so a second season will likely focus on furthering the storylines of season one. Easily the most significant of the missing plot points is the death of a very important character, which dominates the end of Hannah's novel, then drives the plot of the entire sequel, Fly Away.
But it's anyone's guess whether a second season will stick to material from the book or its sequel, or deviate entirely. Showrunner Maggie Friedman said to EW: "One of the things I think that's been fun is that we have kept some big moments from the book and been very true to those, and then there are other things that we've done that are different."
As for whether Johnny will show up in season two? Ben Lawson, the actor who plays him, told Hollywood Life: "If they were to follow the story of the book, then you know Johnny's going to live to fight another day. But then they've deviated from the book a little bit so far, so I don't know what they've got planned." He added of Tully and Kate's falling out: "It's such a strong female show, I don't think anyone wants to see the male rip the friends apart. So I think that it's going to be something to do with Marah."
Netflix has also released some first-look photos from season two:
Cast
In September, Netflix announced several new cast members for the show's second season: India de Beaufort, Greg Germann, Jolene Purdy, and Ignacio Serricchio. According to Collider, de Beaufort "will play Charlotte, who is a journalist in 1985 Seattle." Germann, per Collider, "has been cast as Benedict Binswanger, a wealthy young man who decides to run for Governor of Washington State in the '80s." Purdy will play "an upbeat talent agent who is someone everybody wants in their corner," and Serricchio will star as "an arrogant sportscaster turned reporter who serves as a potential love interest to Heigl's Tully."
Andrea Park is a Chicago-based writer and reporter with a near-encyclopedic knowledge of the extended Kardashian-Jenner kingdom, early 2000s rom-coms and celebrity book club selections. She graduated from the Columbia School of Journalism in 2017 and has also written for W, Brides, Glamour, Women's Health, People and more.