'Firefly Lane' Season 2: Everything We Know
In the immortal words of Tully Hart, "Firefly Lane girls forever!"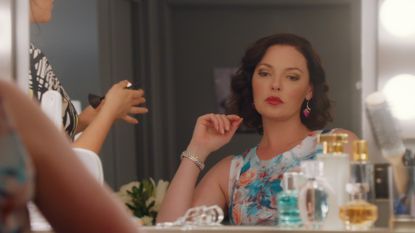 (Image credit: Netflix)
Marie Claire newsletter
Celebrity news, beauty, fashion advice, and fascinating features, delivered straight to your inbox!
Thank you for signing up to . You will receive a verification email shortly.
There was a problem. Please refresh the page and try again.
In most soapy, emotional, roller-coaster-y TV shows—think Virgin River, This Is Us, etc.—the tumultuous relationship at the core of the series is a romantic one. We spend episode after episode watching two people fall in love, be driven apart, and find their way back to each other against all odds—with that cycle often repeating multiple times throughout each season. It's incredibly refreshing, then, to see Netflix's heartwarming drama, Firefly Lane, put a gentle twist on this genre by focusing instead on the just as tumultuous relationship (opens in new tab) between two best friends (opens in new tab) across more than 30 years.
The series stars Katherine Heigl and Sarah Chalke as the adult versions of Tully and Kate, respectively, who have been inseparable since they became neighbors on the titular Firefly Lane in eighth grade. The first season's 10 episodes span the ensuing decades, jumping around from the early days of their friendship in the 1970s, to their college years during the 1980s, to their midlife crises in the early 2000s. It's an ode to the power and resiliency of female friendship, yes, but it's also just incredibly addictive TV—good luck not speeding through all 10 hours in one sitting!
Of course, with those midlife crises come even more drama, and though the first season of Firefly Lane seems at first to be ending with Tully and Kate having rebuilt their friendship to be stronger than ever, that illusion is shattered in a cryptic confrontation in the last few seconds of the finale episode.
Has Firefly Lane been renewed for a second season?
Yes! On May 26, 2021, Netflix announced the season 2 renewal of Firefly Lane via a video by the show's stars:
"We can't wait to continue on this journey of Tully and Kate with all of you," said Sarah Chalke.
Given the success of the show's first season, a second season was practically a given: According to Netflix, Firefly Lane pulled in 49 million worldwide viewers in just its first 28 days. Not to mention, the book the first season is based on has a sequel, Fly Away, meaning there's plenty more content to mine for the second season of the show and beyond.
When could season two be released?
Of course, production schedules will depend on COVID protocols, the actors' schedules, and how quickly the show's writers can churn out another batch of scripts—but it's possible that a second season of Firefly Lane could arrive about a year after the first. Netflix has a habit of putting out second seasons on the one- or two-year anniversary of the first season dropping (think You and The Haunting of Hill House).
The show received its initial series order in February 2019, started casting over the summer, and filmed between September 2019 and January 2020. So, with the cast already in place and the writers probably already planning out the next season's storylines, it wouldn't be surprising if the cast and crew are able to churn out 10 more hours within the next year, just in time for an early 2022 debut. If all moves promptly, we could expect a season two in February of 2022.
Leaked photos showed that the show began filming in October of 2021. In November, Katherine Heigl wrote on Instagram: "So I am in the wonderful city of Vancouver busy filming the second season of #FireflyLane Yay! Look out for it coming your way on @netflix in 2022!"
What could season two of Firefly Lane be about?
Right off the bat, we'll need the new episodes to answer all of the many (many) unresolved questions that were left hanging at the end of season one. To name a few: Is Johnny dead? Will Tully and Kate start a new show? And, most importantly, what caused Kate and Tully's dust-up at Bud's funeral? (Heigl's take (opens in new tab) on the latter, for the record: "It can't be that Tully sleeps with Johnny. I don't think that any friendship can come back from that. I'll fight to the death that it not be that.")
A good chunk of Hannah's Firefly Lane novel was left out of season one of the onscreen adaptation, so a second season will likely focus on furthering the storylines of season one. Easily the most significant of the missing plot points is the death of a very important character, which dominates the end of Hannah's novel, then drives the plot of the entire sequel, Fly Away.
But it's anyone's guess whether a second season will stick to material from the book or its sequel, or deviate entirely. Showrunner Maggie Friedman said (opens in new tab) to EW: "One of the things I think that's been fun is that we have kept some big moments from the book and been very true to those, and then there are other things that we've done that are different." She added of plotlines in a potential season two: "They're only in eighth grade when we leave them. They'll have a lot of good teen years and fun '70s growing-up times with the great music and the fashions and all of the cultural changes. I think it's just really interesting."
Friedman did, however, suggest that Cloud would have a bigger role in season two—which tracks with the plot of Fly Away, in which Cloud becomes a main character. "I'd love to keep telling us that those stories and those actors are so good, so of course, I would want to keep seeing them and Beau [Garrett], who plays Cloud, is so great," she noted in her EW interview.
In September, Netflix announced several new cast members for the show's second season: India de Beaufort, Greg Germann, Jolene Purdy, and Ignacio Serricchio. According to Collider, de Beaufort "will play Charlotte, who is a journalist in 1985 Seattle." Germann, per Collider, "has been cast as Benedict Binswanger, a wealthy young man who decides to run for Governor of Washington State in the '80s." Purdy will play "an upbeat talent agent who is someone everybody wants in their corner," and Serricchio will star as "an arrogant sportscaster turned reporter who serves as a potential love interest to Heigl's Tully."
What have the cast and crew said about season two?
The actress who plays Tully's younger self, Ali Skovbye, agrees with Friedman. When asked about the plot for a potential season two, she told Collider (opens in new tab): "I would love a true 1970s house party. That's my dream." As for Roan Curtis, who plays young Kate: "I want Kate to have a love story. I just think it'd be so cute and so cool if Kate had like a little awkward first encounter, a first date type feel with a boy and first relationship, and then Tully can kind of help her through and all that."
As for whether Johnny will show up in season two? Ben Lawson, the actor who plays him, told Hollywood Life: (opens in new tab) "If they were to follow the story of the book, then you know Johnny's going to live to fight another day. But then they've deviated from the book a little bit so far, so I don't know what they've got planned." He added of Tully and Kate's falling out: "It's such a strong female show, I don't think anyone wants to see the male rip the friends apart. So I think that it's going to be something to do with Marah."
Heigl is more than ready to step back into Tully's shoes for at least another season or two—and her opinion definitely holds plenty of sway at Netflix, due to her star status and executive producer credit on Firefly Lane. She told (opens in new tab) the Washington Post that she has her "fingers, toes, everything crossed" that the series ends up getting at least three seasons.
Friedman agrees. "I'd love to keep telling those stories, and those actors are so good so, of course, I would want to keep seeing them."
watch 'Firefly Lane' on Netflix (opens in new tab)
Andrea Park is a Chicago-based writer and reporter with a near-encyclopedic knowledge of the extended Kardashian-Jenner kingdom, early 2000s rom-coms and celebrity book club selections. She graduated from the Columbia School of Journalism in 2017 and has also written for W, Brides, Glamour, Women's Health, People and more.