The Cast of 'Firefly Lane': Get to Know Who's Who
Katherine Heigl and Sarah Chalke lead the cast of the beloved Netflix dramedy.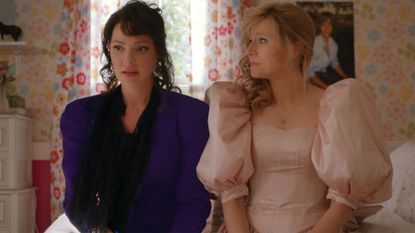 (Image credit: Netflix)
Marie Claire Newsletter
Celebrity news, beauty, fashion advice, and fascinating features, delivered straight to your inbox!
Thank you for signing up to Marie Claire. You will receive a verification email shortly.
There was a problem. Please refresh the page and try again.
For a while there, you couldn't go to the movie theater or turn on the TV without seeing Katherine Heigl's face. And though she's been laying low for the past few years, there's a Heigl-ssance brewing, with the actress slated to take on the role of suffragist and first female presidential candidate Victoria Woodhull in a new limited series, and return to her soapy dramedy roots in Netflix's Firefly Lane.
Season one and season two of Firefly Lane are now available to stream, and stars Heigl and Sarah Chalke as two lifelong best friends navigating their lives with and without one another. The series, based on Kristin Hannah's 2008 novel of the same name, pinballs across six decades, from Tully and Kate's first meeting in the 1970s to their forties and fifties, and introduces new friends, lovers, and family members along the way. It's a lot to keep track of, so here to help is a guide to the entire Firefly Lane cast. You're welcome!
1/12
Katherine Heigl as Tully Hart
Tully is a successful journalist and talk show host who's made a name for herself with her no-filter, no-holds-barred approach to interviewing subjects. Behind her bright, fierce personality, however, is a traumatic childhood that left her with trust issues and a reliance on only herself and her best friend Kate.
Since exiting Grey's Anatomy in 2010, Heigl has picked up plenty more TV roles, from State of Affairs to Suits. Next up is limited series Woodhull, for which she'll also serve as executive producer (as she did on Firefly Lane).
2/12
Ali Skovbye as Young Tully
Upon moving across the street from Kate on Firefly Lane, 14-year-old Tully rejects her invitation into the school's popular crowd to befriend her nerdy neighbor—likely in the hopes that Kate's seemingly very stable family life will rub off on Tully and her own tumultuous home life.
Though still a teenager, Skovbye already has dozens of TV and film credits under her belt, including stints on The Man in the High Castle, When Calls the Heart, and Once Upon a Time. The Canadian is the younger sister of Riverdale actress Tiera Skovbye.
3/12
Sarah Chalke as Kate Mularkey
While Kate joined her best friend in pursuing a journalism career, she chose to stay behind the camera as a writer and producer. Her path diverges from Tully's when she chooses to quit her job and become a stay-at-home mom, but continues to rely on her other half when a looming divorce and nonstop teen angst throw a wrench in her plans.
Chalke is probably best known for her role as Elliot Reid on Scrubs, but she's stayed booked and busy since the sitcom ended, with recurring roles on Paradise PD, Friends From College, Speechless, and even one episode of Grey's Anatomy, though after costar Heigl had already departed the show.
4/12
Roan Curtis as Young Kate
As a dorky tween with few friends, Kate is shocked and delighted when she forges a fast friendship with Tully. While Kate provides stability and unconditional love to her new best friend, Tully opens her eyes to a whole new world of taking risks and trying new things.
Like her onscreen best friend, Curtis is a young Canadian with more than a decade's worth of onscreen experience already on her resume. The 24-year-old got her start in an episode of The L Word, and has since appeared in The Magicians, Shut Eye, and Before I Fall, among many other credits.
5/12
Ben Lawson as Johnny Ryan
Reporter-turned-producer Johnny finds himself caught between Tully and Kate for much of his adult life, as Tully's producer and Kate's husband. When his marriage starts crumbling, he begins to consider getting back to his war correspondent roots.
Lawson is an Australian actor who's been popping up in movies and TV shows stateside on a regular basis for the last decade. His most recent credits include Bombshell, The Good Place, Designated Survivor, and, alongside Heigl, a recurring role on the short-lived Doubt.
6/12
Yael Yurman as Marah Ryan
Kate and Johnny's daughter is taking her parents' split particularly hard, and has taken to lashing out by skipping class and starting fights with her mother over anything and everything. Her fractured relationship with her mom sets up one of Kate and Tully's biggest fallouts to date.
Though a relative newcomer, Yurman is already well on her way to becoming a household name, thanks to recurring roles on Once Upon a Time and The Man in the High Castle, like her costar Skovbye, as well as appearances on Snowpiercer and in To All the Boys I've Loved Before.
7/12
Beau Garrett as Cloud
At the root of Tully's childhood trauma is her hippie mother Cloud's drug addiction, terrible taste in men, and penchant for abandoning Tully without warning. It takes decades for the mother-daughter pair to even begin to start the healing process and forgive past faults.
Like many of her costars, Garrett is no stranger to long-running network TV roles: She's appeared in The Good Doctor, Girlfriends' Guide to Divorce, and Criminal Minds: Suspect Behavior, and also landed film roles in Tron: Legacy, Fantastic Four: Rise of the Silver Surfer, and more.
8/12
Jon Ecker as Max Brody
Max is only supposed to be a one night stand for Tully, but the hopeless romantic can't help falling head over heels for the dazzling woman nearly twice his age. Tully agrees to a friends with benefits-type relationship with him but—shocker!—things quickly get complicated.
Texas-born Ecker got his start in Latin American series like Gossip Girl: Acapulco, and upon returning to Hollywood around 2015 soon landed roles on Narcos, Queen of the South, and Chicago Fire. He'll next appear in the TV movie For Love.
9/12
Jenna Rosenow as Kimber Watts
In a The Intern-like twist, when Kate decides to return to the workforce in her mid-forties, she finds herself reporting to Kimber, a much-younger aspiring socialite who isn't especially concerned with running Seattle Monthly Magazine.
Like fellow Australian and Firefly Lane costar Lawson, Rosenow is an Aussie who counts long-running soap Neighbours among her first roles. More recently, she's appeared in Beverly Hills, 90210 spinoff BH90210 and DC's Legends of Tomorrow. Her most recent role was Amber in the TV adaptation of the bestselling YA suspense novel One of Us Is Lying.
10/12
Chelah Horsdal as Margie
Kate's mother Margie is much more prim and proper than Tully's mom, and often clashes with Cloud's loose parenting style while trying to bring discipline to the friends' lives.
Horsdal is a Canadian TV veteran who started acting in her late 20s and has appeared in series including The Man in the High Castle, Hell on Wheels, Star Trek: Discovery, When Calls the Heart, Stargate SG-1 and You Me Her. She most recently appeared in the Disney original movie Prom Pact.
11/12
Jason McKinnon as Sean
Kate's older brother Sean stayed in the closet for many years, but eventually tells his wife and kids (and sister and parents) that he's gay.
McKinnon is another Vancouver-born TV veteran who has appeared in DC's Legends of Tomorrow, Kung Fu, A Million Little Things, Travelers, Altered Carbon, The Flash and Falling Skies, among others. He also acted in The Man in the High Castle, just like his Firefly Lane mom and several of his co-stars.
12/12
Ignacio Serricchio as Danny Diaz
Danny is Tully's former co-worker, a sports reporter at KPOC in the '80s, who has shared an on-again, off-again relationship with his one-time colleague as they both rose to national fame. They could never seem to figure out the right timing for a genuine relationship, but their great chemistry never faltered.
Buenos Aires-born Serricchio is a soap opera alum who starred in multiple seasons of both General Hospital and The Young and the Restless before making his way to Firefly Lane. He has also appeared in the series Lost in Space, Good Girls, Bones, Girlfriends' Guide to Divorce and Witches of East End.
Celebrity news, beauty, fashion advice, and fascinating features, delivered straight to your inbox!
Andrea Park is a Chicago-based writer and reporter with a near-encyclopedic knowledge of the extended Kardashian-Jenner kingdom, early 2000s rom-coms and celebrity book club selections. She graduated from the Columbia School of Journalism in 2017 and has also written for W, Brides, Glamour, Women's Health, People and more.