The Cast of 'To All the Boys' Plays 'How Well Do You Know Your Co-Star'
Spoiler alert: There's a lot of cheating involved.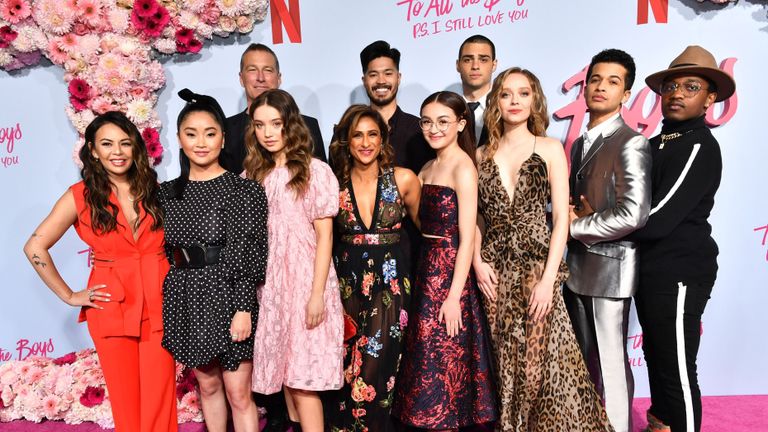 (Image credit: Getty Images, Emma McIntyre)
If you've spent years watching and obsessing over the To All the Boys films, with all of Lara Jean Covey and Peter Kavinsky's cute romantic moments and amazing cast chemistry, and thought, They must all know each other so well! You'd be wrong—kind of.
Lana Condor, Noah Centineo, Ross Butler, and Madeleine Arthur settled in to play Marie Claire's trivia game, "How Well Do You Know Your Co-Star," and things did not go smoothly. Despite trying to cheat several times, the foursome basically tanked all the questions, including ones about celebrity crushes, car names, and childhood hobbies. But it's not because the actors aren't close.
Chances are, the cast did so terribly because they are always so busy goofing off, teasing each other, and laughing—on set and in the video—to actually relay any personal details. It's a sweet, hilarious mess, and it's exactly the kind of chemistry that makes the Netflix rom-coms so watchable and memorable.
Come for Centineo singing "Here Comes Peter Cottontail" and stay for the moment they devolve into discussions their Harry Potter Hogwarts houses. (Centineo wants to be in Gryffindor but was placed in Hufflepuff, while Arthur was sorted into Slytherin despite also wanting to don red and gold.)
You can stream the third and final installment of the franchise, To All the Boys: Always and Forever on Netflix now.
RELATED STORIES
As Marie Claire's senior news and culture editor, Neha oversees all things entertainment, pop culture, and current events from TV shows and movies we can't stop bingeing to celebrities we can't stop 'shipping. She loves a hot-take, has an extensive knowledge of award shows, and knows the astrological signs of everyone in the royal family and the 'Friends' cast. Before joining Marie Claire, she held positions at Glamour, Brides, Condé Nast, and Mashable, and is a graduate of the Columbia School of Journalism.