Who Is DeLessa From 'The Circle' Season 2, a.k.a. "Trevor"?
Season 2's star catfish is a YouTuber and devoted mom.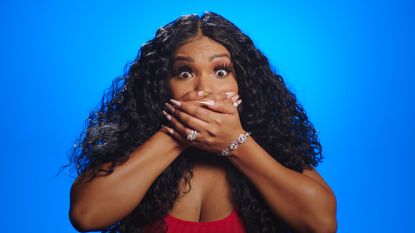 (Image credit: Courtesy of NETFLIX)
The Circle's second season is here, and the game to become the most popular player is off to a dramatic start. On the reality show, players compete to become the most popular of the group for a cash prize, presenting as either their true selves or with a catfish alias. One of the catfishes this season is 33-year-old DeLessa St. Agathe, who's playing as her husband Trevor. DeLessa, who also goes by Leesa Unique, is a content creator and entrepreneur who is also a devoted mom. What else do we know about DeLessa and how she ended up in The Circle?
Who is DeLessa?
On The Circle, DeLessa describes her self as a stay-at-home mom from the "Boogie Down Bronx." According to her Instagram, @lessaunique, she's a "mompreneur" and a "video creator" with several YouTube channels. She and her husband Trevor have a baby girl named Toni, and she's currently pregnant with her second child; she's also documenting her pregnancy on her YouTube channel.
DeLessa said on The Circle that if she won the $100,000, she would put the money towards buying a house to give her children what she and her husband never had. Her introduction on Netflix's Instagram says: "Family always comes first for DeLeesa. Nothing is going to stand in her way to bring the cash prize home to them."
What about DeLessa's husband Trevor?
The IRL Trevor St. Agathe is an athlete and certified strength and conditioning coach. He's currently a specialist at P3 Applied Sports Science, and previously worked for the Brooklyn Nets basketball team. According to his Instagram, @trev_saint, he's also self-described "hope dealer." Along with his personal Instagram, he also has a joint Instagram with DeLessa, @itsthesaints. Trevor and DeLessa got married in June 2018 and then had Toni, who turned one last September. Even baby Toni has her own Instagram, @toni.abella, where you can follow how absolutely adorable she is.
What does DeLessa do?
DeLessa has multiple businesses under her "mompreneur" brand. She has several YouTube channels; her main channel, Leesa Unique, has Storytime and Get Ready With Me videos. She and her IRL husband Trevor also have three family channels, The Saints Family, The Saints Family Too which focuses on their children, and Trev & Leesa where they discuss relationships and news. If four channels weren't enough, DeLessa also has an ASMR channel called Shhh Leesa ASMR.
Along with her YouTube channels, she also has a Cameo where she charges $50 for a video, and an online boutique, beuniqueshoppe.com, where she sells clothes, human hair wigs, glue-on nails, mink lashes, and accessories.
Tell me you're from the BX without telling me you're from the BX pic.twitter.com/sWgvS9WM1ZApril 16, 2021
See more
What's DeLessa's strategy on The Circle?
Spoilers for season two of The Circle. In her show intro, DeLessa says that she chose to play a man because "men have it so easy" on social media. She's using pictures of her husband, Trevor, but she's presenting him as a single dad who works in customer service. Trevor's profile says, "Left my hood for the best hood #Fatherhood. Single but my 1 year old is the LOML. I like to drink Hennessy, go on adventures (25 countries and counting) and turn boring times into good times. #IAmAFunGuy #GirlDad."
DeLessa's strategy is to "let the ladies come to him and be bros with the other guys," but Trevor ends up making quick friends with some of the female players. He bonds with players Savannah and Emily, a.k.a. Jack, over shared family values, and he shamelessly flirts with Chloe from Too Hot to Handle. DeLessa also steers clear of the main drama of the first four episodes, the Savannah vs Terilisha feud. Though Trevor is firmly Team Savannah after she saves him from the first elimination, he doesn't reveal his loyalties to the other players. In fact, when Lance Bass, a.k.a. Lisa, asks Trevor to spill the tea on the feud, Trevor acts like he doesn't know the details and dismisses the feud as a girl fight.
Meanwhile, in her apartment, DeLessa has a theory, but she says,"as a man, no, we're not gonna get involved in the girl drama." The avoidance strategy works, with Trevor landing in the third place spot on the Circle rankings. Trevor stays around third place for most of the show, with DeLessa using both her drama-avoidance strategy and copious notes of real-life Trevor's interests. The sports notes in particular come in clutch, saving her from the type of faux pas that would reveal her as a catfish. (Fellow player Jack wasn't so lucky.)
As the finale comes closer, DeLessa has to make more active moves, especially concerning Trevor's relationship with Chloe. They get closer and closer as the game continues, to the point where Trevor calls Chloe his Beyoncé (no comment) and Chloe says that she wants to pursue a relationship with Trevor after the game is over. While DeLessa feels awful about misleading Chloe, she keeps up her gameplay strategy and has Trevor reciprocate Chloe's feelings.
Later DeLessa learns from blocked player Khat that Courtney was the Joker, and tried to turn Khat and Mitchell against Chloe. At that point she makes moves, making an alliance with Mitchell and a plan to get Chloe to turn on her alliance with Courtney and River a.k.a. Lee to partner with them. Though the plan doesn't work out, with Chloe's loyalties unclear and Mitchell ending up blocked by Lee, DeLessa goes to the finale unscathed, with most players believing that Trevor is not a catfish.
Spoilers for the winner of season two of The Circle. DeLessa is the first big reveal for the finale's Circle Chat, with her and Chloe meeting first face-to-face. Chloe takes the reveal like a champ, though she does keep her space and the two don't hug initially. They talk it out calmly, and DeLessa even makes a joke about her and Trevor being open to a third! (That could be a reality show in and of itself.) When Michelle Buteau asks her whether flirting was a part of her game plan, DeLessa say she didn't want to mess with anyone's feelings. "But Chloe flirted with me first, and you don't turn down a woman. You don't want to hurt her ego, and she's gorgeous. And once we started flirting, it was like, you just can't stop."
In the end, after 13 episodes, DeLessa, season 2's star catfish and most deserving player, is crowned winner of The Circle season 2. When asked what the money meant for her and her family, she says through tears, "It's life-changing for us. We just want to have a house for our daughter to grow up in, and just something to call ours." She even calls the real-life Trevor on video chat to tell him and baby Toni the good news! In an Instagram Live on May 6, DeLessa said that she was sitting in her brand-new house, and that an empty house tour is upcoming on her YouTube channel.
watch 'the circle' season 2 on Netflix
Marie Claire email subscribers get intel on fashion and beauty trends, hot-off-the-press celebrity news, and more. Sign up here.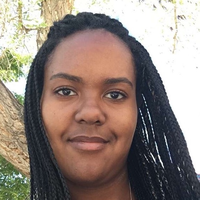 Contributing Culture Editor
Quinci LeGardye is a Contributing Culture Editor who covers TV, movies, Korean entertainment, books, and pop culture. When she isn't writing or checking Twitter, she's probably watching the latest K-drama or giving a concert performance in her car.