Who is Courtney Revolution from Netflix's 'The Circle'?
He says he'll treat The Circle like "a huge game of chess."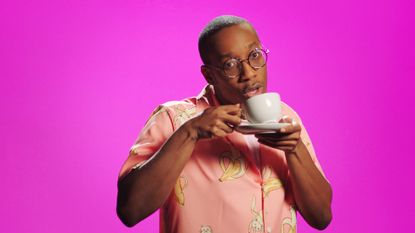 (Image credit: Netflix)
The second season of Netflix's reality hit The Circle, which premiered April 14, 2021, follows a handful players who move into isolated apartments and compete through a voice-activated platform to become the most popular player and win $100,000. Players are given the choice to either play the game as themselves or catfish the other players with a fake identity. One player who picked the first option is Courtney Revolution, also known as Courtney Linsen, a 28-year-old entertainment host and digital creator from L.A., who came in with a strategy and a winning personality to boot. So what do we know about Courtney, and how he ended up in The Circle?
Who is Courtney?
Courtney is a self-described "sweet little sunflower... unless there's $100,000 at stake." According to his Instagram, @courtneyrevolution, Courtney is an "entertainment and podcast host" and a "digital creator." Courtney discovered his passion for entertaining on YouTube, and he has a lot of experience with winning over new people. In an interview with Voyage LA, Courtney said he found he had a special knack for talking to strangers during an internship at Disney World. "Although I was actually awful at food service, my gift of gab TRULY saved me from basically being fired," he said.
After finishing his degree, Courtney left his hometown for L.A. and hustled, working at Panera Bread until he began his entertainment hosting career. Courtney called his journey "as smooth as a Nestle Crunch Bar," saying that as a Black gay man, he did not get opportunities as frequently as his white counterparts.
What does Courtney do?
Courtney has plenty of experience in the digital media world. After appearing as a correspondent for several videos on the celebrity channel HollyScoop, Courtney created his own YouTube channel, where he covers celebrity and entertainment news and reacts to new music and music video releases. His YouTube live show, The Green Chair Chats, recently celebrated its one-year anniversary, and besides a gap of a few months—possibly when he was busy with The Circle—he uploads nearly every day.
Courtney also co-hosts the podcast Overheard in the Pantry, where he discusses "happenings in celebrity culture, the YouTube community, and more," with his co-host Phylesha Hiers. And he recently posted a promoted ad for Durex on his Instagram, so he already has practice for any sponsorship opportunities coming his way after The Circle.
What happens with Courtney on The Circle?
Spoilers for episodes of The Circle that are currently on Netflix. Courtney is mostly playing as himself in The Circle, though he did switch up his occupation. Instead of presenting as a digital content creator, he's playing as a barista. He says he changed his career so that the players don't think he's "nosy." His profile says, "I'm a coffee slinging hero. I love to laugh and I live my life loud out and proud. Family is everything to me. I can't wait to make some new friends and more than anything, I hope to be your cup of joe. #WhenInDoubtTwerkItOut."
In his intro for the show, Courtney lays out his strategy. "I am going to be very friendly and then when the time comes, I'll be the little Chihuahua that bites your face off," he says. Once the game starts, Courtney is charming from the jump, and concentrates on making allies among the contestants.
Though Courtney's starts out solid, things don't go his way, as his two strongest allies, Bryant and Savannah, are the first two contestants to be blocked from The Circle. However, everything changes at the end of the fourth episode, when Savannah chooses Courtney as the player she believes deserves to win the competition. When they meet face to face (showing genuine friendship while bonding over mess–honestly, goals), Savannah tells Courtney that fellow contestant Terilisha sees him as a threat, and tried to eliminate him in the first round. The two allies come up with a hit list for Courtney to go after, made up of Terilisha and "Emily," who had saved Terilisha over Savannah.
the devil works hard but this mf works harder #TheCircle #TheCircleNetflix pic.twitter.com/ao6MMchrrWApril 22, 2021
See more
After Savannah leaves, Courtney receives the biggest advantage that a The Circle US contestant has ever had. He's invited to The Inner Circle, a secret room within The Circle. With this power, Courtney has the chance to speak with two new Circle players anonymously as The Joker, and let them know what has been happening in the game so far. According to Entertainment Weekly, the Inner Circle is a brand-new feature that hasn't been introduced in any of the international versions of The Circle. Courtney uses power as The Joker to shade Terilisha and Chloe and make River a.k.a. Lee an influencer. He also solidifies his alliance with River and turns Chloe against Emily (though a botched makeup challenge does a lot of the Emily work for him).
By the third week of episodes, Courtney and River are the game's strongest alliance and are in control, sending Khat home swiftly after she makes the mistake of trusting them and bad-mouthing Chloe. Trevor and Mitchell's rival alliance tries to win Chloe over to take Courtney and River down, but the vote for a secret super influencer goes to Lee, who eliminates Mitchell. Courtney takes his spot as a finalist for the $100,000 prize, which he says he would use to take care of his stepdad, who is battling stage 3 kidney disease. The May 5 finale will show whether this savvy game player did enough to win it all.
Celebrity news, beauty, fashion advice, and fascinating features, delivered straight to your inbox!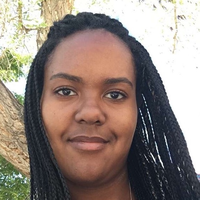 Contributing Culture Editor
Quinci LeGardye is a Contributing Culture Editor who covers TV, movies, Korean entertainment, books, and pop culture. When she isn't writing or checking Twitter, she's probably watching the latest K-drama or giving a concert performance in her car.