Hulu's 'Nine Perfect Strangers': What We Know
Nicole Kidman, Melissa McCarthy, and a mysterious wellness retreat? Sign us up.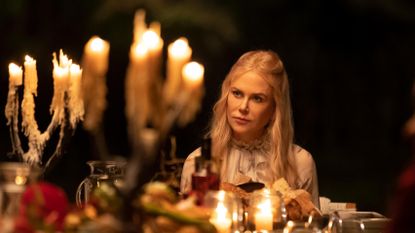 (Image credit: Hulu/Vince Valitutti)
Marie Claire Newsletter
Celebrity news, beauty, fashion advice, and fascinating features, delivered straight to your inbox!
Thank you for signing up to Marie Claire. You will receive a verification email shortly.
There was a problem. Please refresh the page and try again.
In recent years, Nicole Kidman has perfected the recipe for critically-acclaimed, commercially-successful television: 1. Find a best-selling book (Big Little Lies, The Undoing) 2. Team up with David E. Kelley (Big Little Lies, The Undoing) 3. Assemble a packed cast (Reese Witherspoon, Laura Dern, Hugh Grant) 4. Sell to a streamer (HBO) and, voila!, we have a cant-stop-bingeing-cant-stop-tweeting-about-it series.
The Academy Award-winner has seemingly done it again with 2021's Nine Perfect Strangers, an adaptation of Liane Moriarty's book. Set to premiere on August 18, 2021 on Hulu, the show boasts a dozen or so of the hottest actors of the moment and has already garnered plenty of buzz. Here's everything we know about one of this year's biggest shows.
What is Nine Perfect Strangers about?
Wellness has never been weirder in this limited miniseries set at an intimate boutique resort that "promises healing and transformation" to "nine stressed city dwellers [trying] to get on a path to a better way of living." As the retreat wages on, the guests realize that the demons that led them to Masha, an unorthodox wellness guru, may be being used against them—and that perhaps surrendering themselves so freely to their (very blonde) host isn't the best path to healing.
Who's in the cast of Nine Perfect Strangers?
The miniseries has no shortage of A-listers, starting with Kidman as Russian wellness guru Masha Dmitrichenko, who, per Hulu, is "on a mission to reinvigorate [the guests'] tired minds and bodies." In an interview with Deadline, Kidman revealed that she stayed in character for the entire five months that she filmed the show in Australia, even choosing not to answer to her own name during the process.
"The only way I could actually relate to people was that way because I felt like otherwise I would be doing a performance and I didn't want to feel that way," Kidman said to the outlet. "I wanted a very calm healing energy to emanate all the time so I remember going over to people and sort of putting my hand on their heart, holding their hand."
Oscar nominee Melissa McCarthy serves one of the show's executive producers as well as starring as one of the show's nine strangers, Frances Welty. Other stars include Bobby Cannavale as Tony Hogburn; The Good Place's Manny Jacinto as Yao; Luke Evans as Lars; Regina Hall as Carmel; Grace Van Patten as Zoe; and Samara Weaving as Jessica. And Little Fires Everywhere star Tiffany Boone stars as one of the resort's employees, Delilah.
Jonathan Levine directed the entire series, which was co-written by David E. Kelley, John Henry Butterworth, and Samantha Strauss.
Is Nine Perfect Strangers based on a book?
Sure is. The show is based on Liane Moriarty's book by the same name. It was released in November 2018 and became an instant bestseller—no surprise, considering the Australian author's last book, Big Little Lies, was also a runaway hit and Moriarty's name gained international recognition after it was turned into the award-winning HBO show (which also starred Nicole Kidman). Moriarty serves as an executive producer on Nine Perfect Strangers.
The book's synopsis offers more insight into what to expect from the show, particularly for Melissa McCarthy's character, Frances: "Frances Welty, the formerly best-selling romantic novelist, arrives at Tranquillum House nursing a bad back, a broken heart, and an exquisitely painful paper cut," the book's description reads. "She's immediately intrigued by her fellow guests. Most of them don't look to be in need of a health resort at all. But the person that intrigues her most is the strange and charismatic owner/director of Tranquillum House. Could this person really have the answers Frances didn't even know she was seeking? Should Frances put aside her doubts and immerse herself in everything Tranquillum House has to offer – or should she run while she still can? It's not long before every guest at Tranquillum House is asking exactly the same..."
In a 2018 interview with The Guardian, Moriarty explained what inspired the book, saying, "I can never see an article that says, 'Just change this one thing about your life and you'll be transformed forever'—even though you know when you click on it, it won't work, I find it irresistible."
Is there a trailer for Nine Perfect Strangers?
In late July, Hulu dropped an almost 3-minute clip introducing viewers to sunny Tranquillum House and the sinister stories that lurk beneath—literally...they dig their own graves in one scene. "Is Masha batshit or is she the real deal?" Frances, with a face full of acupuncture needles, questions before the camera zooms in on a grinning Masha.
Watch the eerie trailer here:
When does Nine Perfect Strangers premiere?
The first three episodes drop on August 18. New episodes will drop weekly on Wednesdays, until the finale on September 22.
How can I watch Nine Perfect Strangers?
The show will stream on Hulu for U.S. viewers.
Celebrity news, beauty, fashion advice, and fascinating features, delivered straight to your inbox!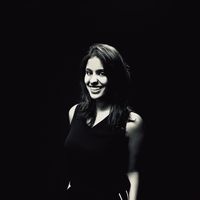 As Marie Claire's Entertainment Director, Neha oversees and executes strategy for all editorial talent bookings and culture coverage across the brand's print and digital entities, including covers, celebrity profiles and features, social takeovers, and video franchises as well as handles talent relations for MC's flagship summit, Power Trip. She's passionate about elevating diverse voices and stories, loves a hot-take, and generally hates reboots. She's worked in media for more than 10 years and her bylines about pop culture, film & tv, and fashion have appeared on Glamour, Vanity Fair, GQ, Allure, Teen Vogue, Brides, and Architectural Digest. She is a graduate of the Columbia School of Journalism.