Need to Read: Corked
In her debut memoir, Corked, Kathryn Borel unpacks a tragicomic father-daughter drinkfest through the finest French vineyards.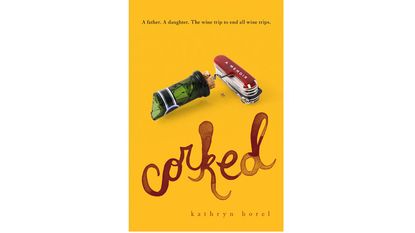 (Image credit: Courtesy of Grand Central Publishing)
Kathryn Borel was 21 years old when she crashed into and killed a man who was jaywalking. Eight years after the accident, Borel, a journalist now armed with a deep-seated sense of mortality, decided to get to know her temperamental French father before it was too late. In her debut memoir, Corked, Borel unpacks a tragicomic father-daughter drinkfest through the finest French vineyards.
MC: Why the Sideways trip?
KB: After the accident, my brother would get on his bike or my parents would get in their car, and I'd think, They're going to be killed. After a lot of therapy, the feeling of looming death dissipated, but when my father hurt himself a couple of years later, the fear came rushing back. A few weeks later, I was in his wine cellar and realized his enormous collection would all be bequeathed to me. And yet, I never really understood his passion for it. So I thought if I tried to understand him through wine, I'd gain some insight.
MC: How big is his wine obsession?
KB: From the time I was 6, he'd drag me down to the cellar and lecture me on the bottles. Our family tastings were the closest thing we had to a ritual—it was our religion.
MC: Were you afraid to drive?
KB: I immediately got behind the wheel of the car after the accident. I thought if I allowed lag time between what happened and driving, it'd become something huge and unwieldy.
MC: Was a road trip with dad intense?
KB: It ended up being two people stuck in a car for three weeks. There was one point where I was like, "This man is impenetrable and insensitive. I'm never speaking to him again."
MC: How did you get past it?
KB: One night at dinner, he told me about a terrible trauma he went through in his mid-20s that I wasn't aware of. My father was wrongly accused of being part of a heroin deal. He was jailed for six months before he was cleared.
MC: Whoa. Were you able to relate through your respective traumas?
KB: I wasn't ever sure if he truly empathized with my own accident, but after he told me his story, I knew that he did.
MC: Any future road trips?
KB: No. I've always wanted to go hang gliding, though. I'll ask my father this summer.