What We're Reading: A Book You'll Get Addicted To
Nina-Marie Gardner's debut novel shows the realities of alcoholism.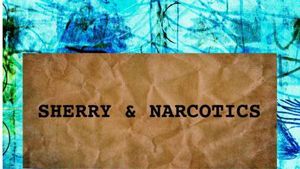 (Image credit: Archives)
While the tales of frivolous spending and romantic hijinks in most chick lit books keep us entertained, sometimes it's worth it to turn the pages of something with a little more edge. Enter the book we couldn't put down, one which kept us riveted on the realities one woman faces with her alcoholism.
Sherry and Narcotics
Author: Nina-Marie Gardner, a debut novelist sure to make noise on the literary scene.
Genre: Chick lit noir, because, as Gardner says, "Not every woman lives for Prada handbags and wants to only read about perfect characters and happy endings."
What Happens: Mary travels to Manchester and tumbles into a romance with a poet named Jake. But her love life is far from happy go lucky as she spirals out of control in her disturbing relationships with Jake, drugs and alcohol.
Why Read It: Not only is it a new, raw genre on the chick lit scene, but it also includes texts and emails weaved throughout the narrative in a refreshingly smooth fashion. It also shows an intimately disquieting portrait of what it's like to deal with addiction stemming from realities the author faced herself, which make the reader feel like she's actually the protagonist.

Details: Future Fiction London, $14.95