Are Girlfriends the New Husbands?
She's had your back through breakups, pink slips, even that ridiculous paleo diet you tried last fall. Is it any wonder that for a generation of women staying single longer, BFFs are now pinch-hitting as spouses? Whitney Joiner reports on the perks — and pitfalls — of the new buddy-as-hubby system.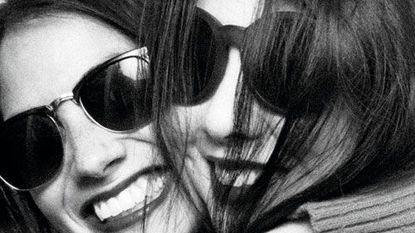 (Image credit: Marie Claire)
Marie Claire Newsletter
Celebrity news, beauty, fashion advice, and fascinating features, delivered straight to your inbox!
Thank you for signing up to Marie Claire. You will receive a verification email shortly.
There was a problem. Please refresh the page and try again.
When Cynthia Hill decided to have a baby via in vitro fertilization three years ago, the then 41-year-old principal of a Los Angeles-based boutique marketing firm knew exactly who to invite over for a bottle of wine and an evening spent flipping through binders of sperm-donor profiles. She knew who would administer progesterone shots in her backside and who would tag along to childbirth prep classes at the hospital. It was the same person who would be in the delivery room with her, squeezing her hand tightly as she gave birth to her son, Ronan. For all intents and purposes, Hill was having a baby with Cathy Finley, her best friend of more than a decade. To be clear, they weren't having a baby together, but Finley's presence in Hill's life was so important, so intimate, that at times it certainly seemed that way. "At our birthing class, people were like, 'Oh, the lesbian couple!'" says Hill. "I'd say, 'No, I'm having a baby solo. This is my best friend.'"
And yet, best friend doesn't seem to adequately describe what Hill and Finley mean to each other. Across the nation, tens of thousands of single women are in committed quasi-unions with their closest confidantes, behaving like married couples in virtually every respect (save for the sex, of course). They hit up family functions together, stand in as emergency contacts on doctors' forms, even cosign mortgages together. In other words, if your mother's been nudging you to settle down and find a husband already, tell her to relax, you've kind of, sort of, got one. "Between our 20-something lives and our delayed marriages, girlfriends are being asked to step in," says writer and social commentator Lucinda Rosenfeld, author of I'm So Happy for You: A Novel About Best Friends. "As we move away from early marriage, when a woman's life isn't all wrapped up by age 30, friends play a role somewhere between spouse and therapist."
And while the best friend has always held a vaunted place in a woman's life — to every Lucy, an Ethel — today's BFFs are filling a seismic demographic void created by an unprecedented number of single women in this country. Over the past two decades, as more women have pursued degrees and careers, the average age of a first-time bride has crept up three years, to about 27. That may not sound like a lot, but among young women, this bump has ushered in a wholesale change in attitude toward marriage, which, at its root, has historically represented a social and economic contract between two helpmates. But if women are earning more while also running their households — a 2010 study found that young, urban single women outearn their male counterparts by 8 percent — and finding emotional support from their friends, what exactly does the husband bring to the table other than a warm body to sleep with? A record 46 percent of adults 25 to 34 are unmarried, according to the Pew Research Center, a figure likely to climb even higher given how dim a view Millennials have of the institution: 44 percent think marriage is obsolete altogether.
In place of marriage, there's a new, ultramodern partnership that melds the camaraderie and loyalty of a friendship with the intimacy, support, and pragmatism of a husband. Here's a glimpse of it in action: On January 13, former Saturday Night Live costars and longtime buddies Tina Fey and Amy Poehler will host the Golden Globes. Both are comic powerhouses and could easily have taken on the gig as a solo performance. (Last year's host, Ricky Gervais, is hardly as well-known a name in American households as Fey.) But the pairing is a spot-on example of the new BFF-as-husband zeitgeist. There's something deeply reassuring about seeing them together, especially since Poehler's recent split with Will Arnett, her husband of nine years. The Parks and Recreation star once told a reporter that the first time she met Fey, she thought to herself, "I finally found the woman I want to marry." A joke, of course, but also a poignant nod to the deep satisfaction of meeting someone who gets you so totally, so completely, that were she a guy, you'd probably marry her.
That's how it was for Manhattan speech pathologist Robyn Kitto, 30, and her best friend, 29-year-old Alison Pepper, a social worker. "We started referring to each other as 'wife' when we lived together" five years ago, says Kitto. "We realized how well we worked as a cohabitation unit: She hates cleaning the bathroom, which I'm fine with, and I hate doing the dishes. We'd leave flowers and cards for each other. There's no question that she's going to show up for every important event in my life, like a spouse would."
The women grew so close, in fact, that before Kitto met her current boyfriend, her open-minded mother pulled her aside and — considering how happy her daughter seemed to be around Pepper — asked if perhaps she ought to consider taking their relationship to the next level. (Kitto insisted she was straight, and they shared a good laugh over it.) Kitto has since moved out; she recently bought an apartment with her boyfriend. Marriage isn't out of the realm of possibility. Still, she and Pepper text multiple times a day and see each other often, and Kitto readily admits that, in many areas, her friendship with Pepper is on equal footing as her relationship with her guy. "I rely on Alison for things I can't rely on my partner for; she's more empathetic than he is," says Kitto.
The problem, of course, is that because there's no duty in a friendship to hang in and ride out rough patches, as there is (at least in theory) in a marriage, it's way easier to call it quits with a pal than with a husband. Relying on a friend the way you might a spouse can be fraught with peril. "Responsibilities are clearer in a marriage or family," says psychologist Irene Levine, Ph.D., author of Best Friends Forever: Surviving a Breakup With Your Best Friend. "In a friendship, what's too much to ask? When are you too demanding? Boundaries are more amorphous and harder to define. You might be more free to tell your husband that he's acting too needy, but that same criticism could threaten the very foundation of a friendship."
Case in point: Alida Almonte, a 30-year-old software marketing manager in Islip, New York, and her best friend of eight years, Brittany Bessemer, 28, stopped speaking for three months after Almonte took issue with Bessemer's boyfriend. "I didn't think he treated her with respect, and Brittany wanted me to mind my own business," says Almonte. Prior to their standoff, they were so close that Almonte had taken Bessemer to visit her family in the Dominican Republic, and she'd once lived in the basement apartment in Bessemer's home. She recalls many nights walking in from work during those two years to find that Bessemer, a single mother of a young boy, had cooked dinner for all three of them. They'd begun to behave like a traditional family. "I'd eat breakfast with them in the mornings before going to work," Almonte adds. They repaired their relationship only after Bessemer broke up with her boyfriend.
Another downside: This type of companionship may, ever so slightly, make women less willing to take on the risks inherent in dating, to plow through the occasionally exasperating pitfalls of romance. "We always joke that we're still single because we'd rather spend time with each other than go on an awkward date," admits Almonte.
For many tight-knit friends, the lure of romance just isn't as compelling as it used to be. If you've already got a better half, why bother searching for a male one — is the sex that important anyway? "The amount of time we've invested in each other certainly could've been spent pursuing relationships with men," says Lisa Osborne, a Los Angeles–based entrepreneur, about her best friend of 22 years, editor Melissa Carey. After they graduated from Northwestern University, Osborne left to work at a newspaper in Florida while Carey headed to New York. The duo caught up every night over marathon phone sessions, continuing even after Osborne moved to Germany and then the Netherlands for a new job. "My home-phone bill was $300 a month, and at the office, we were talking to each other while the cleaning crews worked around us," recalls Osborne.
Both women are now 42 and single. And though they'd love to be paired up, neither is really looking for a boyfriend. "Sure, we could've spent time dating or going out to clubs, but we were invested in each other, and I'd never say, 'I want my 20 years back,'" says Osborne. "We've reaped as much as we've invested. Your best friend has all of your history, and there's shorthand between you. A guy can't mimic that."
Cynthia Hill used to fantasize about being in a long-term relationship: the Caribbean vacations spent lolling in the sun, trimming the tree come Christmas, having a family together. And, of course, slipping into bed at the end of the day with someone special. And that could still happen. But for now, much of her wish list is checked off by her best friend. "Sure, Cathy isn't a total husband replacement," Hill says. "But my married friends don't seem to be getting the support I get from her." In the meantime, she says, she's fine with the way things are. Better than fine — thrilled, satisfied, blessed even. She isn't sure she'll ever be married at this point, but between her demanding job, caring for her son, and a social life full of close friends, she doesn't give it much thought. After all, she found someone incredible to grow old with. "Did I ever think I'd be putting my best friend's name down on my living will as the one to 'pull the plug' if need be? No," Hill says, laughing. "But now that I'm here, it's a pretty perfect life."
Celebrity news, beauty, fashion advice, and fascinating features, delivered straight to your inbox!