Downton Abbey Recap: Anna Comes Clean—Sort Of
The gloom hovering over the Abbey clears briefly as Anna confides in Bates.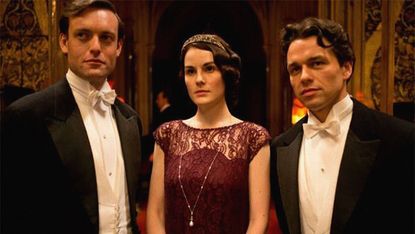 (Image credit: ©Nick Briggs/Carnival Film and Television Limited 2013 for MASTERPIECE)
How come Anna and Bates can never be happy? Why do the murder and rape plots have to exist within their relationship? Why can't they revel in the "futurism" of an electric sewing machine, like Baxter, Cora's new lady maid? Why can't they be confounded by the novelty of a refrigerator, like Ms. Patmore? Why can't they make some sweet little downstairs babies? Guh.
I come bearing good news and bad news. First, the good: Bates finds out what happened to Anna by threatening to leave Downton unless Hughes tells him. And he couldn't be more supportive, more loving, and more relieved to have his wife back emotionally. I appreciate the show writers's delicacy with body language in the Bates/Anna confrontation: Bates does not touch Anna until she is ready to be hugged or held. She seems so wounded and distraught that you want to flinch every time she interacts with someone, and for Bates to have touched her—even her shoulders or hands, even just to emphasize his love—would have seemed possessive and aggressive. Instead, he stood apart while she explained her feelings, and then she came in for the hug.
The bad: Anna and Hughes have told Bates it was an unknown intruder in the Abbey to keep Bates from murdering Mr. Green (the valet rapist) in a rage. Which means Anna still harbors a horrible secret. But Bates has his suspicions anyway—suspicions that only grow when Lord Gillingham comes back for a visit with evil Green in tow.
A month has passed since the last episode, and fortunately, Anna knows now she is not pregnant. Edith, however, is another story. Her one night of London passion with Gregson has resulted in something that requires a trip to the doctor, with results that upset Edith, though she never says why she went. That's because Gregson has gone missing from his continental divorce sojourn. (We may not find out what befalls Gregson this season, but I have a hunch it has something to do with Nazi Germany.)
Also on a far-flung excursion is Lord Grantham, who is called to America to deal with Cora's money-losing brother, leaving Cora to handle affairs at the Abbey in her typically oblivious, smiley way.
Cora has grated on me for a long time. At first, I thought it was because of the way she was written—purposely grating, naively benevolent, completely ignorant to her good fortunes. In the last two seasons, I've come to realize that maybe I'm just not crazy about Elizabeth McGovern, so this week when a Facebook friend posted this Telegraph video and article on Elizabeth McGovern's "African adventure" to Sierra Leone (opens in new tab) (which was published last month) I took the chance to see if I might find her more likable. As the Facebook friend pointed out, McGovern talks in sweeping and glib generalizations, in one breath saying, "I get the impression that in Africa people have sex far more freely than we do back home. You see certain cultures where there's just endemic cruelty to women. I wonder if World Vision would take on the problem of women wearing the burka? And that clitoris thing is awful." Maybe it's the soaring "rescue music" instrumental, or McGovern confusing Dakar with Darfur (a thousand and some miles farther apart than New York and Los Angeles). Or maybe I'm too harsh; I do condone her for drawing attention to an area of the world that desperately needs aid. But the tone. The tone. Maybe McGovern needs to enter modernity herself, sewing machines, refrigerators and all.