5 Things You Need to Know Right Now
We got you.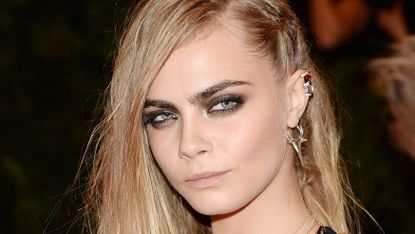 (Image credit: Getty Images)
Marie Claire Newsletter
Celebrity news, beauty, fashion advice, and fascinating features, delivered straight to your inbox!
Thank you for signing up to Marie Claire. You will receive a verification email shortly.
There was a problem. Please refresh the page and try again.
1. There's an anonymous letter alleging sexual assault and the university's inaction rocking Harvard's campus right now. An anonymous Harvard student wrote a heart-wrenching op-ed for the school's paper alleging that the prestigious university did very little after she was sexually assaulted on campus last year. Read more about the letter here.
2. Cara Delevingne sounds off on the paps. Likening paparazzi to "assassins," the bushy-browed model and actress took to Twitter after photos surfaced of her with Michelle Rodriquez on vacation together in Mexico. The women were photographed splashing around in the water and kissing. Delevingne is just the latest celebrity to speak out on her disdain for paparazzi.
I really think that it's disgusting that Paris is the only place where it is illegal for paps to follow you aroundMarch 31, 2014
See more
It actually took someone losing there life! Diana, an inspirational woman and then it changed but they still won't change it in London!March 31, 2014
See more
3. The Senate will revisit why you are paid less than your male counterparts today. No time like the present—it's not like it's 2014 or anything. In a hearing scheduled for this afternoon, the Senate will revisit the Paycheck Fairness Act, a long overdue bill that would strengthen the Equal Pay Act (that was passed more than 50 years ago) and finally help to close the gender pay gap (currently, women make on average only 77 cents for every dollar earned by a man). In honor of the hearing, we urge you take 30 minutes out of your day today to advocate for yourself—whether that's asking for a raise, scheduling a meeting with your boss, or researching competitive salaries to learn your market value.
4. It just became a lot tougher to get an abortion in Louisiana. The Louisiana House of Representatives on Monday adopted a bill that will impose new restrictions on abortion clinics, including requiring physicians to have admitting privileges at local hospitals. Similar laws have been enacted in Texas and North Dakota, and such restrictions have led to the closure of multiple facilities. Abortion rights groups argue that such provisions are designed to close clinics in rural areas.
5. It's officially rom com season. And we're thrilled. Are you thrilled? We hope so. Cameron Diaz and Jason Segel will make you laugh and cringe as they star in (a) Sex Tape, and Keira Knightly and Mark Ruffalo will pull at your heartstrings in Begin Again.
Celebrity news, beauty, fashion advice, and fascinating features, delivered straight to your inbox!