What To Do While You Wait for the Next Season of Game of Thrones
The TV shows, books, and movies to tide you over until your favorite show returns.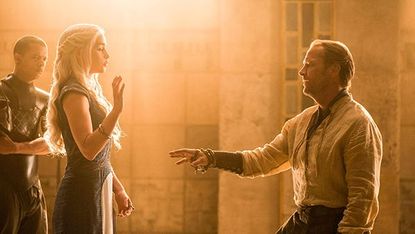 (Image credit: Archives)
For Game of Thrones fans, the next nine months or so are going to be difficult. What's a girl to do without her weekly dose of The Seven Kingdoms? Instead of sitting around worrying about whether George R. R. Martin will ever complete those last two novels, try these books, TV shows, and movies GoT fans are sure to love.
If You Love Fantasy and Sci-Fi, Try:
The Accursed Kings series by Maurice Druon (1955)

George R. R. Martin has called this cult French series "the original Game of Thrones." Set in medieval France, the seven-novel series is just as epic and politically driven as Martin's and with similarly hefty page counts. In short, it will definitely keep you occupied.
The Lord of the Rings by J. R. R. Tolkien (1954)

Even if you have seen the movies, you can't discuss high fantasy books without talking about J. R. R. Tolkien's legendary work. Fantasy creatures and wars for power abound, (even the big screen adaptations) do it all major justice. GoT fans will certainly feel at home within this adventure-fantasy world.
Guardians of the Galaxy (August 1)

If you're a fan of huge fictional universes with tons of characters and interweaving plot lines, then check out the latest installment in Marvel's cinematic universe, Guardians of the Galaxy. Starring Chris Pratt, Zoe Saldana, Lee Pace, and the voices of Vin Diesel and Bradley Cooper, it's sure to be as action-packed and goofy as hits like Iron Man.
The Maze Runner by James Dashner (2009)

A YA thriller akin to The Hunger Games, this book trilogy is being turned into a major movie starring Dylan O'Brien September 19. With just three novels to the series (you know, rather than seven) The Maze Runner may be just enough to quench your thirst for reading and seeing a screen adaptation without bogging you down in a new world for too long.
If You Love GOT's Intense Drama, Try:
Sisters of Treason by Elizabeth Fremantle (July 8, 2014)

Elizabeth Fremantle enchanted us last year with her debut novel, Queen's Gambit, and she's back with her next novel this summer. Sisters of Treason tells the story of two sisters attempting to navigate the perilous courts of Mary Tudor and Elizabeth I. GoT fans will certainly love this tale of love and politics, with each sister ultimately deciding how far she will go for her own security.
The Tudors (Netflix)

This Showtime series originally aired from 2007 to 2010, but its "epic period drama" presence can still be felt on TV (ahem, GoT). Jonathan Rhys Meters stars as King Henry VII in a story that features all the political and sexual intrigue you'll be yearning for. Plus, you can watch it in one long marathon, thanks to the internet.
The Cousin's War Series by Phillipa Gregory (2009)

You may know this historical series by its first and most popular title (and recent BBC adaptation) The White Queen. Each novel follows an important woman from the time of the War of the Roses, the series of wars for the throne of England. There's one more installment yet be released, but we trust the author of The Other Boleyn Girl to finish the job.
The Giver by Lois Lowry (1993)

Though this popular YA novel is a little less swords-and-dragons and a little more dystopia-and-emotion, it is worth reading for any fan that loves an ever-twisting plot like Game of Thrones'. One of the most controversial YA books of the past 20 years, The Giver finally hits the big screen August 15 starring Jeff Bridges and Meryl Streep (aka, it's not just for kids).
Gone Girl (October 3)

Gillian Flynn's hit 2012 novel kept readers engrossed in the mystery surrounding the disappearance of a Missouri woman and the trustworthiness of her husband until its final pages. Read it before its big screen adaptation, directed by David Fincher and starring Ben Affleck and Rosamund Pike as the ill-fated couple, hits theaters this fall.
If You Love GOT's Cult Fandom, Try:


Once Upon a Time (Seasons 1-2 on Netflix/ABC)

Want to fight over plot points, character development, and whether a story is (or should be) canon? Well, then do we have the show for you: ABC's Once Upon a Time shows our world grappling with a parallel universe where every fairy tale character you've heard of — and some of Disney's original creations — lives. Let the fan fiction begin.
Firefly (Netflix)

Joss Whedon's cult classic is set in 2517 where a civil war has ostracized the nine-person crew of the spaceship Serenity. Though the show only lasted 11 episodes before being cancelled by Fox, Firefly and its three remaining unaired episodes developed a major cult fan base thanks to DVD sales and an Emmy win.
The Walking Dead (Seasons 1-3 on Netflix/AMC)

A few years ago "zombie apocalypse" wouldn't mean killer ratings (pun totally intended), but The Walking Dead is a smash hit. GoT fans will find solace in a long character list, action, gore, the original ongoing comic book series and a set of prequel novels inspired by the show. There's seven kingdoms worth of stories here.
Related:

Your Favorite Game of Thrones Ladies as Disney Characters

The Emotional Stages of Watching Game of Thrones
Marie Claire's Game of Thrones 'Fire & Ice' Cocktail
14 Game of Thrones Quotes That Turned Us Into Superfans
The 7 Moments That Got Us Hooked on Game of Thrones
Photo Credit: HBO/Amazon/Fox/20th Century Fox/BBC/ABC/AMC
Celebrity news, beauty, fashion advice, and fascinating features, delivered straight to your inbox!