Sara Bareilles Uses "All Hands" to Help Japan
The "Uncharted" singer rolls up her sleeves during an eye-opening visit to the tsunami-devastated nation.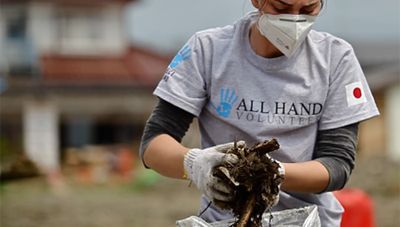 (Image credit: Archives)
Sara Bareilles isn't going to write you a love song, but she'll happily lend a helping hand where it's needed. The 31-year-old musician recently returned to the U.S. after touring with Maroon 5 in Japan — but not before she donated some time and hard labor to the tsunami relief efforts. Bareilles was originally scheduled to return to the States immediately after her shows, but she extended her stay after reaching out to the disaster relief organization, "All Hands Volunteers."
With her bandmates in tow, Bareilles traveled to the small city of Ofunato, where the debris and wreckage from the devastating March tsunami have made the land unlivable. Staying true to the "All Hands" mantra, they worked together everyday for four days clearing the area. Bareilles described the experience as one of the best of her life. She took to her YouTube page, writing: "I have just returned from a trip to Japan that I hope I never recover from. I fell madly in love with this unbelievably beautiful country... My time there included several shows, a couple of days off, and an incredible volunteering experience up in a small northern city called Ofunato that has affected me profoundly. My message is simple: Japan is beautiful. Japan is safe. Japan is ready and open for business. It's time to visit Japan!"
Check out the video below to see Sara in action. Then head to All Hands Volunteers to find out how you can get involved.