Save a Starving Child in Somalia
The famine crisis is growing. Now is the time to act.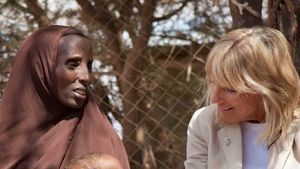 (Image credit: Archives)
As thousands of people flee devastating famine in Somalia, Dr. Jill Biden traveled to the region this past week to bring attention to the growing humanitarian crisis. "As a mother, I watched these children starving and thought, We have to do something," she says.
Contributions from the U.S government and the international community are helping to ease the suffering, but the famine — a result of extreme drought and war — is spreading, and hundreds of thousands of people, mostly children, could die from starvation and disease in the coming months. There is a role for all individuals to take action and save lives, Dr. Biden says.
At a refugee camp she visited in Kenya, there are more than 420,000 Somalis seeking aid and medical attention. Dr. Biden heard the unthinkable story of one mother who was too weak to carry both of her children to the camp, and had to leave one behind on the road in the hopes of saving the other. In the past three months alone, 29,000 children under the age of 5 have died of starvation.
You can help: A simple vaccination that costs less than $2 can enable a child to survive. At usaid.gov, you can learn more and take action. And the time to act is now. Take three minutes to watch this stunning video of Dr. Biden's trip — and share it with your friends. Read our profile on Dr. Biden for more on her and her work.
Abigail Pesta is an award-winning investigative journalist who writes for major publications around the world. She is the author of The Girls: An All-American Town, a Predatory Doctor, and the Untold Story of the Gymnasts Who Brought Him Down.