The Adorkables
New Girl's Zooey Deschanel isn't the only A-lister who is making a name for herself by being adorably dorky. From Mindy Kaling to Felicia Day, check out our shortlist of quirky stars who make our nerdy hearts swoon.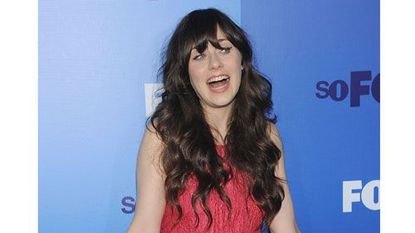 (Image credit: "Getty Images")
New Girl's Zooey Deschanel isn't the only A-lister who is making a name for herself by being adorably dorky. From Mindy Kaling to Felicia Day, check out our shortlist of quirky stars who make our nerdy hearts swoon. If you can't get enough of Zooey's super cute style, don't miss our
roundup of her best off-duty looks!
1/10
Zooey Deschanel
The New Girl star has essentially defined our newest portmanteau, adorkable. Deschanel's character Jess — her obliviousness to one-night stands, her awkward tendency to sing everything, her affinity for bows and baking — seems almost too real to be fictionalized. With her quirky sense of style and even quirkier personality, the indie-film veteran and She & Him frontwoman has solidified her role as a dork we can't help but love.
2/10
Emma Stone
A few of us fell in love with this redhead when she played Jonah Hill's love interest in Superbad, and a few more of us were smitten with her turn as Olive in Easy A, and the world wanted to become her bestie after her star turn in The Help. But with her role as Gwen Stacy in the newest installment of the cult comic classic The Amazing Spiderman, she will surely be tangling the heartstrings of nerd culture everywhere.
3/10
Felicia Day
Perhaps best known for her role as Vi on Buffy the Vampire Slayer, Day is a self-proclaimed gamer and isn't afraid to let her dorkiness shine. She is the creator and star of The Guild, a web series loosely based on her experiences in the realm of online gaming. If there were a scale on how perfectly nerdy Day is, she'd probably break the charts: She's a staple at the Comic Cons of the world and has fanboys swooning at every one.
4/10
Mindy Kaling
She only has herself to blame for the eccentric, self-involved character, Kelly Kapoor, on The Office: She's one of the show's top writers. Anyone who is that willing to make themselves look ridiculous is on our list of favorites! Plus, we couldn't put down her hilarious, honest-to-a-fault memoir, Is Everyone Hanging Out Without Me? (And Other Concerns).
5/10
Alia Shawkat
This awkwardly charming actress played Maeby Funke on the critical darling yet sadly canceled Arrested Development. Playing opposite the always adorable Michael Cera, her Little Orphan Annie curls and freckled skin are the perfect cover for her biting wit — all of which are good reasons for us to celebrate a new season (and eventual movie) of Arrested Development on Netflix.
6/10
Kristen Schaal
You may know her as Mel from the HBO series Flight of the Concords or her turn as a "news" contributor for the always hilarious The Daily Show with Jon Stewart, but Schaal's big blue eyes and cute-as-a-button smile melt our hearts every time she comes on screen, no matter the role — which is now a semi-creepy NBC page on 30 Rock.
7/10
Charlyne Yi
The shy star chronicled the start of a nerdy love story in her screenwriting debut, the award-winning documentary-style film Paper Heart. And anyone who can do that and pull off making an absentminded pothead in Knocked Up look cheek-pinchable has got some serious talent.
8/10
Alison Brie
With her contagious smile, this Community and Mad Men actress is fast becoming America's essential girl next door. Although she plays the classic 1950s housewife on the AMC drama, her take as Annie Edison — the slightly neurotic schoolgirl with a past brief drug addiction — has been Brie's breakout role. The sweet-and-sour nature of her character has reinforced that Mona Lisa smile of hers: You never know what she's thinking.
9/10
Kristin Wiig
The Saturday Night Live comedian keeps us laughing every weekend with such kooky characters as Penelope, the neurotic one-upping attention-hog, and Gilly, the always-misbehaving schoolgirl. But it's her ability to write a blockbuster screenplay for Bridesmaids — not to mention win fans with her role as hapless maid-of-honor Annie — that really impresses us.
10/10
Ellen Page
Her monumental impact as the titular character in Juno — nevermind her gender-bending style and quirky personality — has definitely made this actress memorable. With direction from Drew Barrymore, Paige played an indie-music-loving misfit who enters the unpredictable world of roller derby in Whip It. We can only hope to reach that same level of so-uncool-she's-cool.